Watch the interview on Daily Vice
What was supposed to be celebratory footnote to Drake's sixth annual concert has now become an unlikely ground for tragedy and debate over long stemming issues in the city of Toronto. Following the early August concert, a shooting at official OVO Fest afterparty venue Muzik nightclub left several people wounded and two people killed; Duvel Hibbert was shot on the patio outside, and moments later Ariela Navarro-Fenoy was caught by a stray bullet trying to flee the scene.
In the wake of the night's events a host of questions are being raised about what could have been done to prevent the tragic outcome. In particular, people are wondering why Muzik nightclub—which has a lengthy track record of violence and poor security—has been able to continue hosting the event. It has become a topic of discussion as to whether Drake should be responsible for calling on fans to aid the police in investigations. As a consequence, Toronto politician Jim Karygiannis is among several members of city council who are pushing forward a motion they believe may serve as remedy to the ongoing violence: banning future OVO Fest afterparty offerings at the Exhibition place, where Muzik nightclub is located.
The report, which will be reviewed by city of Toronto staff in October, asks for Exhibition place management to study the possibility of banning "the OVO Fest after party and similar type of events from taking place" as well as proposing the nightclub be used as a space to hold family-oriented events. In light of the motion, we talked to Councillor Karygiannis to have him explain why he's trying to ban OVO Fest after parties, why he believes Drake should aid the police, and if the shootings are in fact part of a larger issue in Toronto.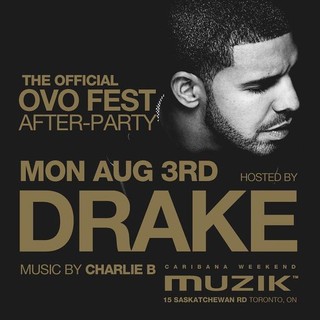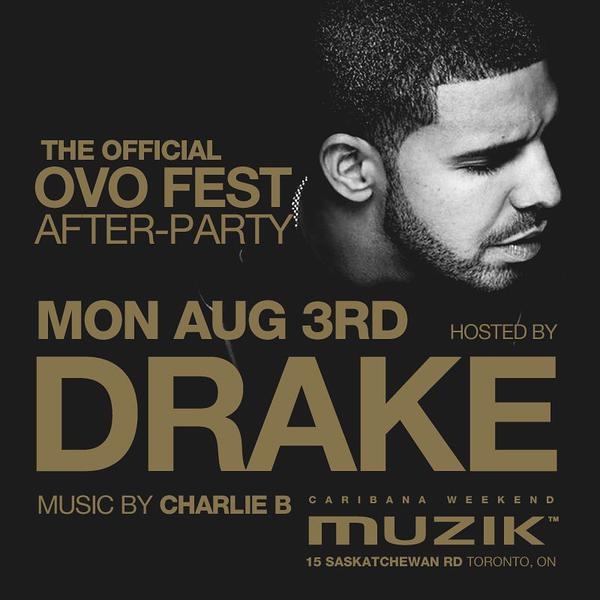 Noisey: For those who don't know explain the motion you are trying to pass?
Jim Karygiannis: I'm trying to pass the motion that the Exhibition grounds looks at the lease that the Muzik nightclub has —which is a 20 year lease— and work with them in order to ban special events like the OVO fest after party. This is the second year OVO Fest has had an after-event gathering and there's been two shootings this year and a shooting last year.
Why is it important for you that this goes through and why are you targeting OVO, more particularly, Drake?
Again, this is the second year in a row there's been problems and the interesting thing to me is that Drake hasn't even stepped forward to speak on the issue. Even after we had the killing of the fellow inside and the innocent bystander outside he hasn't come out and said anything.
So you believe that the onus is on Drake to speak on these events even if they may or may not be related to him?
Whether it be related to him; what happened at the after party or not I think that the people that were there, were there because of Drake and I think he should step forward and say something along the lines of "If you have any evidence that will help the police please share or upload your videos or photos to the police website in order for them to deal with this matter."
Do you personally believe that it's too dangerous to host the OVO fest on the Exhibition grounds?
The evidence is abundantly clear for both last year and this year that the OVO Fest has had problems and this is all happening on city of Toronto property. So, I think that we need to work with the venue and Muzik nightclub in order to have other events that are family friendly and safer.
But even going along with that idea then, is there anywhere in the city that is safe enough to host the event?
I can't speak for other parts of the city but I can speak about what the city owns and I think the people of Toronto want a council that is responsible, and as a member of the board of governors we are responsible for what happens on our grounds. I mean I can't be responsible for what happens at the Markham fairgrounds but our responsibility is with the city of Toronto property and there were ample police but a [tragedy] still occured so we need to make sure that the people going to the events on our grounds go home safe and live another day.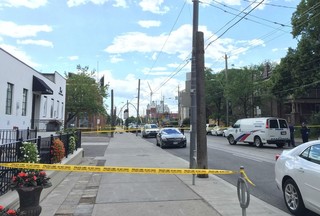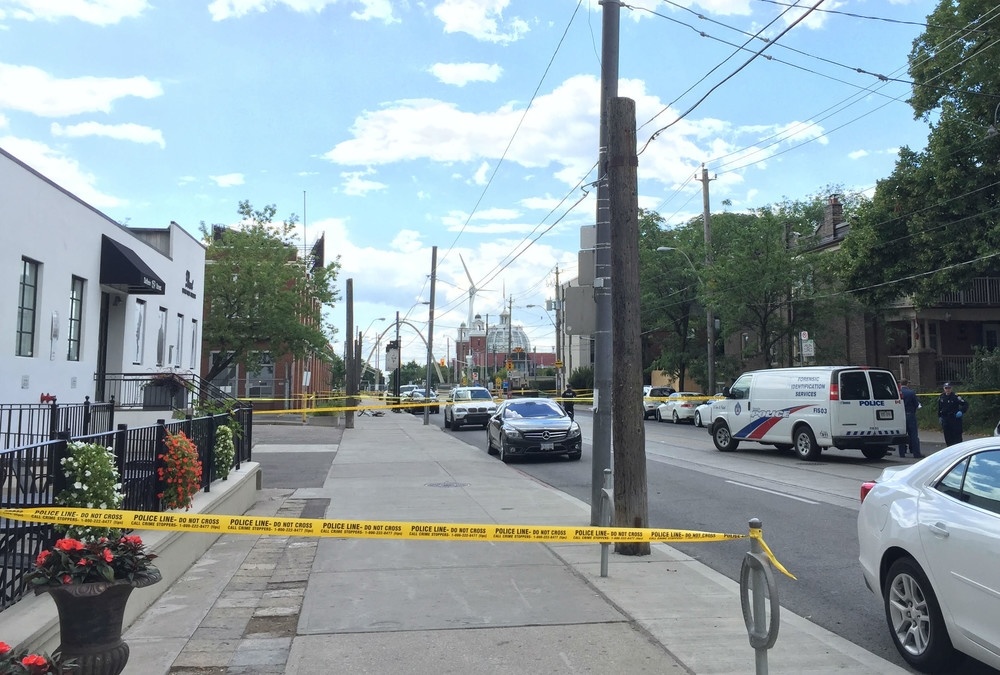 The scene of the second shooting, on Dufferin Street. Photo by Lindsay Gray/VICE
With recent data saying that gun violence has risen since 2012 isn't the real issue a Toronto problem not an OVO fest one?
This is an issue about gangs and guns and we have guns that are slipping through the border. And it's also behooving of the federal parties that we got elections coming up and with this platform they talk about gun control election after election but nothing has materialized. On the other hand there are questions about the individual that was [shot outside the club] and what he was doing there because he was supposed to be at home and in the care of his family to testify later in court. Ultimately, the result is that we had an innocent bystander that was gunned down and my condolences go to her family and friends.
But again, the Muzik nightclub has also had shooting-related incidents outside of OVO, for instance the shooting and murder of one man in February 2013.
Which means the events and the venue have to change.
And I agree with that on one hand, but it also looks like we're also targeting the artist instead of the venue owner and his/her security personnel.
The artist was holding something at the exhibition and the venue owner from what I've heard from the police and the public statements confirmed that there was ample security due to police to keep it safe. So, the police were given the green light by security of the Exhibition and the event went forward. Unfortunately, things happened and we need to revisit the usage of the club and work with owners of the venue to find safe [alternatives] and promote what the city is all about: the multicultural tapestry that is the fourth largest city in North America.
There was also the shooting at the Cinema Nightclub last year that also took place around the same area so again I wonder if we need to look at the gun problem instead of just throwing Drake in the mix.
We're talking about a small number; below 1 percent of individuals that are creating this havoc and we need to make sure that we work with the police. And that's why it's important for Drake to step forward and ask his following to help the police so that arrests can be made. Now I mean of course what happened to the person that was targeted inside might have the citizens of Toronto scared and I understand that but we also need to make sure that police find the individuals that did this.
So if Drake does decides to step out what are looking from him to acknowledge?
I think that he should number one, pay his respects and give condlences to the family and encourage his following; the people who were there to see him and call on them to help provide information to the police. I think it will go a long way and will certainly encourage people to find the perpetrators that shot the young lady.
Continued below...

Now I know you touched on it a little bit earlier but what are the proposed alternatives that you want to see in terms of security and how the Exhibitions run?
We need to make sure that the venue itself finds other events that will entice and bring in [people] that will represent our city and will represent the exhibition. And we will certainly work with the board of governors and the police in order to have a safe alternative.
So ultimately what do you believe banning the OVO after party will achieve?
When you have a problem year after year, that tells you that the event is problematic. It tells you that you need to step forward in order to protect our citizens, to protect the young people of Toronto and ensure that everybody goes home safe. I mean there were 4,000 people at the Exhibition last night by the Dufferin gates with the young lady's family paying their respects. I'd rather have 4,000 people come out to a joyful event versus an event of sorrow and remembering. I'd like my children to come home at night and be safe which was not the case for this young lady a couple nights ago and I feel for her friends and family. That's a big loss.
Now in one of your statements you state you want "the ability to ban the OVO fest afterparty and similar type of events." Could you clarify what you mean by "similar types of events."
Events that attract difficulties and events that attract trouble.
So it's not solely based in terms of the music being played?
Let's be perfectly clear, it's the type of events that attract the difficulties that we need to battle. Its not Drake or the other similar [events] like this but it's the history of these after parties that attract trouble, especially at the OVO Fest. And I certainly don't think we should hold an after party for OVO after these situations.
I ask specifically because in my experience I find there's a lot of undue targeting in terms of rap concerts and the proposed audience it. Considering all genres come with their own issues and violence.
I agree with you but you know what at the end of the day the responsibility is on the artist to be able to attract people to a fun but safe event. And the fact that Drake hasn't stepped forward to say anything I think speaks loudly.
...If I or any other politician doesn't step forward and take the steps to look into a cabbie that refuses to take the young lady home or an event that causes problems on city property then we've failed the citizens of Toronto. This is not targeting a particular crowd, a particular [genre], this is making sure that everybody at the end of the day is safe.
Jabbari Weekes is the Noisey Canada Staff Writer. Follow him on Twitter.