The Canadian Press/Justin Tang
Canada Is Experiencing a '100-Year' Flood Right Now
The military has been sent in and Montreal has declared its first state of emergency since 1998.
The Canadian Press/Justin Tang
A torrential downpour paired with the melting snow is continuing to wreak havoc across eastern Canada.
The flooding forced the city of Montreal to declare its first state of emergency since 1998 and has prompted the government to call in the military—and the troops have been supplemented with aircraft and boats. Ralph Goodale, Canada's public safety minister, said that the government is attempting an "all-of-Canada" approach to combat the flooding.
The flooding may have taken a tragic turn as a father and his daughter were swept away in the Riviere Sainte-Anne, near the Quebec town of Gaspé Sunday night, after attempting to drive through a flooded road. The two are still missing and a desperate search is underway to find them.
Due to the extreme influx of rainwater the Ottawa River has hit record levels and is flowing heavily through Gatineau, one of the hardest hit areas of the flood. Canada's capital, Ottawa, is also experiencing flooding. In the harder hit areas some have taken to getting around by boat.
The floodwaters are expected to peak Monday and start to decline as the week drags on but, as with everything in nature, nothing is set in stone. Gilles Desgagnés, the regional director for civil security in Montreal, Laval, and the Laurentians, told the Montreal Gazette that this was a "100-year flood."
"It should stabilize on Monday and Tuesday and then it will begin to drop," Desgagnés said. "But it will be very slow. It could take several days, a week or more, for the levels to drop."
A release sent out by Goodale's office, said eastern Canada is experiencing the "heaviest rains in 50 years." In April alone, eastern Canada experienced almost double their average rain—something a collection of climate scientists are blaming on climate change.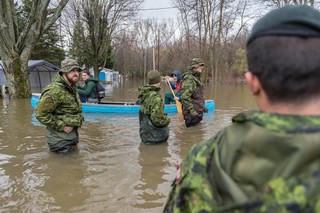 "In the current flooding situation, CAF personnel have been deployed across southern Quebec, at the request of the provincial government, to assist local civilian authorities to cope with the deluge," reads the release. "Some 450 troops arrived Saturday in the areas around Gatineau, Rigaud, Montreal and Trois-Rivieres."

Over the weekend, the troops numbers have tripled and now sit at just over 1,500.
Within Montreal, the state of emergency is applied to five areas of the province in the city: Ahuntsic-Cartierville, L'Île-Bizard–Sainte-Geneviève, Pierrefonds-Roxboro, Sainte-Anne-de-Bellevue, and Senneville—179 homes in these areas have been evacuated.
According to the CBC, 146 cities or towns have been impacted by the floods and a little over 1,500 people have been forced from their homes. The state of emergency, declared Sunday, will last for 48 hours.
Flooding is also impacting areas in New Brunswick, and British Columbia.
Follow Mack Lamoureux on Twitter.