From a distance, the landscape of Niagara Falls, Ontario hasn't changed much in the last half century. The giant water feature is still there, for one, and so is the ferris wheel, the blinking casinos, the Skylon Tower, and despite several animal cruelty charges, Marineland is still a thing.

But look a little closer at one of the area's signature features—yes, the cheesy 1950s honeymoon motels—and you quickly get the sense that the last few decades haven't been so kind to the city. There were more than 100 of them at one point, some complete with rotating beds, mirrored ceilings, and heart-shaped hot tubs. Many of them now sit abandoned or demolished, or barely scraping by in various states of disrepair.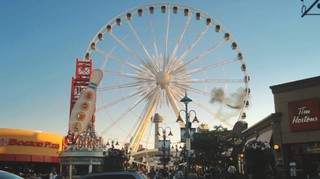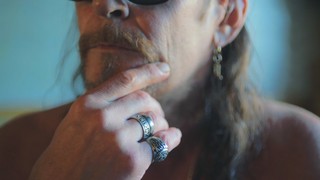 Filmmaker Jesse McCracken didn't want to tell the story of crumbling buildings—an idea that recently got a few Ryerson film students in trouble with the mayor. Instead, he stumbled upon a community bridging the gap between Niagara's neon-lit past and its urgent near future. McCracken found the Continental Inn, a repurposed motel providing affordable housing (and heart-shaped tubs) for the city's hardest-to-house residents.

The resulting film Motel premieres at Hot Docs April 29, and tells the story of the Continental through the eyes of its residents and round-the-clock staff. On a recent visit I asked McCracken and the motel's managers Brian and Linda about the documentary, the changing city, and the challenges of telling vulnerable people's stories.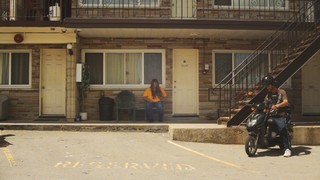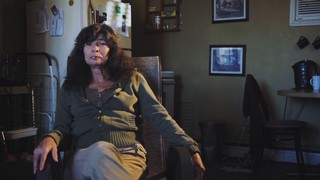 McCracken is keenly aware of the pressure to draw blood. Niagara Falls has long been gossiped about for a real or perceived seedy underbelly. "I had people who were like 'OK, you've got to be there when a fight's happening or a break-in is happening and capture that,'" he told VICE.

"You have to tread carefully," Brian, the motel's night manager, told VICE. Together, the group of us watched the four-minute student film contrasting the bright tourist lights with crumbling buildings. The quick drive-by shots give a sense of illicitly-captured ruin porn.
"It's almost a big put down," Linda said. "Imagine that was your house and you're seeing someone filming it like that?"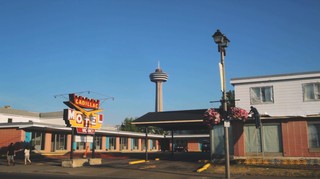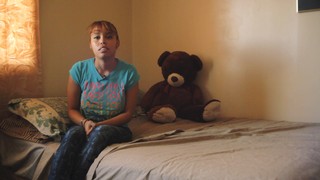 Instead, McCracken was drawn to the motel's familial atmosphere, where he said anyone, no matter their history, could find a place to feel wanted. His film focuses on residents' personal battles, allowing each to define their own relationship to poverty or trauma. "Me and the editor discussed it and talked a lot about how to make this not like that—just make it feel as much of their story as possible and not sensational," he said. "You get the sense of it without having to show it."
Unsurprisingly, the conversation turned to looming development. Brian pulled out clippings from the local paper. Both managers have been interviewed recently as the situation heats up. Three offers to buy the Continental have fallen through. Financial forces beyond their control raise the possibility that the consistent routine and access to a community of care provided by the motel's managers will evaporate.
It's also in these newspaper clippings that I see the explicit policies of the motel laid out for residents: no pets, no drugs, and no paid sex. Brian and Linda take a decidedly religious approach to their housing mission, which comes through in the film.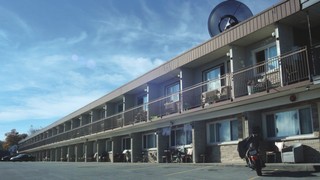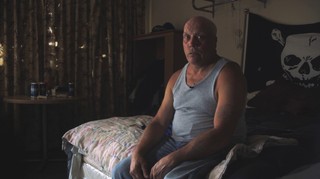 Though there's a clear need for more affordable housing in the city—a rumoured seven year wait list for subsidized units—the kind of transformation happening at the Continental remains relatively rare. Another hotel that shares an owner recently caused tension at city hall by applying for a rooming house permit like the Continental Inn has. In response the city halted all such permits until further notice.

While local councillors acknowledge that many of the old hotels are occupied by semi-permanent residents in insecure housing rather than tourists, there is a reluctance to rush into the problem. But as the old motels become less and less desirable to tourists, owners are looking for other ways to fill rooms.
Motel stands as a flawed case study and potential roadmap for what The City of Niagara Falls could do next. Ahead of his feature documentary debut, McCracken shared a collection of portraits of Continental residents with VICE.
Follow Kate Richardson on Twitter.