Koda Glover's life story would make a pretty decent cheesy baseball novel. He comes from a Cherokee background, and was born and raised in a town in Oklahoma that had all of 150 people, too small to even have a high school, let alone a high school baseball team. From earliest childhood he loved the game, watching his father and his brothers, throwing in the backyard, and when he got old enough he played at the high school where his father coached in the nearest city. In junior college he found himself confronted by adversity: an injured UCL in his throwing arm. He had Tommy John surgery; he feared the strength wouldn't return. But it did. 98-mph fastball. He was drafted in the eighth round in 2015.
And from there it was a rapid ascent to the highest levels of the game. A 1.80 ERA in 30 innings his first season in the minors, 38 strikeouts and two walks. The next season, a 2.25 ERA in 50 innings spread over high-A, double-A, triple-A. And then, in July 2016—the major leagues. He worked a one-two-three ninth in his first appearance. Three outs on four pitches. And there's your narrative, satisfying and rewarding: Koda Glover, from a town of 150 to successful big-league pitcher, only the second member of his draft class to make the big leagues.
Spring training is a time for stories. It is, after all, when the season is at its most open-ended, before the rosters are finalized. Even if you think you have a good idea of how many games your team will win—you've read the projections, you've gone through the depth charts—there's probably some part of you that believes that they might exceed expectations. They could be the Orioles! And right now, there is nothing that can prove that irrational little hope wrong.
So while the actual day-to-day unfolding of Spring Training is pretty boring, you end up writing cheesy baseball novels in your imagination. The headlines are full of premises. Will this oft-injured, once-great player in decline make his miraculous return to form? Will this unproven but dazzlingly talented young prospect play his way onto the team? Will this retired former superstar whose career ended with a whimper come back and dominate?
The answer to most of these hypotheticals, every single year, is "no, of course not, why would you think that would ever happen?"
It only took a few months for Koda Glover's narrative to unravel. After allowing only four earned runs in his first nine appearances, Glover began to feel a terrible pain in his hip every time he landed, a stabbing he described as feeling like an ice pick digging into him. He tried to play through it, because that was what he had always done, and what he had always done had landed him in the major leagues. It just got worse. When the pain became unbearable and the Nats finally shut down, Glover had racked up an unsightly 7.27 ERA in September. Glover wouldn't admit that it was because of the pain.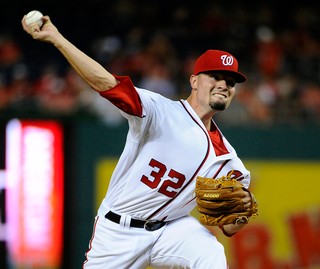 Okay, so, recover, get 'em next season. The triumphant return will only be made sweeter for having walked through the valley of darkness to get there. The headlines from spring training in 2017 all talked about how Glover was the favorite to get the closer's job, how he had the "inside track," how high the organization was on him, how high their hopes. He would pitch just 19 ⅓ innings in 2017, derailed once again, by injuries: a hip impingement, then rotator cuff inflammation. The Nats had hoped he would stabilize their inconsistent, volatile bullpen. He didn't pitch after June 10.
Coming into camp this spring, the Nats had a much stronger bullpen. Last season they acquired Sean Doolittle and Ryan Madson at the deadline. There would be no undue pressure on Glover to take over as closer. But there were also question marks: two seasons significantly shortened by injury for a pitcher are not typically a harbinger of future durability. But all the signs over the winter indicated that things were going well, he was getting stronger, the shoulder issues wouldn't be a problem again. This, then, was the season where he could really bounce back. It's the spring, and anything is possible, and Glover's is a story that you really want to have a good ending.
On Sunday, the news broke that Glover had once again been shut down. Inflammation in his throwing shoulder, again. He hasn't thrown a pitch yet this spring. The Nats say they're going to take their time. They just signed Joaquin Benoit to a major-league contract.
And with that, another great hope for the season disappears into nothing. It's always disappointing when this happens, even though you are prepared for it to happen, even though it happens so often in this sport. You'd think you would be used to it by now. Koda Glover's major league career has seen him injured more often than not. Yet some part of me still believed that this was the year that wouldn't be cut short for him.
Koda Glover, luckily for him, is young. He does not turn 25 until April. This injury will not be the death knell of his career. He'll be back next spring—older, yes, with yet another injury on his record, and, hopefully, some more major-league innings under his belt, and despite your better instincts, you will allow yourself to hope again.
This article originally appeared on VICE Sports US.