There were, really, two 4/20 rallies that took place on Parliament Hill on Friday: the protest, with a lineup of activist speakers and advocates waving signs, gathered close to the steps to Centre Block; and the party on the lawn, where weed aficionados compared bongs and passersby might pick up a fuzzy, low-level contact high.
In a day that had taken on special significance given the political debate playing out in the halls of Parliament over cannabis, thousands of people — many of them looking relaxed, laying out on the western lawn of the Hill enjoying the first nice day Ottawa has seen in weeks — brought bongs, pipes, and whole lot of weed to mark the last 4/20 before recreational pot is made legal across the country.
There were, to be sure, distinctly political overtones, as organizers made it clear that they were there to remind the government that they are far from happy with the way legalization is playing out. "Welcome to 4/20 — or as we like to call it, 'prohibition 2.0..18'," said organizer Alex Newcombe, kicking off the event. "Ladies and gentlemen, welcome to the year of pseudo-legalization."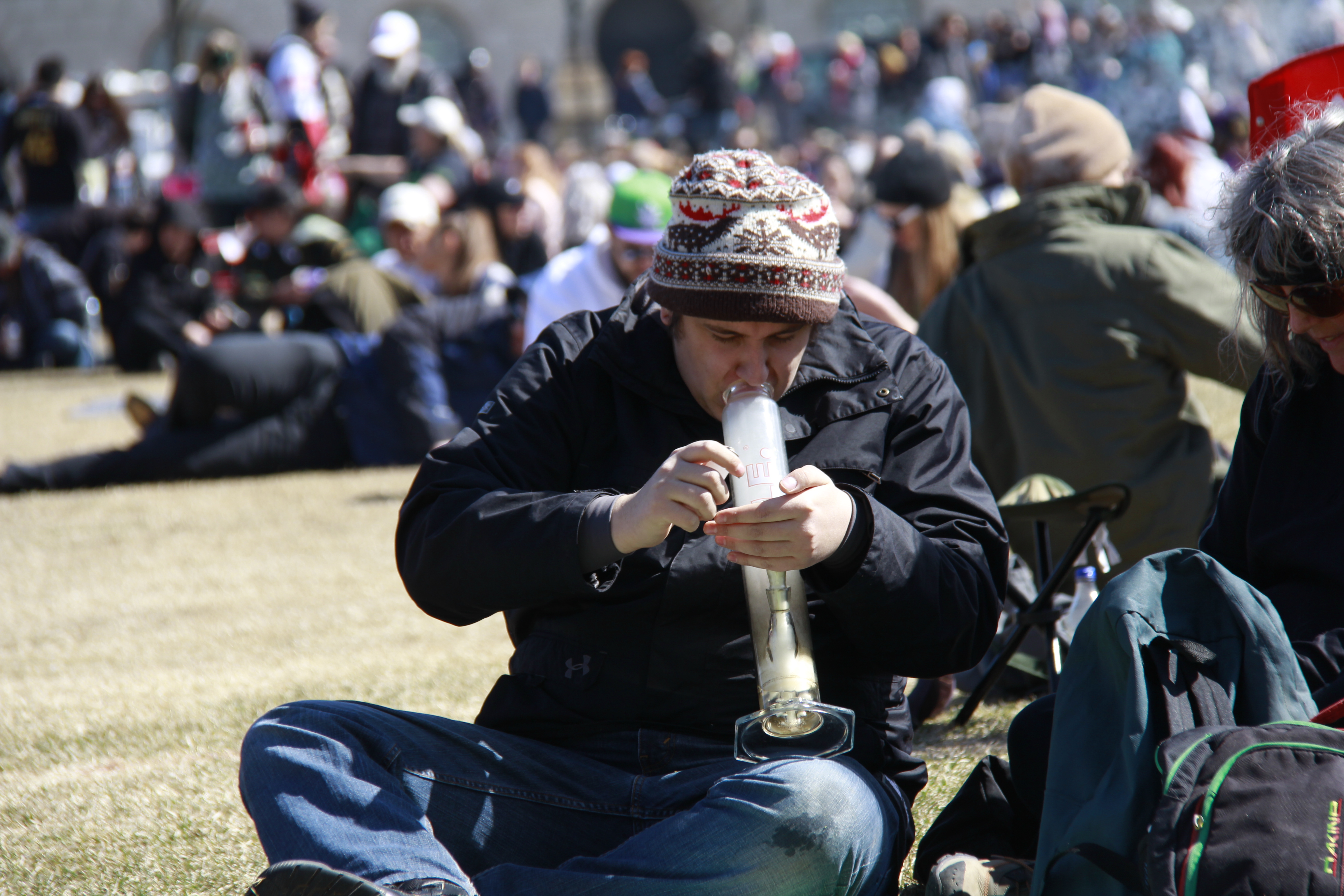 The headlining speaker was Emma Boniface, a 14-year-old advocate for medical cannabis who began speaking out against the pharmaceutical industry after her mother became addicted to fentanyl. She spoke, minutes before leading the countdown to 4:20 PM, about the challenges many patients still experience within the medical cannabis system. They fear that a crackdown on dispensaries will invariably limit patients from accessing certain forms of cannabis, like concentrates and edibles.
Boniface's billing at the rally had certainly turned a few heads in the lead-up to the event — she is only 14, after all. But with much of the crowd she was a hit, as she spoke in support of increasing access to cannabis and CBD for kids who are chronically sick.
"What would you rather? A kid being on 3 different types of medication that he will just end up getting addicted to, or would you rather he take CBD?" The crowd, as one might have predicted, loudly confirmed their choice: they definitely preferred he take CBD. "I don't want to live in a society that sees it as more acceptable for me to take a pill," she went on. "We need to do something now, not later. We are running out of time. I'm here asking you begging you, don't forget about of us before more of us get addicted to pharmaceuticals."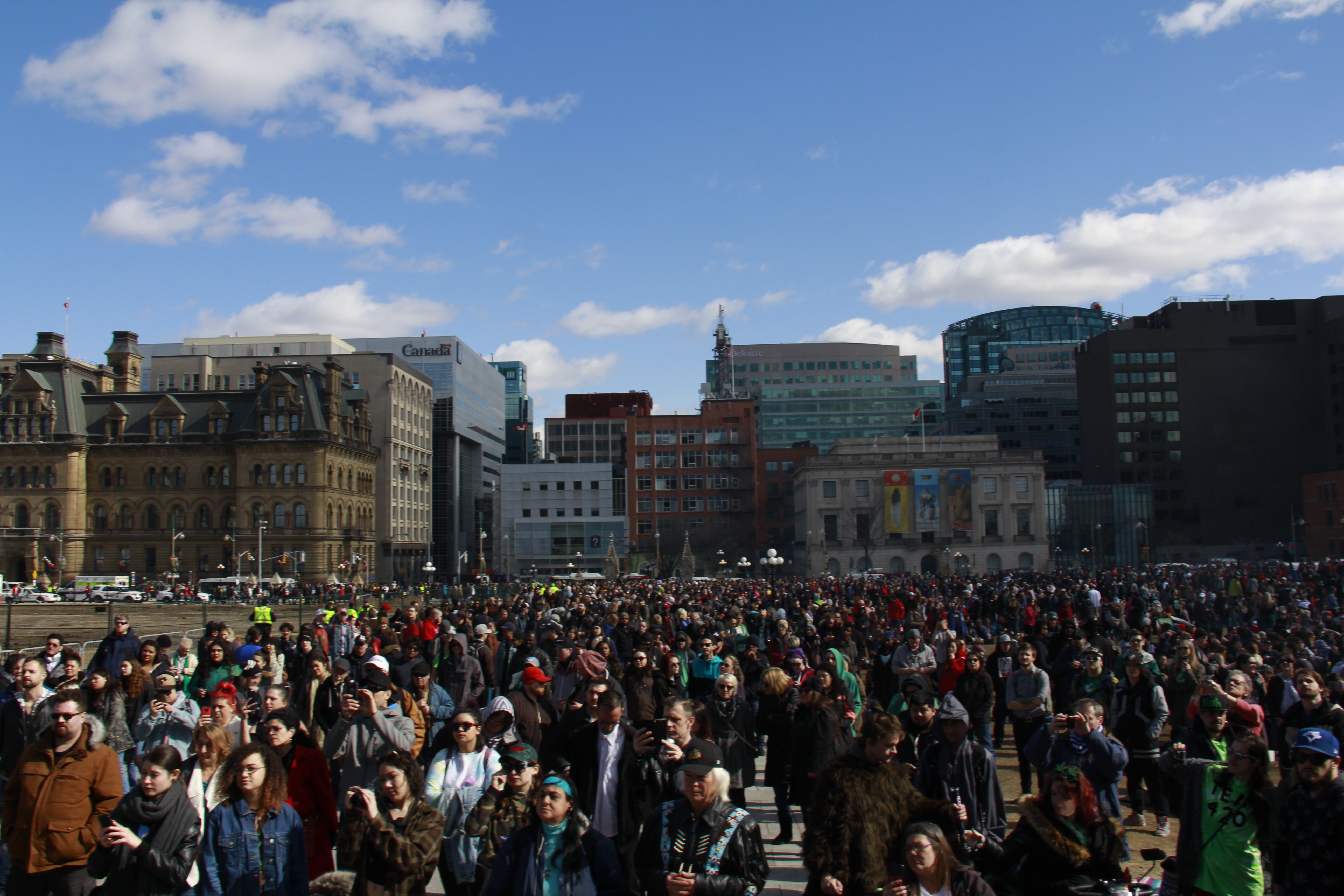 There was no shortage of fire and fury from the organizers, who were adamant that there was very little to celebrate this year. Fair enough — but in actuality, most of the thousands of people were there, simply, to smoke weed on a sunny day. (Ming Saad, one of the organizers, wasn't quite certain how many people were there, but said that it was "a shit tonne.") Many of them showed up early in the afternoon, laying out full picnic spreads; one group of teenagers engaged in a lively debate on whether or not you can use Mountain Dew as bong water. ("I've done it with Gatorade. Trust me," said one.)
Others were there for the sheer novelty of smoking a joint in the shadow of the Peace Tower. "I just think it's funny, that it's a day where everyone decided to come here. I think it's really cool," said Sydney, a 19-year-old student in Ottawa. She said it was her first time attending a 420 rally on the hill. Sitting beside her, Aren, 19, said that it was less of a protest for them, and more just a relaxing way to spend an afternoon. "No one gives a shit here either," he said, laughing. (A sign, perhaps, that cannabis isn't quite normalized, yet: the two, like almost everyone else interviewed for this story, wished to be identified only by their first name.)
Both were adamant about one thing: there was no way they were going to support the government's legalization by buying their pot from them. "They're just seeing it as an opportunity to make money," said Sydney. "It's going to make it worse than it already is."
"This is more of a party," said one young woman who did not want her name used. "There's nothing really left to protest, it's going to be legal soon."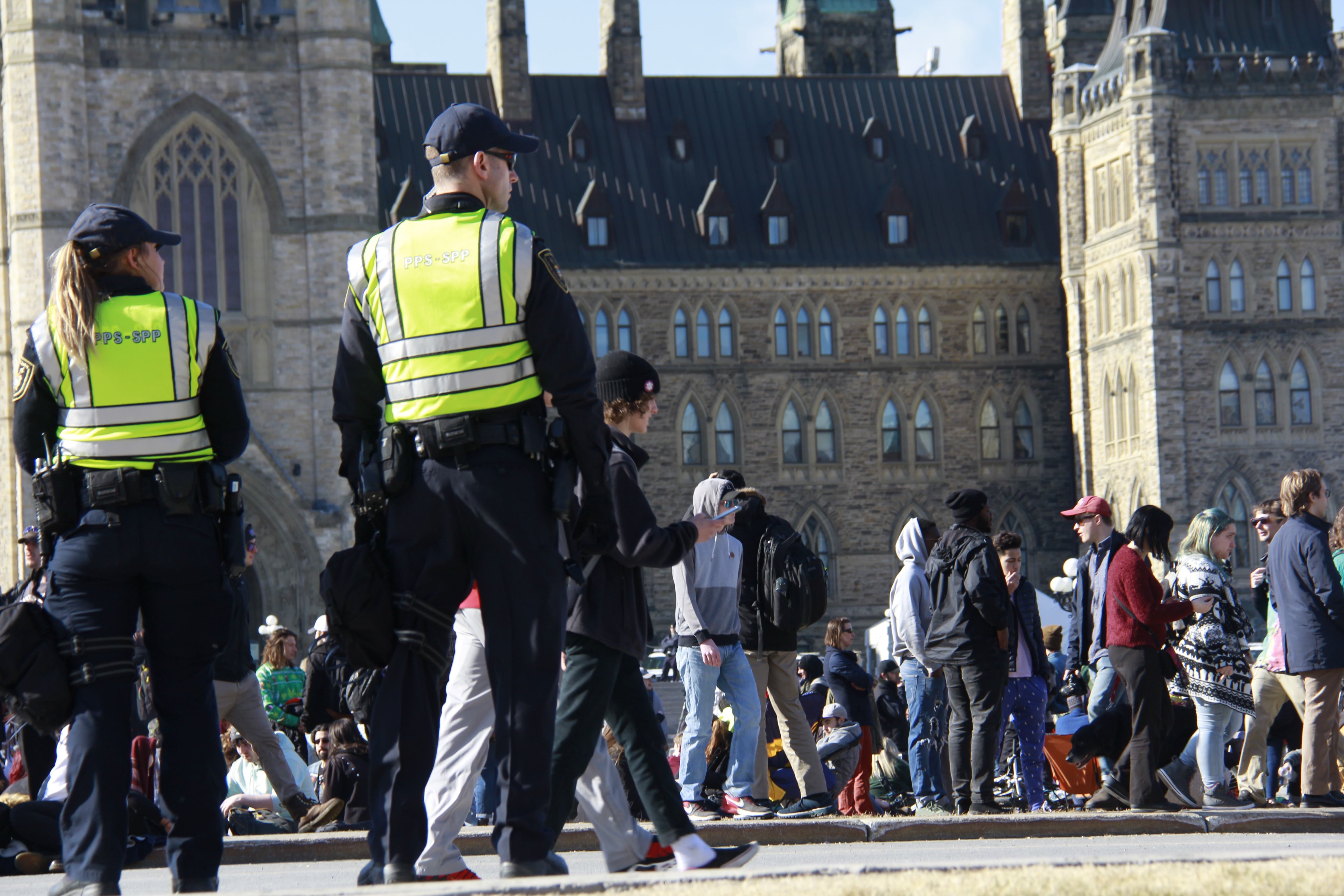 Alexander Beaumont, who took a bus in from Montreal for his first time attending 4/20 on the hill, said that he wanted to do it before weed became legal; there is something nice about participating in a mass demonstration of civil disobedience. "I know this is like the last time before city bylaw [officers] can fine you for" smoking in public he said, "so I wanted to do it while it's still only quasi-legal or whatever."
His friend, Isaac Botham, said he wanted to enjoy the event before it changed for good. Next year, "I think it's going to be a bit more of a gongshow," he said. "It'll be probably more commercialized."
Asked if they were there to party or protest, 25-year-old Corey was still on the fence, and said the government had a ways to go before legalization begins to make sense to average Canadians. "It has to be a little bit of both, you have to be a little bummed out with the way legalization has been targeted in Canada. No one's happy with it, it doesn't seem well thought out, it seems pushed way too quickly, and leaving things to the provinces doesn't seem like a great idea," he told VICE News. "People like me are confused and I'm totally interested in this, so you can totally imagine what a person on the street who worries about reefer madness," will think.
"Look, no matter what, everything will be sorted out in the wash," said Corey. "I'm confident that Canada has a good enough system that in the end we'll all end up happy. But at the start it might be a big problem." He was, however, very excited to be able to legally experiment with growing his own weed.
Though the idea of the death of 4/20 had been bandied about — a couple smokers at the rally were pretty sure there would be no reason to be angry next year — the organizers are already looking forward. By the time the 5 p.m. end rolled around (a time that was clearly seen as a suggestion, not a rule) they were already looking to next year.
"The level of support here is just fantastic," said Newcombe. "Apparently this is the last year we'll be able to do this without getting ticketed or fined, but I say screw 'em — take the ticket, take the fine."