When Memphis Cadeau hit send on Instagram, she had no idea she was opening her tattoo parlor's version of Pandora's Box.
The post, which went up two days ago, said that Grim City Tattoo Club in Hamilton, Ontario would remove any racist tattoos, human trafficking tattoos, radiation scars, and pretty much everything that someone had gotten from a traumatic experience. Cadeau couldn't have comprehended just how many people would want to take her up on that offer.
"It never really occurred to me what I was getting myself into but the second we started getting the messages it was like 'oh shit.' It's daunting, you're going through and you're like 'that's absolutely terrible, the world can't get much worse than this,'" Cadeau told VICE. "Then you open up the next email and are like 'oh OK, that got worse, that got darker.'"
"We have more phone calls, emails, and messages to go through than we even know what to do with."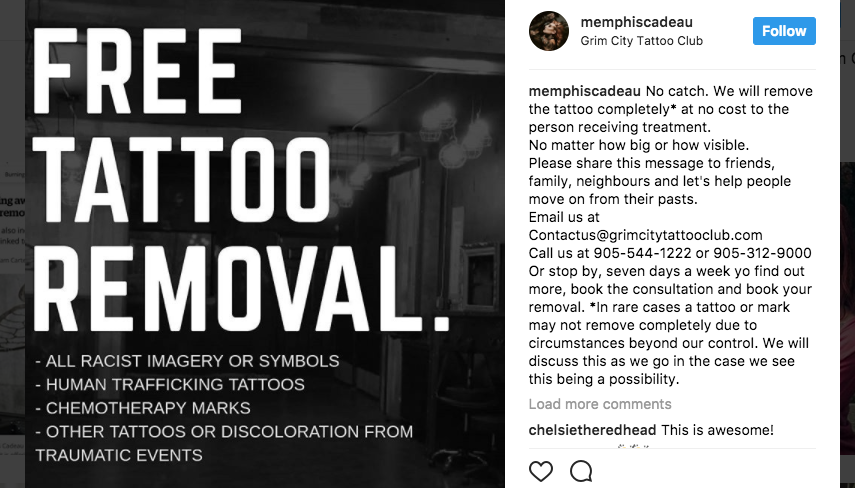 The tattoo shop, which is run by Memphis and her husband Travis, just purchased their first laser machine and decided to make the offer. Since then they have been inundated with upwards of 800 messages—some of which are, admittedly, upsetting to hear. One that Cadeau brings up centres around a young woman whose social worker reached out to them. When the woman was a child her father held her down and "carved her" with a tattoo machine.
Another story was about a women that did some time a while back and was forced into a gang and came out with gang tattoos on her hand—something the woman now wants off as she's out of prison.
The stories just keep coming in.
"There are more stories than I would like to admit of girls who basically were in an abusive relationship and their boyfriend or partner tattooed not just once or twice or three times but tattooed his name all over them so they couldn't leave," said Cadeau. "Making it so nobody would ever want them because this person name was covering them."
Cadeau is also offering people with racist markings on their body redemption—a decision that has a personal element for her. She was born in South Africa at the tail end of apartheid and says her parents used to hold "very racist views." When Cadeau immigrated to Canada with her family at age nine, she says her parents were exposed to diversity and over time changed their views.
"I think that is the situation for some many of these people, they get brought up in homes where they were indoctrinated into these beliefs or they get themselves into a relationship with someone they trust and that person influences you," said Cadeau. "Now these people are coming in because they want to get rid of these tattoos, they want to show they're not these people, they want to be better people."
"How do you sit there and judge them for saying 'I was a crappy human, I'm now trying to be a better human?' They're willing to go through a decent amount of pain to get rid of something they previously got done. That's a pretty decent way of saying 'you know what, I was wrong.'"
Getting a tattoo removed via laser isn't an easy, quick, nor cheap process. Cadeau's husband Travis, who does most of the tattooing at the shop, said that it takes up to eight trips to remove just a small tattoo with their laser. The typical cost of removing a four by four inch black tattoo would be about $2,000.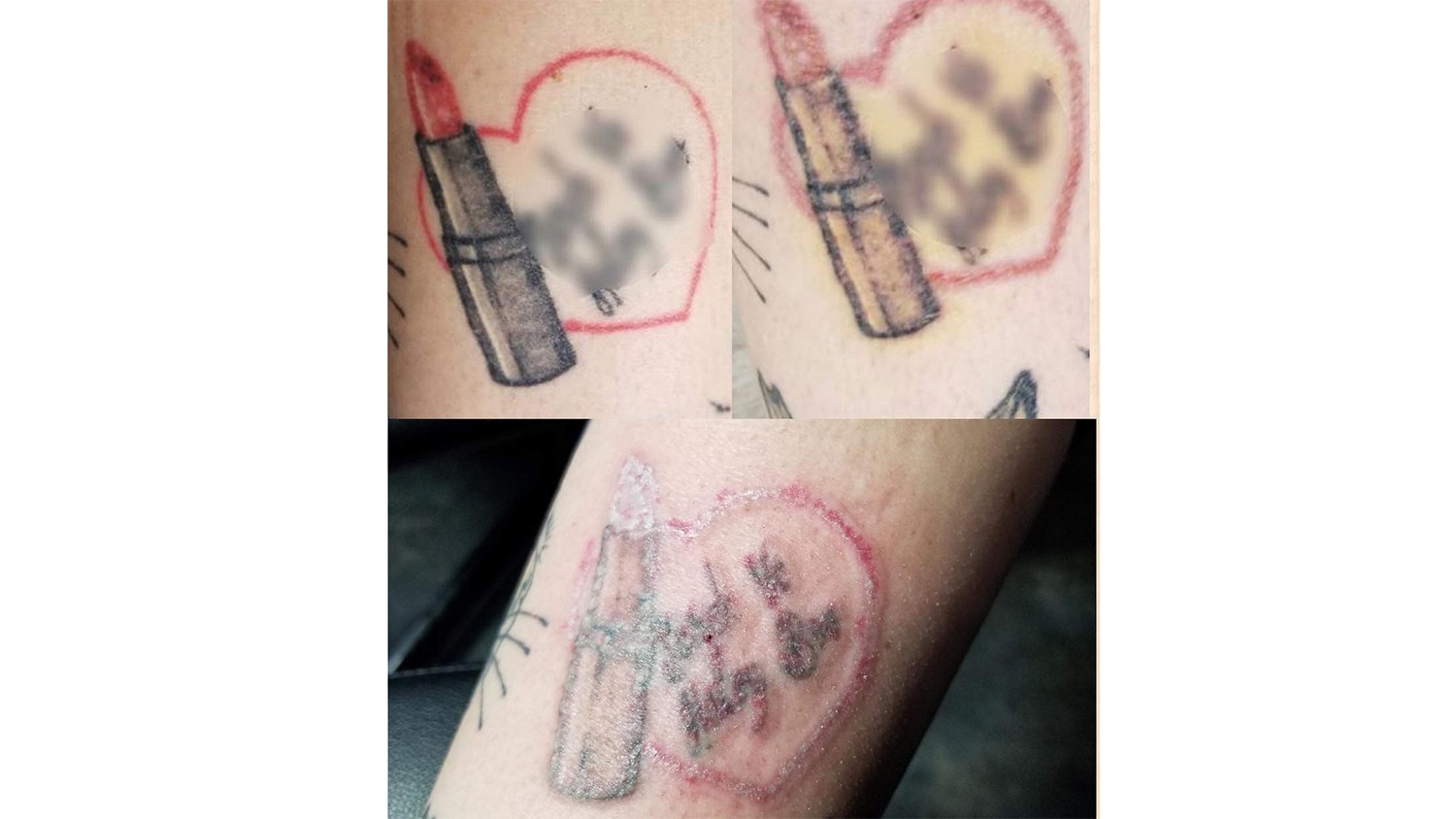 Now, the problem, Travis says, is figuring out logistics while balancing their charitable actions and profitable work. The challenge isn't just deciding how to fit so many people in, but even deciding who goes first.

"We're just starting to scratch the surface of this Pandora's Box we opened up," said Travis. "The response has been pretty daunting. This is something we definitely want to do but how we are still figuring out how we are going to make this work."
Despite all the hurdles, Memphis and Travis are both adamant it's something they're going to follow through with.
"There are a lot of people that have been going through horrible times and could really just use somebody saying, 'here's a little bit of a break, here is a fresh start,'" said Memphis. "People in the world overall just don't care about each other enough. The mentality of 'I can't do anything' needs to change."
Follow Mack Lamoureux on Twitter.