When the Cleveland Cavaliers swoop into visiting cities, the media crush is immediate. Where LeBron James goes, the story follows. This is the case wherever the Cavaliers travel, which was evident in Toronto during a key Eastern Conference matchup in January.
There was no shortage of media-related bodies on the third floor of Toronto's Air Canada Centre waiting to see if James would speak following the Cavaliers' practice. And as he and Dwyane Wade sat chatting idly on the far side of the gym, seated below a series of framed Raptors jerseys representing each of the uniforms the team has worn throughout the years, there was a 36-year-old point guard getting up shots nearby.
That point guard was familiar with the rims in the practice court, not to mention the uniforms, of which he had worn most during his eight-year tenure in Toronto. When his post-practice shooting was finished, the same Toronto reporters who had been waiting on James forgot about their intended interview target, rushing instead to catch up with Jose Calderon, one of the most respected Raptors in franchise history.
After spending two days speaking with Cavaliers players and former Raptors teammates, it became clear that wherever he goes, the sentiment and perception about him is always the same: Jose Calderon is a beloved pro.
---
---
That's always been true for the Spanish journeyman, who made his NBA debut as a 24-year-old with the Raptors and spent eight seasons in Toronto before getting traded to the Pistons in 2013. He's traveled a lot, playing for five different teams since the Detroit trade, making stops in Dallas, New York, Los Angeles, and Atlanta (and even signed with Golden State midway through last season, but was waived the same day when Kevin Durant was injured and the team needed to make room to sign Matt Barnes) before joining the Cavaliers this past offseason. Wherever he goes, he finds a way to make an impact even when he's not on the court. That's been no different in Cleveland.

Now in his 13th NBA season, with a professional career that started when he was 17 in Spain, Calderon is nearing the end, playing the role of cherished veteran for a rollercoaster Cavaliers team that LeBron is trying to will back to the NBA Finals. He's the old guy now, playing on a team that features 26-year-old Tristan Thompson, who grew up rooting for Calderon and the Raptors long before his own NBA career started.
"When we first became teammates we would always talk about old Raptors stories, and watching them on [TV]," Thompson said. "I definitely made him feel a little old, telling him I was watching him in middle school, but it's crazy being able to watch Jose all this time in Toronto, spending all of these years here. I told him the only play they ran was him and Chris Bosh in the pick-and-roll."
Thompson jokes about making Calderon feel old, but the veteran guard is happy that he's not the eldest player on the Cavaliers' roster. That distinction goes to sharpshooter Kyle Korver, who was born six months before Calderon.
"In Atlanta last year, I was like, 'Damn I'm the oldest one,' but now I've got Kyle for a few months so I'm a little bit younger again," Calderon said. "For me to see guys who were rookies when I got here, it's just nice. Like DeMar [DeRozan], we always talk about it, but to see a guy growing, it's really nice. When he got here, he was not the DeMar we know now. That's the nice part of the NBA and being around, there are so many good kids and good players and some of them get it and others, they don't."
After a recent practice at Toronto's BioSteel Centre, DeRozan was asked who would be at the top of his personal list of best teammates, and immediately named Calderon. Coming to Toronto as a 19-year-old from Compton, California, DeRozan spent the first three-and-a-half years of his NBA career playing alongside Calderon, including a difficult 22-60 season in 2010-11, following Bosh's departure for Miami.
"He was the most positive individual that I came across and it gave me the utmost confidence to be the scorer I am today in this league," DeRozan said. "He was always positive. I remember I had a lot of rough times, rough days, games, questioning, 'Can I shoot, can I do this, can I do that?' but Jose always gave me that confidence to understand you've got to keep going, keep shooting, keep playing. To see the professional approach he took every day was something I was always envious about and wanted to take from him because no matter how bad those first seasons [were], he was always a positive individual."
Calderon credited Toronto teammates Darrick Martin and Anthony Parker, along with Bosh, for helping him adjust to the NBA game. Coming into the league, he said, his goal was to always be about the team. This made his teammates want to help the rookie find his footing.
---
When he's back in Toronto, Calderon can often be found down the hall between locker rooms before pregame warm-ups. Tucked away between the two locker rooms is the "office" for Toronto's equipment managers, whom Calderon likes to catch up with when he's back in the city. No matter the amount of time that passes since his tenure in Toronto, returning always feels a little like a homecoming. From former teammates to coaches, security guards and arena staff, Calderon will forever be a favourite in Toronto.

Raptors head coach Dwane Casey is generally reserved when speaking. He chooses his words carefully, rarely giving in to hyperbole. Still, when the topic of conversation involves his former point guard, he has a hard time limiting his compliments and reining in his enthusiasm.
"Jose is one of the most competent and well-rounded human beings there is," Casey said. "Take away the basketball part, you want a guy like that on your team, in your business, in your company, in your family, whatever it is. You just can't say enough good things about Jose Calderon. He's a solid man, an excellent basketball player.
"He's one of those guys that could be having the worst day of all but he's going to make you feel like he's ready to contribute and do what it takes. You can't give him enough compliments as far as him as a person and him as a player."
Despite it being just Calderon's first season with the championship-seeking Cavaliers, his 13 years in the league have earned him respect throughout the locker room. When the Cavaliers shocked the league at the trade deadline, sending out six players and receiving four in return in an attempt to improve defence and chemistry after a mid-season slump, Calderon remained on the roster. Wade was one of the players who left Cleveland to return to the Miami Heat. Isaiah Thomas, Jae Crowder, Iman Shumpert, Channing Frye, and Derrick Rose also left Cleveland. In a recent episode of Road Trippin, the podcast co-hosted by Frye, Richard Jefferson, and Cavaliers sideline reporter Allie Clifton, Wade spoke about having Calderon as a teammate this season, singling out his competitive drive and positive mindset.
"Jose is as selfless as it gets," Wade said. "There are not many players who can really say that one hundred percent, if I don't play I'm going to smile the same way, my food is going to taste the same way. There's not many guys to do it if you're not playing, or if you're having a bad game. Even if you're about the team, you're still frustrated. It's hard. That's why he's special."
Thanks to a rash of injuries to Cleveland's point guards, Calderon's role has fluctuated wildly this season. After not playing at all in the season opener, he started the third game of the season then saw sporadic minutes before not playing at all for a two-week period in November. After that, there was a stretch where he started 22 straight games before his minutes were limited once again. While Thomas was rehabbing from a hip injury and Rose was in and out of the lineup for various reasons, the Cavaliers needed a reliable option to fill in at the point guard position and Calderon stepped up whenever he was needed. He can go a day or week sitting on the bench without the coaching staff calling his name, but never has an issue with his role.
"It's absolutely amazing," Frye said. "You talk about pros in this league and Jose is that example. Every day he's in there working, always ready to go, always being a pro, always ready to come in and contribute. Always doing the extra. I'm glad I got a chance to play with him."
Calderon has spent his career fulfilling whatever role has been asked of him, while helping to teach younger teammates how to find their own. As the restructured Cavaliers roster continues to try to find its footing, more than 60 games into the season, Calderon's personality and positivity come into play once again.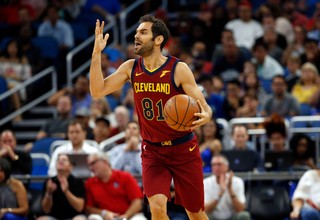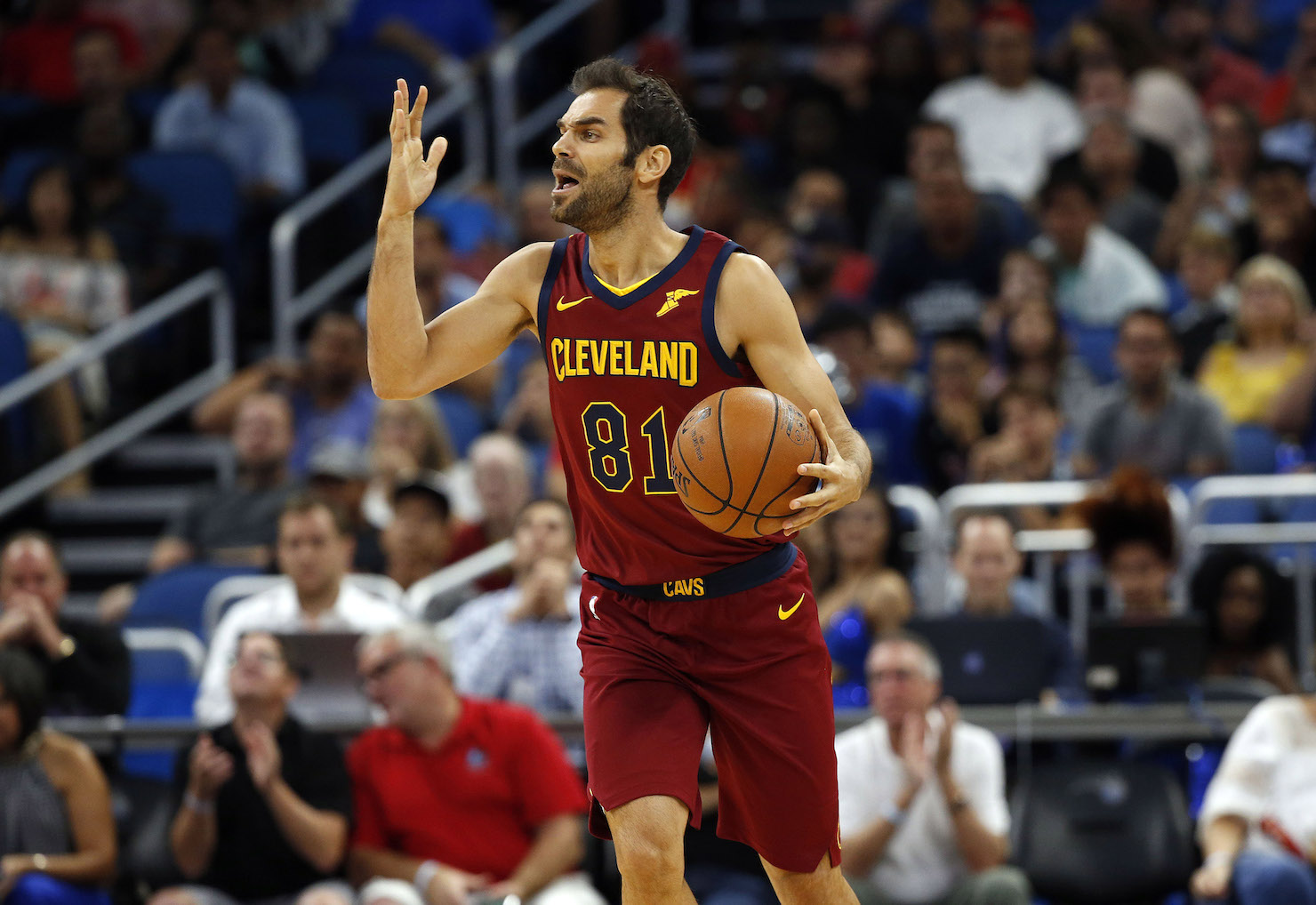 "He's just a professional in every way," Korver said. "But I think the thing, why everyone likes him so much, he just has this, like, joyful spirit about him. He's one of the people you just want to be around. You want to talk to him. He has a passion for the game, how to get better. He's just someone you want to be around."
Prior to the season starting, Korver, who came to Cleveland from Atlanta at the trade deadline last season, called Hawks head coach Mike Budenholzer to ask about Calderon. Though the Hawks only had Calderon for 17 games, Budenholzer's scouting report was positive.
"He just said how much he loved him as a person," Korver recalled. "You've got to have [these] guys. These seasons are so long, there's all the ups and downs, wins and losses, winning streaks and losing streaks, so you have to have people who just are consistently bringing positive energy and playing hard every day, caring every day.
"He's definitely that person and he's been that way for a long time."
Calderon's career will finish without an All-Star Game appearance, but he's had a profound impact on other players who have made the league's marquee mid-season event, such as DeRozan. Certain bits of DeRozan's success, some of his confidence on the court, and growing into the leader who serves as team co-captain in Toronto, can be traced back to Calderon's off-court assists early in his career.
"He always made it about everybody else," DeRozan, a four-time All-Star, said. "Being a good individual to your teammates, to everyone in your work environment, your colleagues, that's definitely something I took from Jose. To have a point guard like that, who gave off that energy, that vibe and professionalism, to this day, I carry a lot of things I took from Jose with me leadership wise."
The selflessness that has defined Calderon's career—both on the court and off—is why former and current teammates alike break into a smile as soon as his name is mentioned. Nearly 20 years after first going pro, Calderon heads to the Cavaliers practice facility a few hours before necessary every morning after he drops his children off to school.
After all the years of practice and perfecting, he says he's still having fun playing the game he's loved for so long. In the presence of a basketball joy this pure, the reaction of his teammates make sense: it becomes impossible not to smile, too.