Back in 1962, British instrumental band The Tornados recorded a composition called "Telstar," a galloping, organ-pop track named after the first satellite to transmit images from space. It raced to the top of the British charts. Overseas, it became the first song by a British rock band to reach the number one spot on America's Billboard Hot 100. But "Telstar" was not written by The Tornados. It was written by Joe Meek, a gay British composer, producer, and sound engineer.
"Telstar" happens to be one of Shaun Brodie's favourite compositions. Brodie is the founder and artistic director of Queer Songbook Orchestra (often abbreviated to QSO), a Toronto-based musical collective of queer and allied musicians. Brodie and QSO released their debut studio album, Anthems and Icons, on June 15, and celebrated the record with a show at Toronto's Buddies in Bad Times on June 17. Their arrangement of "Telstar" is on the record, along with seven other performances of songs from the pop music canon throughout history.
The central thesis of Anthems and Icons, and indeed of QSO, is the centering of queer experiences both captured in and inspired by, pop music.
Brodie, a classically trained trumpet player, founded QSO back in 2014 after years of freelancing with artists like Dan Mangan, Dirty Projectors, and New Pornographers' Carl Newman. Years of playing in the Canadian music industry brought him in contact with countless quality players, which meant assembling a roster of musicians for QSO was relatively easy. Their first performances were two sold-out shows at Jordan Tannahill's now-closed Kensington space Videofag. During this time, QSO had no funding; Brodie paid performers and arrangers with a line of credit.
QSO's arrangements, both live and on Anthems and Icons, reflect Brodie's desire to not only celebrate pop music, but reimagine it. "I had this idea to do this queer project, but changing the music up and having an ensemble with different instrumentation that intersects classical with pop with jazz," he explains. "[The songs] have been deconstructed and represented in different ways which I think can help to inform this new and different perspective." This new perspective can range from structural subtleties, like recasting kd Lang's "Constant Craving" in ¾ time, to complete thematic overhauls, like their eclectic, abstract, absurdly brilliant take on Anne Murray's "Snowbird."
But for Brodie, the songs often come second, inspired by stories of queer experience. Anthems and Icons is accompanied by a booklet featuring scripts that contextualize and explain each song. These include biographies that shed light on the life of the artists and composers covered, and personal stories from queer Canadians that unpack why the song is important to them. For "Constant Craving," Logan MacDonald writes of growing up closeted in Gander, Newfoundland. With little resources or representation to help him explore his sexuality, Lang's "Constant Craving" became a source of empowerment and comfort, but MacDonald wouldn't buy the record, lest he risk being outed by the store's employees. Instead, he called his local radio station and requested the song for months. When it finally played, he recorded it to a tape. He listened to it so much that the tape broke.

"The stories really are what comes first in selecting our repertoire," says Brodie. "Just to have 'Constant Craving' on it makes sense, it's a queer record. But it wouldn't really be doing it justice. We do that song because the story was given to us about this kid growing up in Gander and that song being a lifeline for him." He adds that they aren't restricted to covering queer performers: "You just have to have touched a queer life in a way." Toronto musician Vivek Shraya appreciates the group's recontextualization of non-queer artists. "You go to a QSO event, and suddenly you hear Christina Aguilera's 'Beautiful,' and you realize the ways in which that song is queer or can be queer," she says. "There's something really powerful about."
Shraya, who worked with QSO on her Polaris Prize Longlisted 2017 record Part-Time Woman, adds that pop songs are often coded with exclusive imagery and language. "The challenging thing about pop music is that pop music is interpreted as universal, but universal is often code for white or straight or cis," she says. "As listeners, as queer, as people of colour, or as trans listeners, we actually already have to reimagine pop songs in new ways so that they become more relatable for us."
"I think the QSO is doing a more explicit reimagining."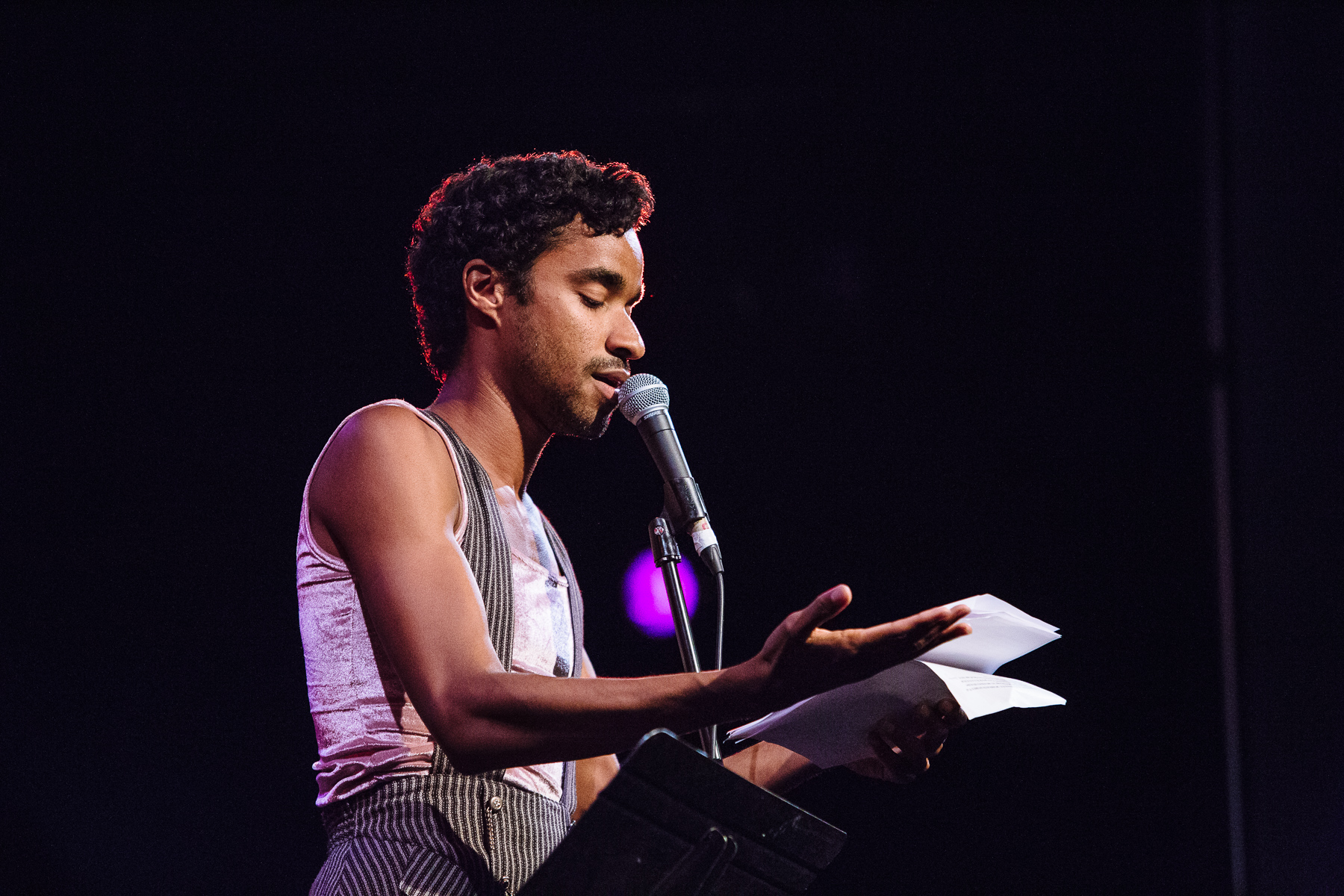 In elevating queer experiences, QSO is actively building community through the expression of these shared experiences. "I think these stories of queer experience in all their forms are something that resonates within the community," says Brodie. "If you came out when you were 65 [or] when you were 12, there's some element of otherness that you have to contend with at some point."
Acknowledging that continued struggle is part of the project's title (though Brodie also notes their place in a tradition of other 'SO' abbreviations, like Toronto Symphony Orchestra). "I always wanted it to be a visibly queer thing from the beginning," Brodie says. "Queer is a term that, flawed as it may be, is the one that can best cover the spectrum, but I always wanted visibility there so people who might need it can see it." He explains that he, too, found empowerment in pop music. "I queered 'Son Of A Preacher Man' when I was a kid," he says. "Not consciously, but it was going on in the back of my mind. I would hear the song on the radio, and imagine myself as the protagonist going off with the preacher's son having this adventure. For me, that's a queer song. I think any song can be queered by the listener."

Brodie likes to call them "non-binary pop songs." "They're no longer the children of the person who wrote it, cause they're out in the world and they're open to whatever interpretation the listener has. You hear that song when it's what you need."
Luke Ottentof is on Twitter.