Outside of the Art Gallery of Ontario in downtown Toronto, banners draped over stone columns herald the gallery's newest exhibition. They're stenciled with the summer exhibition's title, an Inuktitut word: 'Tunnirusiangit.' It means 'their gifts,' and it describes the work of Kenojuak Ashevak and Tim Pitsiulak, the two Inuit artists at the heart of Tunnirusiangit.
The exhibition, which will open to the public on June 16, is being staged in the Sam and Ayala Zacks Pavilion, which is the AGO's largest exhibition space. It marks the first time that Inuit art has been featured in the space, curated by four contemporary Inuit artists: Laakkuluk Williamson Bathory, Taqralik Partridge, Jocelyn Piirainen, and Koomuatuk 'Kuzy' Curley. All four of them have contributed to the exhibition in ways that honour, converse with, and build upon the works of Ashevak and Pitsiulak. A text from Curley (himself a renowned sculptor) near the exhibition's entrance captures this central thesis: "We are working for these two artists and they are challenging us."

Both Ashevak and Pitsiulak were based in Kinngait (anglicized as Cape Dorset), Nunavut. Born in 1927, Ashevak is often referred to as the 'grandmother of Inuit art,' thanks to her pioneering work. Hers is a distinctly imaginative and loving style; her surreal, vibrant renderings of wildlife like with The Enchanted Owl and Luminous Char suggest boundless magic and beauty in our surroundings. Pitsiulak, born in 1967 and based in Kinngait, was Ashevak's nephew, and drew inspiration from her presentations of wildlife and traditional imagery. A multidisciplinary artist and lifelong hunter, Pitsiulak's works center both traditional and and modern ways of life in Nunavut—his drawings find walruses in frame with a GoPro, or a young Inuk plugged into his laptop.
Ashevak died in 2013 at home in Kinngait at age 85; Pitsiulak succumbed to pneumonia in 2016 in Iqaluit. He was 49. But through Tunirrusiangit and the works of the exhibition's curators, their beliefs in celebration of the land, personhood, imagination, and Inukness through art are continued.

Williamson Bathory and her co-curators became involved with the exhibition in late 2017. She fondly recalls first encountering works by Ashevak and Pitsiulak when she was a child. "They're so vibrant and so galvanizing for our Inuit arts community," she smiles.

For Williamson Bathory, Tunirrusiangit is, first and foremost, about collaboration. Her installment, titled "Silaup Putunga," embodies this twofold: the audio-video piece is a collaboration between Williamson Bathory, video artist Jamie Griffiths, and vocalist Celina Kalluk. The work functions as "both a statement to how we work together as Inuit, and also to how contemporarily we work together as women."

These literal manifestations of collaboration are obvious, but more subtle are the fluid, borderless expressions of collaboration: between human and land, real and unreal, past and present. The exhibition isn't presented chronologically, a feature that Williamson Bathory highlights. "Not showing it linearly was very important," she notes. Even the title of her piece, "Silaup Putunga," is a play on words that suggests such multitudes. "'Sila' means many different things in our language," she explains. "Everything from the weather, to our intellect, to the atmosphere, so it's an exploration of the portals, the holes through all of these different things."

Part and parcel to this, and to all of Tunirrusiangit, is the tie between the self and the land, and the immense respect Inuit feel for their environment. "We see ourselves as part of the land," Williamson Bathory continues. "To have this liquid barrier between seeing ourselves as human beings, and as animals, as well as this liquid barrier between dreams and real life, is an integral part of our culture."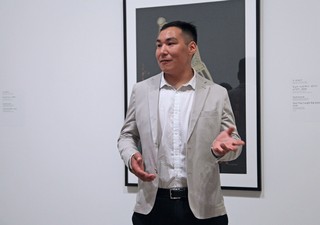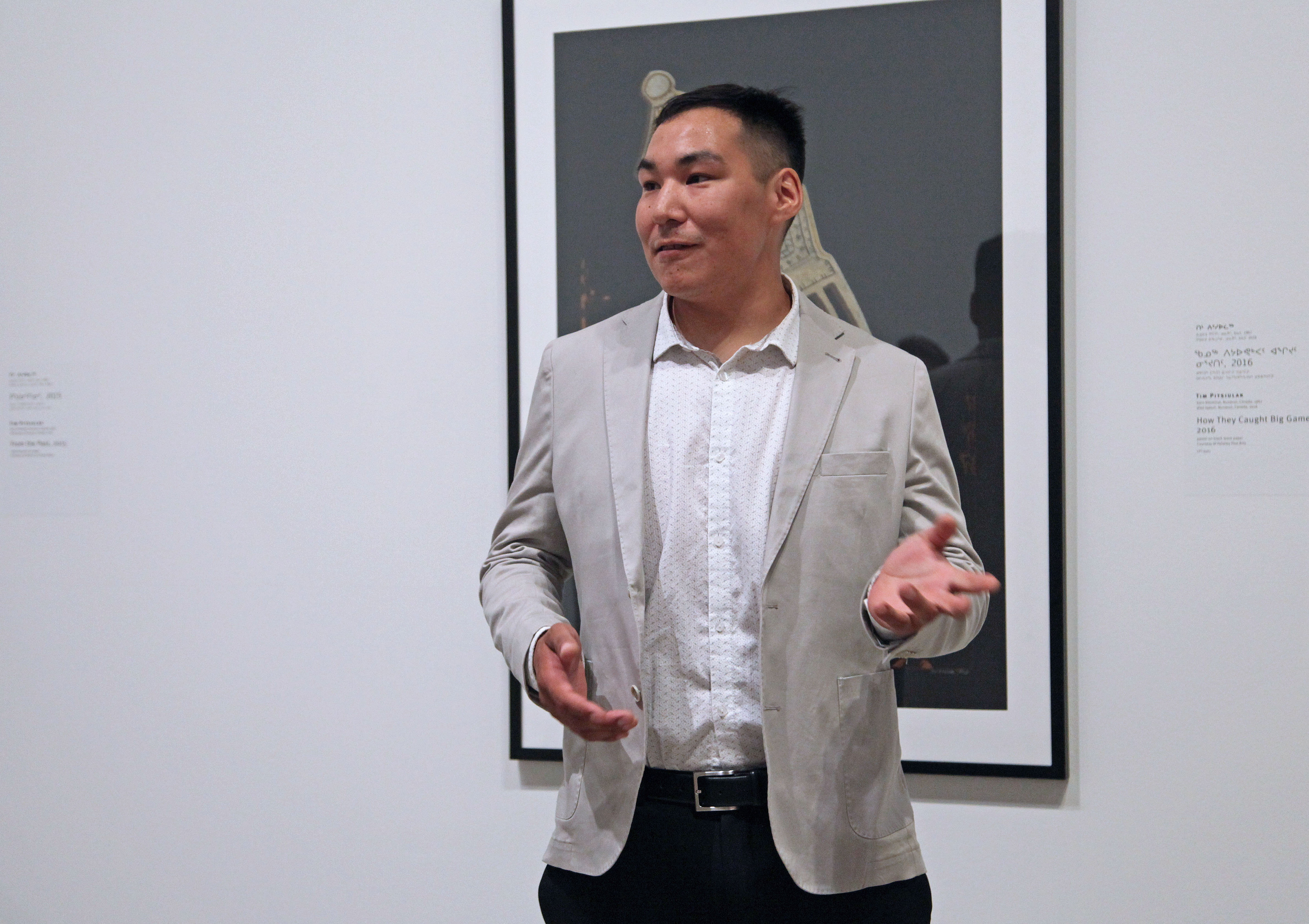 Her piece is rooted in her practice of uajeerneq, a contemporary and ancient Greenlandic mask dance. Uuajeerneq explores sexuality, comedy, and fear, and in the context of Tunirrusiangit, it reflects "an exploration of how you sift through layers of reality and the dream world in order to come to an understanding about your ordinary life. This is very true for many of us as Inuit, that we use the surreal to understand the real, and vice versa."

Ashevak and Pitsiulak, as well as Partridge, Curley, and Piirainen, unpack these intricacies throughout the exhibition. Partridge's piece is a representation of an Inuit qarmaq, which is a traditional semi-permanent hut that was used during warm months. Driftwood or whalebone would be used for the frame, which would then be covered in sod. But when newspapers came north to Inuit, they used the sheets to insulate their qarmait rather than sod. Partridge partially recreates a qarmaq, using archival newsprint that covered Inuit.

"My idea was to raise questions about how Inuit have been represented historically in our most important sources of news," she explains. Partridge's qarmaq encourages viewers to think about language used in media representations of Indigenous people, and who is controlling that language and narrative. In every case exemplified in Partridge's piece, the writer was not Inuk.
The idea of narrative and spatial reclamation stretches all the way to the exhibit's soft open on Wednesday evening, where an entire seal, sourced from Kinngait, will be served. Williamson Bathory grins that she suggested they serve the beloved country food. "It's a part of a larger conversation about how Indigenous people can feel welcomed and have ownership over public institutions," she explains. "It's important to us in the way that other Indigenous cultures smudge, and other cultures pray… seal meat has been such an integral part of our culture and our humanity on the land in the Arctic since time immemorial."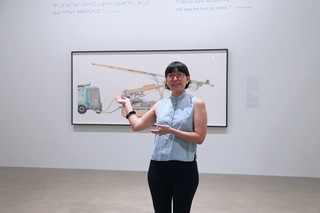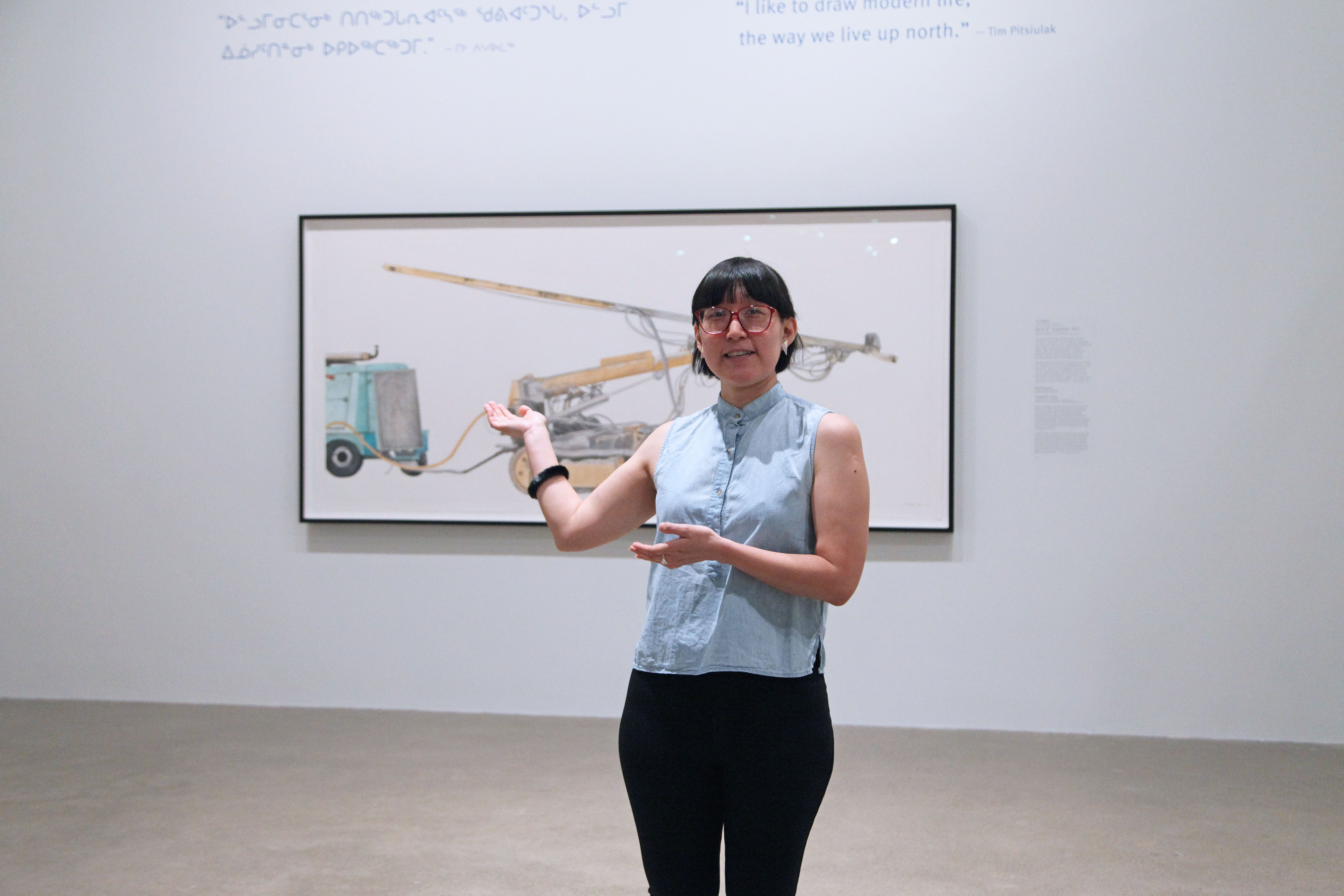 Tunirrusiangit encourages this sort of assessment throughout. Inuit language and ways of knowing are centered across the exhibition. It's an enlightening experience for non-Inuit audiences, but for the curators, this narrative bears extra weight. Piirainen's words adorn a wall, explaining, "For an urban Inuk who has been living in the South and rarely sees the tundra, this project took on great meaning. It meant exploring my roots and connecting the old traditions with new conventions of discourse."

Curatorial team members Anna Hudson and Georgiana Uhlyarik expanded on the importance of strong cultural identity. "Cultural health is the foundation of all health," Hudson announced simply at the preview's outset. Uhlyarik, along with Wanda Nanibush, comprises the AGO's recently-founded Indigenous and Canadian Art Department, which is dedicated to nation-to-nation relationships between the AGO and Indigenous communities. She explains that the majority of the works featured in Tunirrusiangit, primarily drawings done on paper by Ashevak and Pitsiulak, were sourced from private collections.

"[The curators] thought a lot about these two artists, and they thought about this notion of a challenge as a gift," Uhlyarik explains. "They feel that Kenojuak and Tim challenged them to be proud, strong Inuit on their homeland. For them, this is that kind of celebration, that kind of resilience, and also the beauty and the magic and the completely different view that comes from lived experience.

A quote from Ashevak, emblazoned prominently on a wall above her drawings, captures this confluence as only she could, with limitless imagination: "There is no word for art. We say it is to transfer something from the real to the unreal. I am an owl, and I am a happy owl."
Follow Luke on Twitter.
Sign up for the VICE Canada Newsletter to get the best of VICE Canada delivered to your inbox.