A weekly roundup of observations, questions, and predictions from Michael Pina's NBA notebook.
1. Markelle Fultz!
I'm not sure if decibels go high enough to measure how loud Wells Fargo Center would've been on Monday if Markelle Fultz made his first jump shot. Despite badly missing his initial field-goal attempt outside the paint, the 19-year-old's second season debut should by all accounts be viewed as a success. (He made a 20-footer with less than two minutes to go, after the game was already decided.)
Fultz was helter-skelter in the healthiest possible way as Philly's backup point guard and primary decision maker, on units that were clearly designed to put him in a position to succeed. There was always plenty of space; Brett Brown first subbed him into the game in a hockey line change, with J.J. Redick, Joel Embiid, Ersan Ilyasova, and Robert Covington. In Fultz's second stint, Brown had Dario Saric and Ilyasova in the frontcourt (a duo that hardly ever plays together) while Embiid sat on the bench with four fouls. Marco Belinelli and Covington were also on the floor.
Fultz looked comfortable and moved like half the court was sloped downhill. He attempted the second-most shots on the team and had the fourth-most touches despite not even playing 15 minutes—zero of which were spent beside Ben Simmons (more on that in a second).
We saw his signature spin move, and even after that drive ended poorly at the rim Fultz came right back to exhibit short-term memory on the very next play by finishing strong through contact. He got up to block Jamal Murray's ambitious dunk attempt from behind and was engaged throughout the game.
It's hard to criticize too much about the little time Fultz spent on the court, in just his fifth game of the season, and first in 153 days. A million things were probably going through his head. The incalculable pressure and embarrassment. The radio silence that continued even after the night ended, when Fultz refused to answer questions from the media about the mysterious shoulder injury that kept him out as long as it did.
Mistakes were perfectly okay, expected, and accepted. But on a clearout to end the third quarter, we saw a glimpse of what his life might be like if that jumper doesn't become a reliable weapon.
In a 1-4 formation, Fultz is given the ball in space to try and either score himself or draw help for a quick dump off. Devin Harris gives him a huge cushion before a dribble handoff is executed too late in the play. (The action might've been designed to get Belinelli that shot and Fultz's timing was off, or that was a second option if he couldn't find initial progress in isolation.)
A lacking jumper will create humongous problems if it's not resolved at some point over the next few years. This has been known for months, but he and Simmons cannot co-exist if neither can shoot, especially when the team's best player operates from the block. And if those two can't be on the court at the same time, it's unknown how Fultz will find the opportunity he needs to grow. (T.J. McConnell is a factor somewhere in this conversation as well.)
Simmons can duck into the post and make himself useful in subtle ways from the weak side—he's already one of the game's best cutters, can screen and attack the offensive glass—but taking the ball out of his hands for even half a stint vandalizes who he is and how he impacts winning. Brown can get funky by playing Simmons at the five, Fultz at the point, and then surrounding the two with any three-man combination of Covington, Saric, Ilyasova, Belinelli, or Redick, but those lineups may get killed on defense.
This is a long-term issue that doesn't need to be resolved overnight, though. All in all, Fultz moved well, understood where he was supposed to be (he even made a couple smart off-ball switches on the other end), and glowed with the ball in his hands. It'll be interesting to see when/if Brown plays his two first-overall picks at the same time once Philly is in the playoffs, but until then merely watching Fultz perform as a healthy—from a mental and physical perspective—individual is wonderful news for the NBA, and everyone who loves basketball.
2. Josh Jackson's Most Identifiable NBA Skill
Josh Jackson's first season with the Phoenix Suns created more questions than answers. He's scrappy and aggressive on both ends, but, while existing in a terrible situation, he's somehow been asked to do too much and not enough at the exact same time.
But what we do know is he's flashed real promise moving off the ball. Six of the top 12 cutters at forward (measured by field goal percentage over at least 60 possessions) play for either the Golden State Warriors or Cleveland Cavaliers, where the game's most symphonic system and LeBron James's brilliance reward players who make even the slightest effort to get open.
Jackson is one of the other six players. According to Synergy Sports, he's shooting 71.7 percent on cuts. Even in a terrible situation, Jackson does a terrific job taking advantage of defenders who lose track of where he is, thinking he's stationary and useless. Elfrid Payton has helped here, as has all the attention Devin Booker attracts whenever he puts it on the deck.
This is all neat, but Jackson obviously needs to develop other areas of his game to justify his worth as the fourth pick.
3. Iguodala's Increased Importance
With Steph Curry possibly out for the entire first round, everyone on the Golden State Warriors will need to do more under harsher conditions. That includes Andre Iguodala, who, at 34 years old, has had a bad season that's quietly ending on a bright note. With a three-point percentage that's still below 30, Iguodala is starting to hit outside shots at the right time, while the Warriors are steadily increasing his minutes.
All year most of his shooting numbers have been about the same, whether Curry is on the floor or off, but life is still different. Just look at this pace differential: by a significant margin, Iguodala functions on the fastest team in basketball when Curry is in the game, but when he's not their pace drops down to 26th.
Iguodala doesn't get the same easy looks at the basket, in transition or otherwise, either. A higher percentage of his field goal attempts are threes when Curry isn't on the floor, and even with Kevin Durant and Klay Thompson presumably at 100 percent, lineups that feature Iguodala, Shaun Livingston, and Draymond Green will feel cramped in a half-court setting.
So long as everyone else is healthy, the Warriors should still beat whoever they're matched up against in the first round, but the battle could be far more arduous if Iguodala reverts back to the shooter he was earlier this season.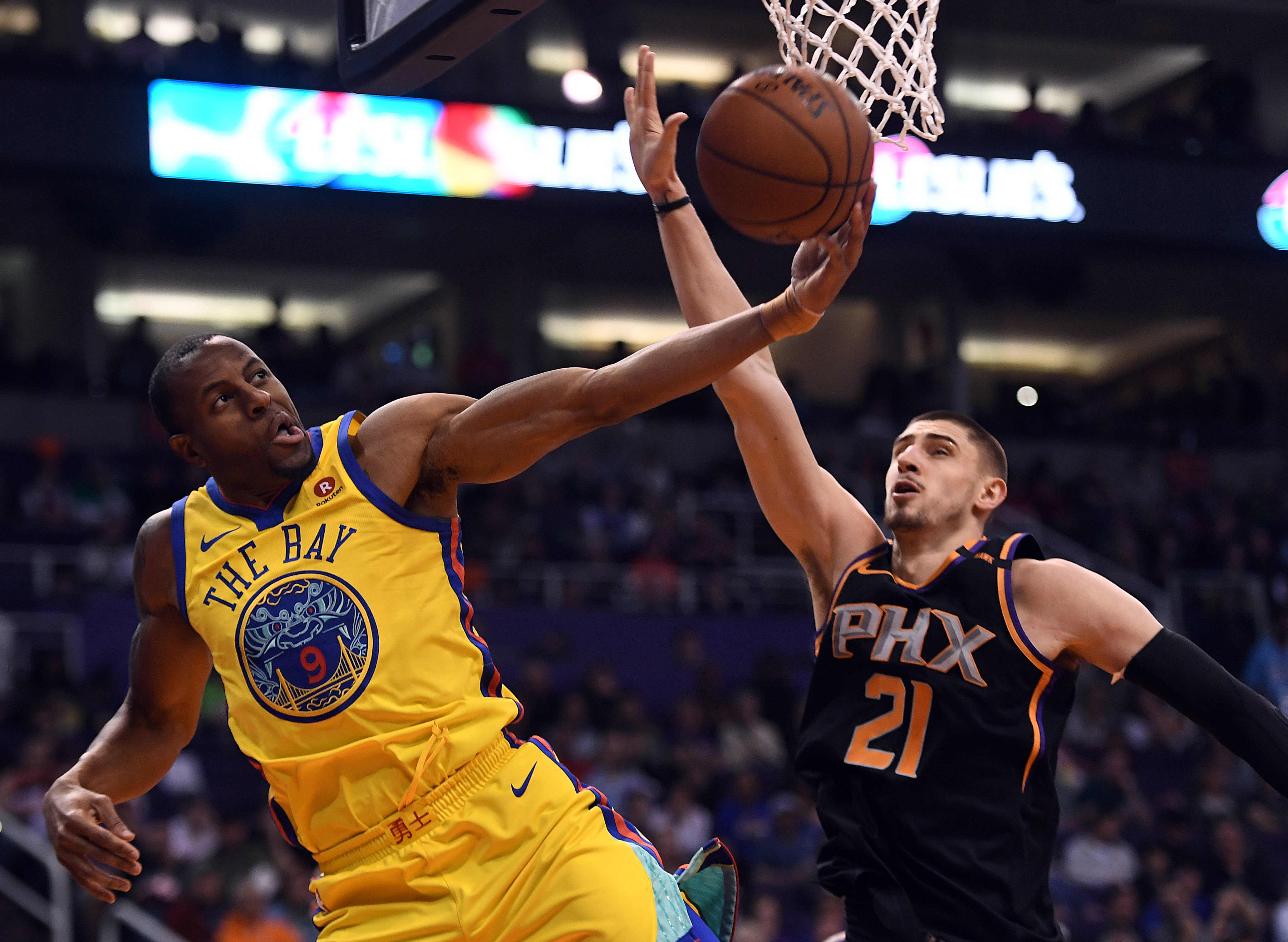 4. LeBron at the Five Might Still be Cleveland's Ace in the Hole

It's a configuration we've yet to really see this season, but when Larry Nance Jr., Kevin Love, and Tristan Thompson were all injured at the same time earlier this month, Cleveland turned to lineups that featured LeBron James and Jeff Green in the frontcourt quite a bit. Even in a small-sample size, with injuries elsewhere on the roster, the results were basically what you'd expect: Blazing offense and wretched defense.
This year's pros and cons when Cleveland goes uber-small are just as obvious as they were last season, when the Cavs surrounded James with guards and wings as the team geared up for another Finals showdown against Golden State. This year, dramatically downsizing will force the opposing team to either stash a big on someone like Rodney Hood (not a great tradeoff) or pull all their rim protectors off the floor and let LeBron rampage through the paint at will.
On paper, this roster is better suited to have success when LeBron is at center. The three-point shooters are longer, younger, and more interchangeable. Instead of Richard Jefferson, Iman Shumpert, and Deron Williams, Cleveland has Hood, Cedi Osman, Jordan Clarkson, and George Hill, to go along with holdovers like Kyle Korver and J.R. Smith.
According to CTG, the Cavs have generated 114.3 points per 100 possessions when James isn't on the court with another big (not including Green) since the trade deadline. That's absurd offense, and they've done it while tossing up bricks above the break.
Beyond LeBron getting by his initial defender whenever he wants, or backing someone down, forcing help, and rifling out a perfect pass to a spot-up shooter, his value as a screener in these units empowers teammates to score on their own.
In the sequence above, Cleveland's first objective is to get Giannis Antetokounmpo off LeBron. Clarkson and Jose Calderon set screens to force a switch before LeBron swings the ball to Clarkson and then runs over to set a pick. Unable to turn the corner with his left hand, LeBron then flips the screen and lets Clarkson get a step on Eric Bledsoe.
And here he is from earlier in the same game. His roll forces Snell to take the half step away from the strong-side corner that gives Korver an extra second to down a three.
Cleveland's offensive success within these lineups is translatable to the postseason, where they can flourish at any speed, in the half-court or open floor. Defense is a more intriguing proposition, considering that many of their warts are due to poor effort from their best player.
In the regular season, if Korver gets beat off the dribble and LeBron is on the opposite block, well-positioned to rotate over and contest someone at the rim, instead of risking a foul or exerting the energy it takes to get up and disrupt a dunk while airborne, he'll concede two points. We'll see if that still happens in the playoffs when he's the last line of defense, or even if Cleveland will ever seriously turn to those lineups at all, with Nance Jr., Thompson, and Love back in the fold.
5. Marcus Morris is Suddenly Exactly What the Celtics Need
Speaking as someone whose oxygen tastes 15 percent more fresh whenever the Boston Celtics win, my (completely one-sided) relationship with Marcus Morris has done a 180 this month. Let's go back to explain. Heading into March, his uncharitable orientation into Brad Stevens very-charitable offensive system capsized entire possessions that could've gone a more efficient route.
Morris's antiquated shot selection made him look like someone intentionally trying to stand out—he was Lisa's saxophone solo at the beginning of every Simpson's episode, with terrible on/off numbers and the mindset of a self-absorbed superstar whose priorities were, in order, 1. shoot, 2. shoot, and 3. consider passing to the open man, look him off, then shoot.
But with all the injuries to their primary options (including Morris, who sprained his ankle in Phoenix on Monday night), getting the 28-year-old to function exactly how he views himself is suddenly exactly what the Celtics need. Morris has discovered a rhythm and feel for how to work inside an environment that suddenly needs him to behave without sacrifice.
A third of his shots in March have been catch-and-shoot threes, and he's made 46.7 percent of them. This is fantastic, but even more important, on a team that can't generate consistent offense without Kyrie Irving or Marcus Smart handling the ball, is the fact that he's taking contested long twos—sometimes late in the shot clock—with confidence. Morris is 11-for-26 on mid-range jumpers with a defender between two and four feet away this month.
He's one of 14 players with at least 25 such attempts, and everybody else on the list is either a superstar or folk hero (i.e. Michael Beasley). Morris is good (in a loose interpretation of that word) at drowning out what just happened, ignoring the scoreboard and the clock, and just firing the ball towards the basket. There's zero hesitation. He can hit a game-winner, halt an opposing run, or demoralize the defense with a string of backbreakers that waft with unparalleled conviction.
But beyond scoring, Morris has sprinkled some simplicity into his game, the type that makes life easier for everyone else. Here he is bouncing a pocket pass to Aron Baynes, who flips it to opposite corner for an open three.
Morris's shots won't fall forever like they have this month, but it's still good to see him balance responsibilities just enough to make things work as Boston hobbles its way into the postseason.
6. Blake Griffin and Andre Drummond Still Need More Spacing

These two have flashed promising moments together. Both can rip a defensive rebound off the glass and take it up the floor to find the other for a quick bucket on the other end. They don't waste time with an outlet and understand how critical it is, given their dearth of spacers, to attack as soon as possible. Bad things happen when they don't go fast.
According to CTG, Detroit's offense is down near the bottom five when Griffin and Drummond share the floor. (When Griffin is out there with Anthony Tolliver, the Pistons are more efficient than the Rockets.) Here they are trying to attack the third-worst defense in basketball with a 4-5 pick-and-roll.
Sacramento switches the screen, then help and rotate off Detroit's perimeter shooters. De'Aaron Fox is probably more aggressive than he needs to be—which eventually leads to an open corner three for Stanley Johnson—but there are still valid reasons to worry. Healthy Reggie Jackson will theoretically help next season, but this duo's early offensive returns haven't been great, and they're in desperate need of feared shooting at various positions next season.
7. Derrick Rose's Pleasantly Surprising Activity
Anyone who's seen Derrick Rose play basketball over the past five years already knows how he wrecks his team's spacing on offense. Nobody respects his shot. They ignore him spotting up in the corner or opposite wing, and go under every screen. According to CTG, Rose's presence has helped disallow prolific three-point shooting for his entire team, a career-long trend that probably won't ever turn itself around.
This has continued in Minnesota, where, despite a high usage, the 29-year-old has almost exclusively functioned off the ball in three-guard lineups. Rose has only made one three since February 1 and has already turned his ankle. All of that is the bad news.
The good news is he looks committed and physical on defense, was moving well before the injury, and is (so far) finishing at the rim, too. But the most hopeful sign might just be how engaged he is when away from the action, constantly putting pressure with cuts and screens. To take it one step further, Rose has also made some pretty good split-second decisions with the ball when he catches it on the move.
In the play above, instead of standing above the break and waiting for Crawford to hit him on a pass that'd either lead to a missed open three or hideous floater, Rose makes himself useful by darting behind Lou Williams, sucking in help from the corner, and then whipping a smart pass to Karl-Anthony Towns for three.
Highlighting this type of play shows just how different Rose needs to play if he wants to have a positive impact on basketball games. His margin for error is so low, and there's a relentless energy he needs to exude if he wants to stay on the floor. The old Rose is dead, but that doesn't mean a completely different version of who he used to be can't be handy in the right lineups, in limited spurts.
8. Eric Gordon's Handle is Secretly Clever
Understandably overlooked all year as an integral tool in Houston's offense, while averaging his most points per game in seven seasons, Eric Gordon is mostly thought of as another Moreyball jamboree: Over half his field goal attempts are threes and nearly a third come at the rim.
He complements James Harden and Chris Paul with smart off-ball movement (Gordon is so good lulling his man to sleep before darting off a screen for a clean catch-and-shoot look), the ability to space the floor, and attack a closeout. He constantly looks to put the ball in the basket, and keeps opponents off balance while they're trying to stop Houston's two best players. The result is someone whose usage is actually higher than Paul's.
There's a robotic element to Gordon's game, and even though that's meant to celebrate what he's become it also shorts just how imaginative he can be. Especially when they're small, the Rockets will sometimes run action specifically designed to let Gordon carve up a mismatch. And that means he gets to dribble. A lot.
According to NBA.com, Gordon has the highest effective field goal percentage among all players who've attempted at least 90 shots after taking seven dribbles. Just looking at two-point shots, there's a four percent cushion between Gordon's league-leading 65.2 percent and number two on the list.
Gordon's low volume makes those numbers less impressive than, say, Victor Oladipo or Irving, but mixing his outside shot with one of the tighter handles in basketball (then unleashing it in a system that provides an unfair amount of room) is devastating. Still, not too many players can dribble the ball 10 times and then finish at the rim. It's just another weapon Houston has when possessions bog down and they conduct open-heart surgery on half-court defenses that are too afraid to help off the three-point line.
9. Brandon Jennings and Jason Terry Forever
If you were to travel five months back in time and tell people that the Milwaukee Bucks were steadily deploying Jason Terry and Brandon Jennings as a regular backcourt combination, and that while doing so their season hadn't already crashed and burned into an epic race to the bottom of the lottery—that instead they were actively jockeying to get the seven seed—nobody would believe you.
It's a tandem that makes no sense and isn't sustainable in any way, but thanks to hot three-point shooting and Milwaukee making an outrageous 50 percent of all their shots between four feet and the arc, they're outscoring opponents by 7.8 points per 100 possessions with these two on the floor. The defense is a predictable nightmare, though. Neither guy can stay in front of his man and both are dreadful whenever involved in a pick-and-roll (whether they're guarding the ball or the screener).
Malcolm Brogdon and Matthew Dellavedova should hopefully be back in time for the playoffs, but until then let's all enjoy one of the stranger lineup configurations any team that isn't complete trash has deployed this season.
Nothing much to say here except I really hope Isaiah Thomas can get healthy and look like himself at some point over the next 12 months.
This article originally appeared on VICE Sports US.