Police in Phoenix used tear gas to disperse large crowds protesting outside a rally held by U.S. President Donald Trump Tuesday evening. The protests, which were initially largely peaceful, turned violent after an hourlong speech during which Trump portrayed himself as the biggest victim of the Charlottesville controversy and labeled the media "liars," "sick people," and "crooked."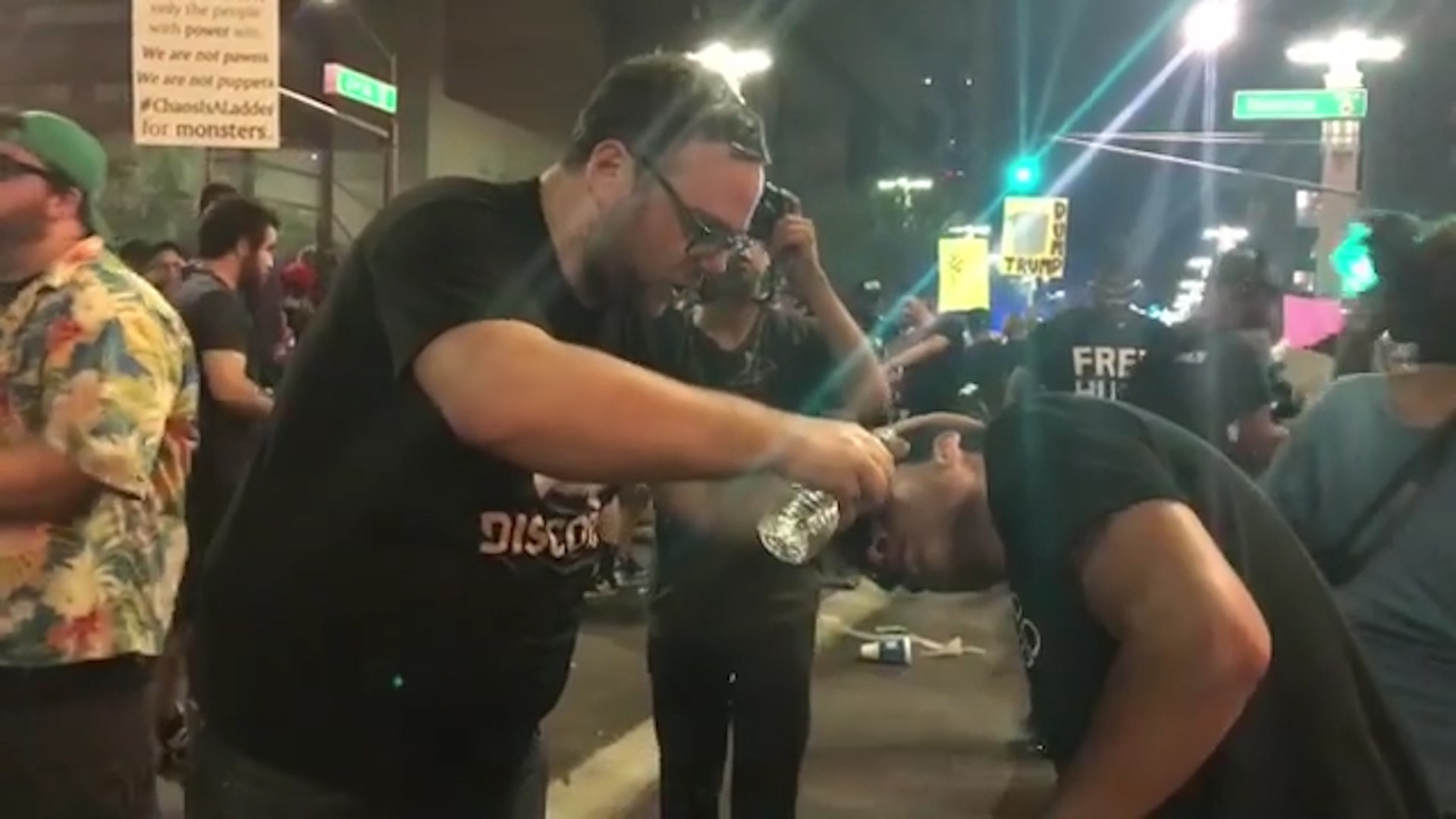 Thousands gathered outside the Phoenix Convention Center in stifling 100+ degree heat carrying posters and banners – many of them referencing Trump's comments in the wake of the Charlottesville violence where he laid the blame "on both sides."
The violence was ignited just before 9 p.m. as Trump's speech was concluding inside, when "people in the crowd began fighting and throwing rocks and bottles at police," Sgt. Jonathan Howard, of the Phoenix Police Department, said in a statement to CNN.
Phoenix Police Chief Jeri Williams told reporters that protesters also threw tear gas at officers, who responded in kind – and who also fired pepper balls, stun grenades, and rubber bullets at the crowd. Four arrests were made, two for aggravated assault, one for criminal damage, and one for an outstanding warrant.
Crowds had gathered near the convention center from as early as 3 p.m. with the police acting as a barrier between protesters and Trump supporters making their way towards the rally, with altercations limited to verbal insults.
Trump's use of bellicose rhetoric for the partisan crowd in Phoenix was in stark contrast to his sober speech 24 hours earlier when he set out U.S. military strategy for Afghanistan. Trump's speech, described as "unhinged" by CNN anchor Don Lemon, saw him once again portray the media as the enemies of the country. "It's time to expose the crooked media deceptions and to challenge the media for their role in fomenting divisions and yes, by the way, they are trying to take away our history and our heritage," Trump said, as the baying crowd chanted "CNN suck! CNN sucks!"