Members of the community in Jamestown, the poorest neighbourhood in Ghana's capital city of Accra, are about as fanatic about boxing as citizens in Cleveland are about basketball. I traveled to Ghana to figure out why.
When I got out of the cab on the outskirts of Jamestown last May, I began wandering around looking for the Accra Amateur Boxing Association's office. In Ghana, many establishments did not have proper street addresses, which proved to be a challenge. I only made it a few steps before I was stopped abruptly by a local asking where I was headed.
As soon as I mentioned boxing, his face lit up, and he insisted that I abandon my plans and visit his boxing gym instead. His name was Nuhu Omaboe and, coincidentally, turned out to be one of the premiere youth boxing coaches in the neighborhood. Around town, he's simply known as Coach.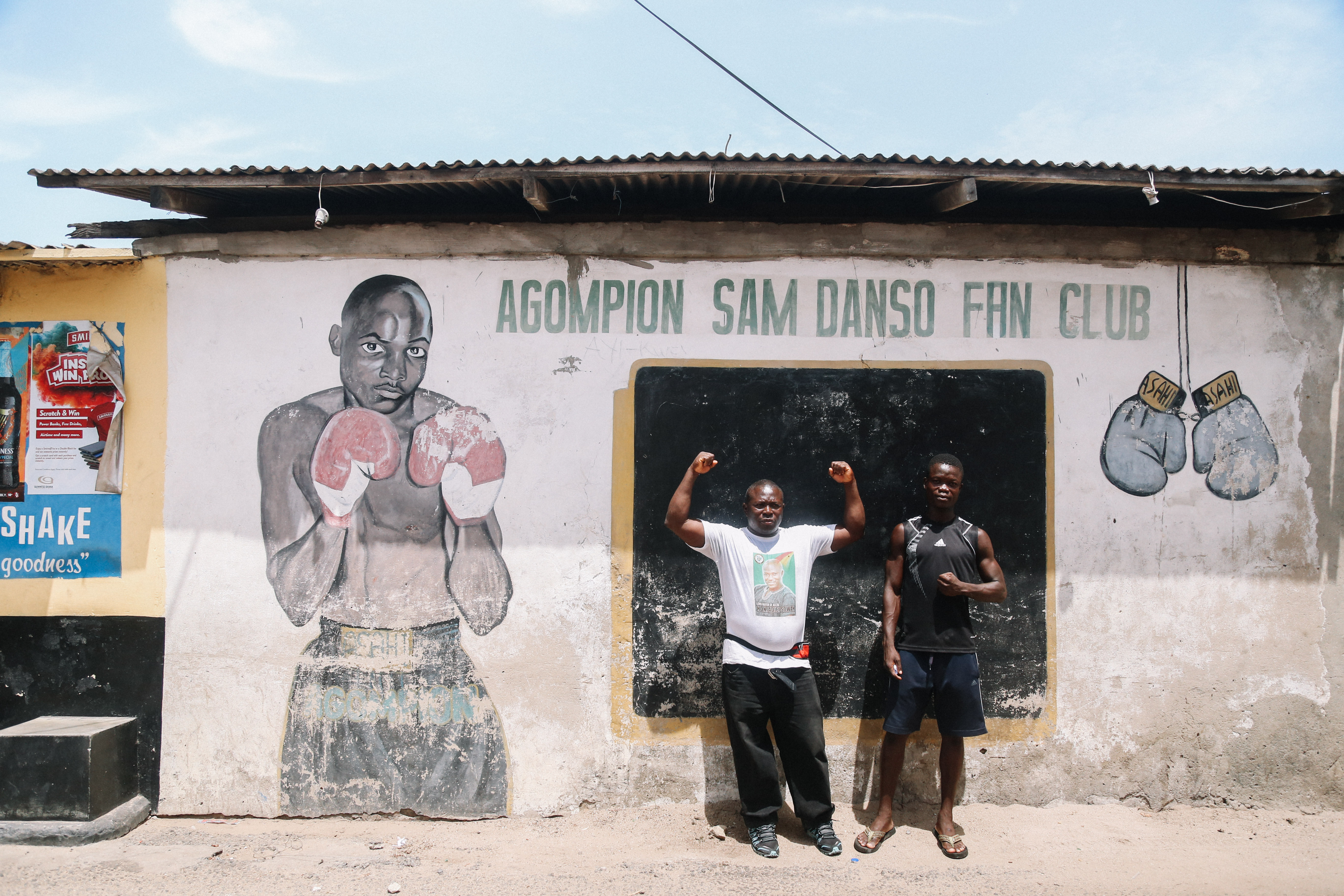 As we walked through Jamestown, Coach explained how boxing in Jamestown first originated as friendly fights against neighboring Usshertown—two of Accra's biggest fishing villages. Over time, local challenges grew in size as more fishermen who liked to fight took part in this recreational activity.
"Not everyone fights, but everyone loves it. Everyone watches boxing," Coach explained. Jamestown's walls are covered with old and upcoming fight posters, and locals can participate in community street fight exposés on Sundays. On nearly every corner one can find a pair of boxing gloves hanging over a door, belonging to boys and girls of all ages.
At Coach's boxing gym—a ring outside the Sacred Heart secondary school—he and Gilbert "Zico" Allotey train some of the neighbourhoods most promising young kids. They both emphasize the importance of education, and use boxing to encourage kids to go to school. "They go to school during the day, and box after school. If you don't go to school, you can't practice," Coach said, matter-of-factly.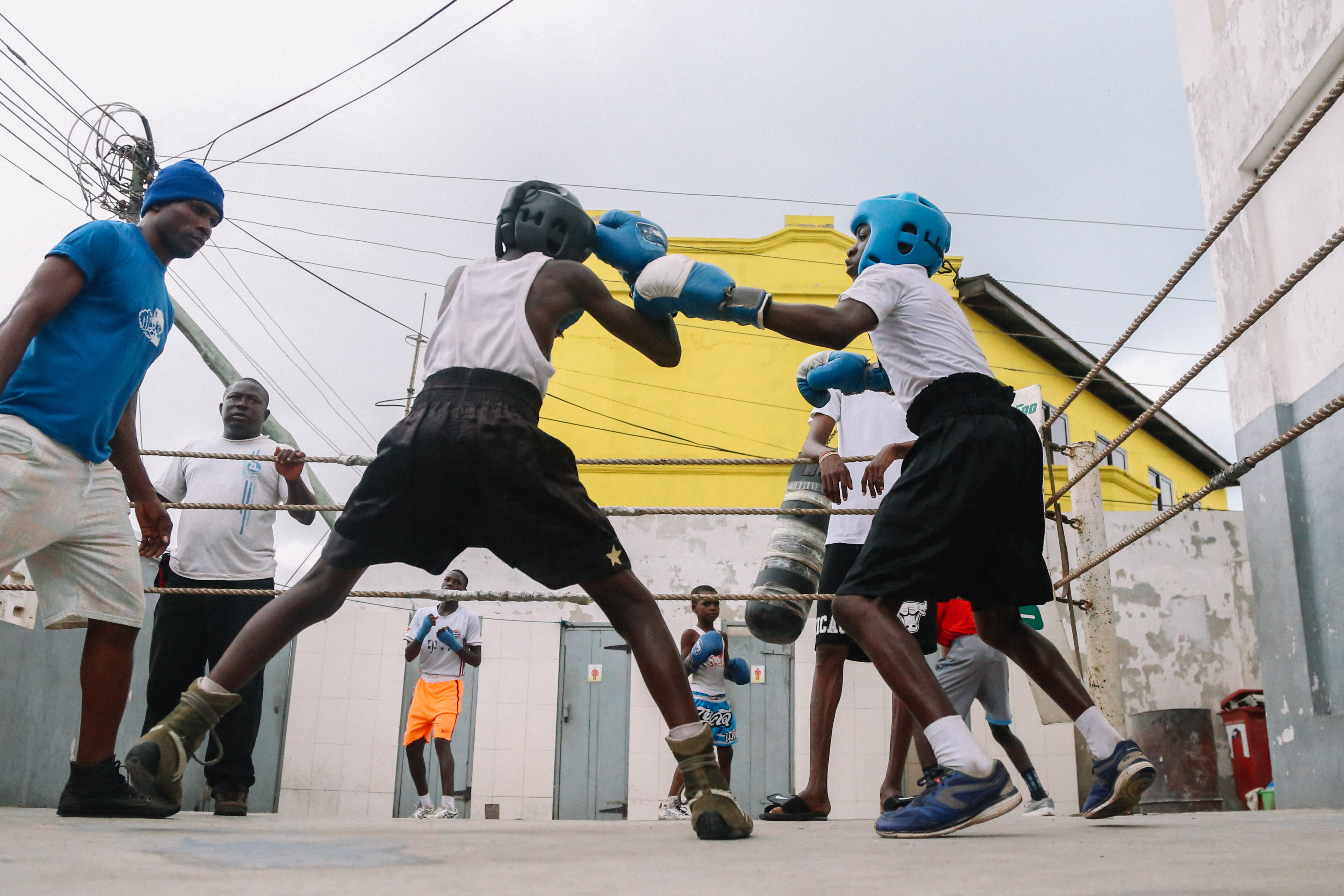 According to Coach, boxing teaches values at an early age that other sports don't. Coach and Zico encourage their kids to channel the aggression used in the streets and playgrounds into an athletic outlet. By learning the rules and nuances of boxing, these kids put their frustrations into their training and mitigate violence in the community.
"The kids learn sportsmanship and fighting etiquette. They always hug each other after the match and go back to being brothers," said Coach.
In Ghana, boxing also has the potential to give the talented kids an opportunity to make a living abroad and to give back to their family. Two of the most successful boxers in the world, including Ike Quarty, the 1994-98 WBA welterweight world champion, and Azumah Nelson, the 1984-86 WFC Featherweight World Champion and arguably the best African boxer of all time, are from Jamestown. Their success stories continue to inspire the younger generations to take up boxing and aim to make a better life for themselves and their families.
When Coach and I met up with Zico, we continued our walk to the Fayef New Life Outreach Church, where school was in session. The pair entered the building and emerged with a little 11-year-old boy named Amandu, who began to shadow box against Coach with elegance and precision.
In Coach and Zico's eyes, Amandu Mohammed is the next Azumah Nelson. Of his more than ten fights against adversaries at least two years above his age range, he remains undefeated. His favourite subject in school is math, which Zico says is very characteristic of a boxer.
"The sport is all about calculations. Knowing when to attack, and when to be on defense, and how to go about it. Amadu is good at both attacking and defending," added Zico. If you can do both, you're an even larger threat in the ring.
While the boxing club seemed geared more towards providing an after-school space for all kids of all levels than a training ground for the next world champ, the appeal of boxing goes far beyond a purely recreational endeavour. One of the main reasons that so many young Ghanaians are attracted to boxing—and the possibility of a boxing career—is because it gives them the velocity to escape their current socioeconomic situation, and in turn, share their earnings with their family back home. Even Amandu already has his sights set on bigger opportunities. "I want to fight to get out of Ghana and go to Portugal, where I can have better competition," he said, before bidding me farewell and returning to school for the day.