A little-known Manitoba MLA is has decided to check himself into sensitivity training after getting Mad Online at Prime Minister Justin Trudeau and asylum seekers.
Cliff Graydon, a Progressive Conservative backbencher for the riding of Emerson—a location that includes one of the busiest border crossers for asylum seekers. In late January, Graydon responded to a tweet calling the over 40,000 people who made asylum claims in Canada "illegals" by calling refugee claimants a "drain on society."
Graydon has since deleted the tweet but, as we all know, what you say online tends to live forever—especially if you work in the public sphere.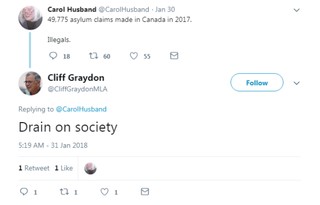 There must be a lot of free time on the backbench as last week was a busy one for the MLA who also retweeted an account calling Justin Trudeau a "scumbag." This retweet comes after, in December, Graydon was criticized for retweeting a message that read, "HOW CAN ANY WOMAN vote for that SICK/RETARDED/TRAITOR?" Like many other older right wing Canadian Twitter users, Graydon was also seemingly a fan of calling the prime minister "Turdeau" [emphasis on the turd, har har.]
The Manitoba PC party have distanced themselves from Graydon's posting habits with Progressive Conservative caucus chair Wayne Ewasko telling the CBC the tweets were "unacceptable" and "do not reflect the views our caucus and our government." Ewasko added that some time away from social media would probably do their MLA well. Graydon himself took to Twitter on Tuesday to apologize for his remarks saying that "all political debates must be respected."
"This is a standard that I've not met on social media, as a result I will be taking some sensitivity training while limiting social media activity. I wish to offer my sincere and unequivocal apology for any offensive I've made," reads his tweet.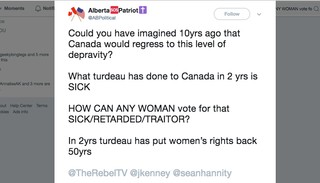 This isn't the first time a provincial politician has gotten in trouble for being Mad Online and has had their social media use restricted by their party. Embattled Albertan MLA Derek Fildebrandt was heavily criticized in 2016 for responding positively to a transphobic Facebook post criticizing Ontario Premier Kathleen Wynne—he later said he didn't fully read the post.
In response to this discretion, Fildebrandt was removed from his caucus and was forced to get social media managers before returning. He has since been removed from caucus again but that is because he was found guilty of a hit and run and killed a deer without permission on someone's land, not being Mad Online.
Follow Mack Lamoureux on Twitter.