The Puzzling Case of Marco Estrada
Estrada has taken a major step back after an exceptional two-year run with the Blue Jays. His go-to changeup could be part of the problem, but his struggles aren't exactly easy to diagnose.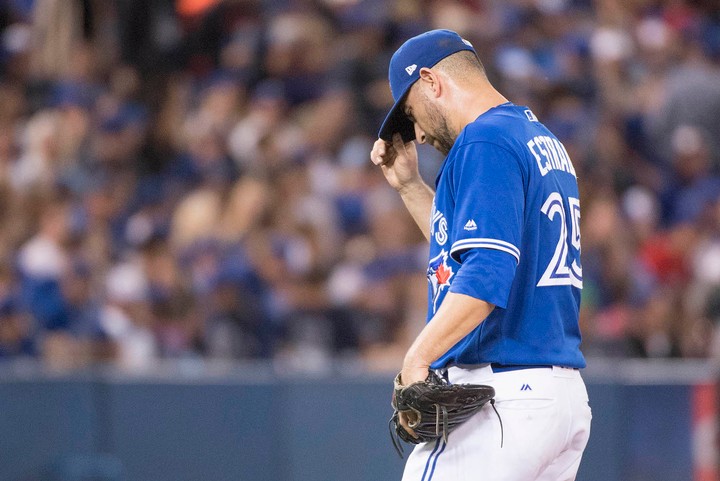 Photo by Nick Turchiaro-USA TODAY Sports
Over an 11-start span beginning with a nine-run shellacking in Texas in May of 2007, Roy Halladay pitched to a 6.35 ERA. Over that span he gave up 92 hits in 66.2 innings, while striking out just 37.
I still remember being at the third game of that stretch vividly. Halladay had given up nine in Texas, eight more (seven earned) in his next start against Boston, but seemed to have righted the ship, twirling seven innings of six-hit shutout ball against the White Sox. Then: kablammo! He imploded again, lasting just 3.1 innings against the Rays (then still called the Devil Rays), giving up eight runs (seven earned) again, surrendering 12 hits to just 23 batters faced.
Fans streamed to the exits, and I ended up sneaking down into preposterously good seats for the rest of the game—which was a huge stroke of luck, as the Jays came back to win with an incredible six-run ninth inning that ended with Tim Corcoran (the Rays' fourth pitcher of the frame) walking Aaron Hill with the bases loaded to score Matt Stairs as the winning run.
I wrote about the crazy win but also something else that happened that day: the fact that Halladay got booed.
Oh, I'm sure that those who did it would claim that they were just "booing the situation," sending a message to a manager with a slow hook, or some such nonsense, but I was there. I heard it. It happened. And it was about as vicious as I can remember hearing the crowd get toward Halladay—or, at the very least, the post-reinvention version of Halladay that had arrived five seasons prior, in 2002.
---
Joe Carter talks to VICE about his 1993 World Series walk-off homer
---
Halladay the great. Halladay, in the middle of what likely will be a Hall of Fame career. In the middle of his run of six straight top five Cy Young award finishes. Getting booed by his own fans. And, in a vacuum, based only on the way he pitched that day and in two of his previous three starts, probably even deserving it.

That strange stretch in the middle of his incredible career seems as inexplicable now as it did then. And just as quickly as it came, it went. Halladay resumed being Halladay, pitching to a 2.75 ERA over the final 14 starts of 2007, then winning 20 games and posting nearly 7 WAR the following season.
I've thought about this stretch and those boos more than a few times lately, as I've grappled—along with most Jays fans—with the way Marco Estrada's 2017 season has gone.
There aren't a lot of similarities between Estrada and Halladay. Marco doesn't have Doc's pedigree, his size, his fastball, or his lengthy track record of success. But until a couple weeks ago, few would have argued against the notion that he's been the Blue Jays' best and most consistent pitcher over the last three seasons. And then, just like the good doctor, inexplicably, he hit a trough.
Had there been as much publicly available data back then as there is now, maybe we could have diagnosed Halladay's struggles with more than a shrug of our shoulders. As for Estrada, while there aren't really any smoking guns to be found in the data, there are a few things we can see that might indicate where the problem is. And, unfortunately for Marco and for Jays fans, they all seem to revolve around his bread-and-butter pitch: his changeup.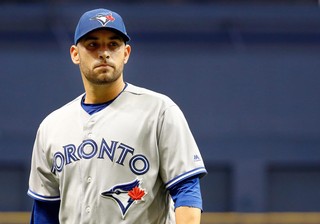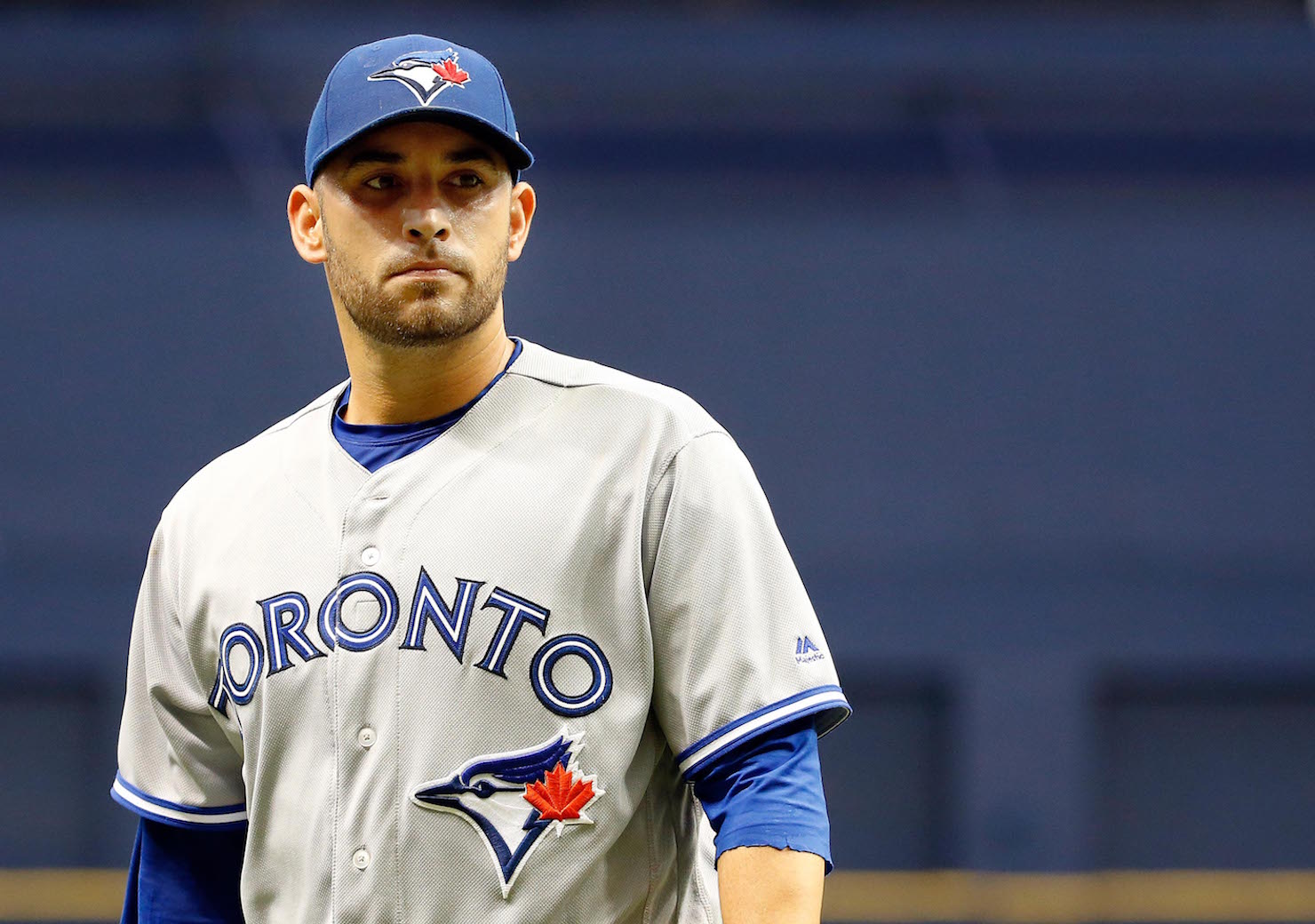 FanGraphs provides us with data for what they call "pitch values"—an advanced stat that, in their words, "attempts to answer the question, 'How well has a batter/pitcher performed against/using a certain pitch?'" You can read about the math involved here, if you really want to, but essentially what their calculations produce is a number that shows us how effective a particular pitch has been. And this all mostly passes the smell test, as in 2015 and 2016 Estrada's change up graded out as one of the most effective in the league—among qualified starters, at least. Last year, for example, only Kyle Hendricks and David Price got more total value out of their changeups, and even on a per-pitch basis, Estrada was in the top ten in the league.
The numbers for 2015 tell a very similar story. The ones for 2017 sure don't, though!
Estrada has had one of the least effective changeups so far this year, ranking 63rd in total value among the 70 qualified starters who've thrown the pitch. In the month of June, the "pitch value" of his changeup is dead last.
FanGraphs would be quick to caution here that these values aren't predictive, and don't say much about the actual quality of the pitch. They are simply "a reflection of what happened, not necessarily a method to explain why something happened." Still, the results are troubling, especially given how important the pitch is to Estrada, and how important Estrada is to the Jays. And we can see that he's well aware that the pitch has been a problem for him, as he threw his lowest percentage of changeups all season in his most recent start.
This gives us a place to start looking, and wondering. At Brooks Baseball, we can see tables and graphs of all kinds of data on Estrada's changeup, but it's not always easy to know what a whole lot of it means. For example, the first thing to jump out at me was the graph below of Estrada's horizontal release point. Here we're looking at where Estrada has released the ball, on the horizontal axis, since the beginning of the 2015 season. In his last few starts, beginning on May 17 against Texas, we see a subtle but quite noticeable shift.
Where he's been releasing the ball lately isn't too far off where he was at the end of the 2015 season, but it's quite different than last year or early on this year, and it coincides with the period where Estrada was most badly getting his ass handed to him.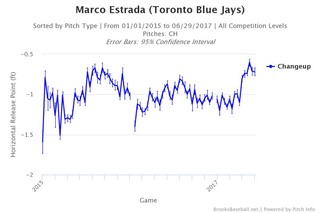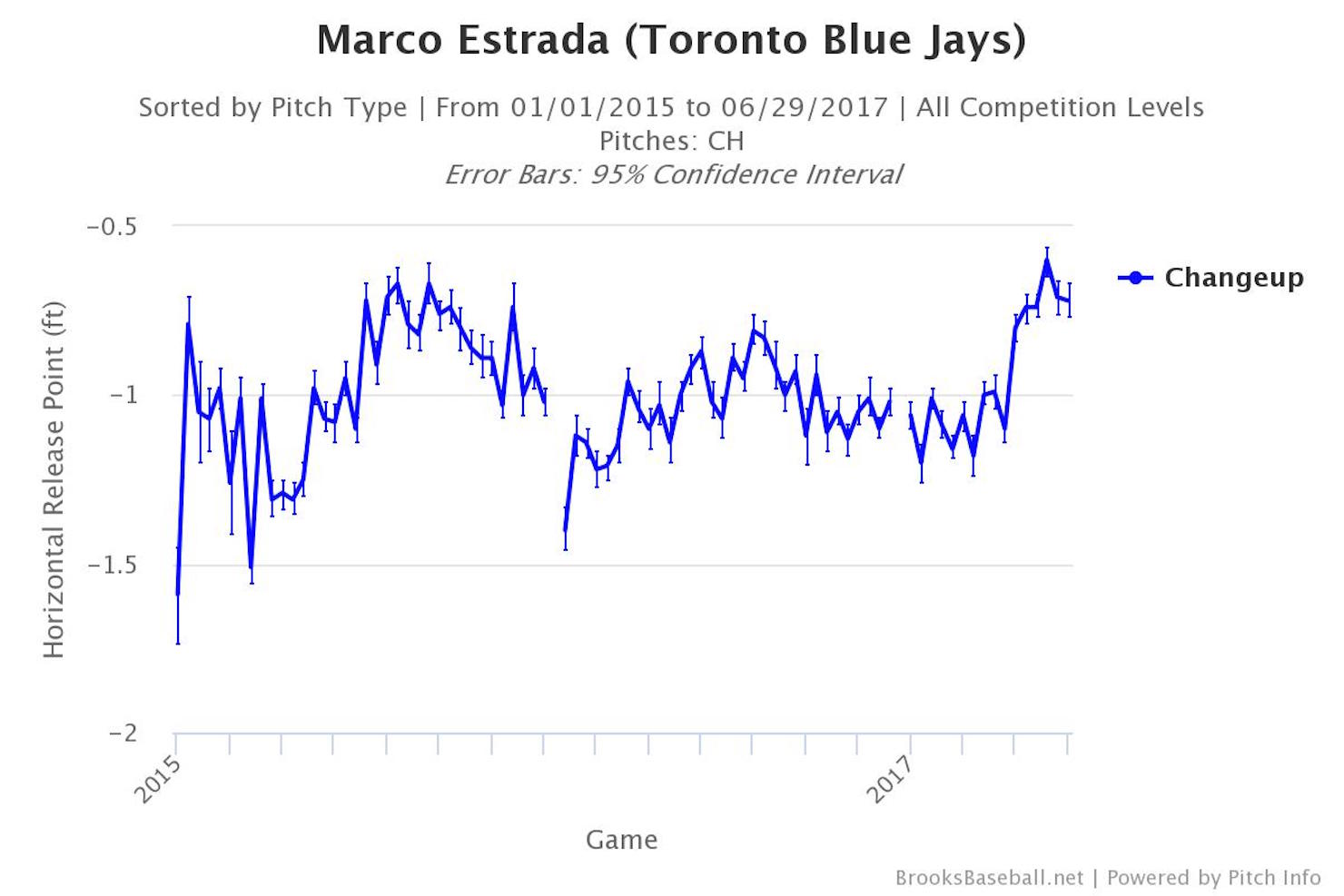 Unfortunately—or maybe fortunately!—the shift here doesn't coincide with much of a change in his vertical release point, which suggests that he's not changing his arm angle or suffering from fatigue or anything physical that might be causing the difference—it looks more like Estrada has made a slight move on the rubber toward first base.
Is that enough to have caused his changeup to have taken a huge step backward? There are surely better folks than I at interpreting this kind of stuff, but… uh… I doubt it. Especially given the fact that his changeup problems have been there all season, at least according to FanGraphs' calculations, and really have only been highlighted by the disastrous stretch he just went through—and may well still be in.
In fact, the success batters have had against his changeup may mean something is amiss with his fastball—which he certainly doesn't seem to be locating well, as compared to last year—allowing them to sit on the changeup. Or maybe he's been tipping his pitches and the Jays haven't yet figured out how.
---
---
For his part, at least publicly, Estrada seems as stumped as we all are.

He issued an uncharacteristically high number of walks in his last start, a decent-enough outing against the Royals, and according to the pitch values his performance with the changeup was worse than all but two starts this season. Yet it still felt like a step in the right direction. At the very least, he made it through seven innings for the first time in a month, and the just the fourth time all season.
It feels like he can only go up from here. Like it's only a matter of time before "good Marco"—the one Jays fans have been so thrilled with and so fallen in love with over the last three seasons—will show up and, like Doc Halladay before him, make us all forget about this little blip.
That is the thing we'd all like to believe, at least. Estrada has had such a great run and it's been so fun to watch him baffle batters and suppress solid contact in ways that pitchers simply aren't supposed to be able to do that it feels much too soon to have to wonder whether his incredible changeup and his rising "cue ball" fastball always had a limited shelf life.
Estrada is a free agent at the end of this season. He's potentially a great trade candidate for the Jays, should they decide to become sellers by the end of next month, and is sporting the best strikeout rate of his career. He's also potentially an extension candidate—a guy who seemed to genuinely like being here when he signed on for two years at the end of 2015, and who fans would love to see be here for a very long time. But only if he figures out just what the hell has been going on these last several starts, and finds a way through it.
You've gotta hope that he can, even if you can't quite figure out how he got here in the first place.