"Her orchestra seamlessly floats off the stage on mechanised platforms, she slowly ascends on a small platform and the whole of Niagara Falls opens up around her in the most outrageous water show while she belts the shit out of 'My Heart Will Go On' without getting hit by a drop."

The above sentence is how, when asked, my friend Marco recounts his experience of seeing Celine Dion perform in Las Vegas. The show he watched – Celine – takes place 70 times a year at the world-famous Caesars Palace, was seen by 200,000 people in 2011, and is so delightfully and specifically batshit that at one point it features the Celine Dion duetting with a hologram of herself.
These days, this level of camp flamboyance is exactly what we expect from an ongoing Vegas show. But until recently, the term "Vegas residency" had simply felt like a polite way of saying "Hollywood's retirement home," or "third facelift," or "at least my zimmer frame is rhinestoned." But over the years, and particularly during this decade, it's gradually become a viable mid-career move for pop performers.
In large part, this is down to the artist known as Ms Britney Jean Spears and her Britney: Piece of Me show, which has played at Vegas' Planet Hollywood Resort and Casino since 2013. Though it was recently announced that Britney will hang up her toy whip and extensive collection of knee-high boots in December, bringing the residency to a close after four years (probably to embark on a world tour, which she's starting before the residency officially ends), it's a fact that Britney's mark on Vegas is now indelible.
Her style of performance – highly choreographed, spectacle-led, most of the singing performed only in leotards atop the shoulders of gloriously 'roided-up dancers, and probably not actually strictly live – isn't the norm for Las Vegas residencies. They've traditionally been homes for big vocal talents ranging from Frank Sinatra to Elvis to Ms Dion herself – who, these days, is a Vegas mainstay, returning periodically to perform Celine and serve up some more of that power-walking-across-the-fucking-stage-because-I've-had-some-wines suburban mum realness that you know and love from all your 2AM YouTube "celine dion vegas performance weird funny" deep dives (would be very surprised if it was just me).
I mention her because in many ways, Celine Dion's first Vegas show, A New Day, which opened in 2003, was a spiritual predecessor to Britney's Piece of Me – the Paris Hilton to Britney's full on, bedazzled Kim Kardashian, let's say. Both shows recognised that people go to Vegas not only to see pop stars, but to see "spectacle" shows featuring magic or circuses, too. A well-known example is Cirque du Soleil – famous, essentially, for being the most extra trapeze show known to planet Earth. And don't you know that very same Cirque lended A New Day a creative director in Franco Dragone. He and Dion conspired to give the show some of that special Vegas pizzazz, which eventually resulted in them getting AEG Live, underwriting the production, to cough up $10 million (~£7.7 million, and you thought you were slick getting a pay rise of a grand) to build the biggest LED screen in North America at the time the show. More evidence that Celine Dion, the PTA's most determined mother, is a role model to us all.
If we fast-forward to 2013 and Britney's Piece of Me, though, the dial has been turned up several notches: despite A New Day's Cirque du Soleil influence, there's only so much that can be done visually with an artist who's not known for dancing. Britney, however, offers an all-you-can-eat buffet of moves, and her show elevates itself from typical Vegas fodder by combining the physical spectacle of shows like Cirque du Soleil with the musical familiarity and hits previously brought to the table by huge vocal artists like Dion.
The mix is a beautiful one. Where else, pray tell, might you see Britney actual Spears flying on wires, strapped to giant angel wings, as she emotively lip syncs her best "Everytime"? Where else might you be confronted with her bowling onto the stage in the middle of an enormous flaming ring before breaking into "Circus," dancing with masked aliens to "Work Bitch," or writhing about, ponytail akimbo, in an unexplained onstage tree, dressed in glittering green and looking like the Biblical serpent who tempted Adam and Eve only even sexier, as only a mere intro, a palette cleanser, an amuse-bouche, in the lead up to the life-ending, earth-shaking pop symphony that is "Toxic"?
Where else, I am forced to ask, might you see the following: Britney Spears inviting an audience member (audience participants have included Howie from the Backstreet Boys, Nicole Richie, and Lance fucking Bass) onstage during "Freakshow" to be publicly subjugated by Dominatrix Britney – one of 20+ characters she plays over the course of the 80 minute runtime. The lucky audience member is dragged down the stage's runway on a literal leash, only for Britney to later release them, BEFORE SIGNING THEM AN OFFICIAL BRITNEY SPEARS MERCHANDISE T-SHIRT, AND SENDING THEM BACK INTO THE CROWD? BRITNEY SPEARS ONCE SIGNED A T-SHIRT FOR HOWIE FROM THE BACKSTREET BOYS AND THERE'S A VIDEO OF IT?? WHAT DID HUMANITY EVER DO TO DESERVE THIS? AND WHERE ELSE COULD ANY OF THIS EVER HAVE HAPPENED BUT LAS VEGAS???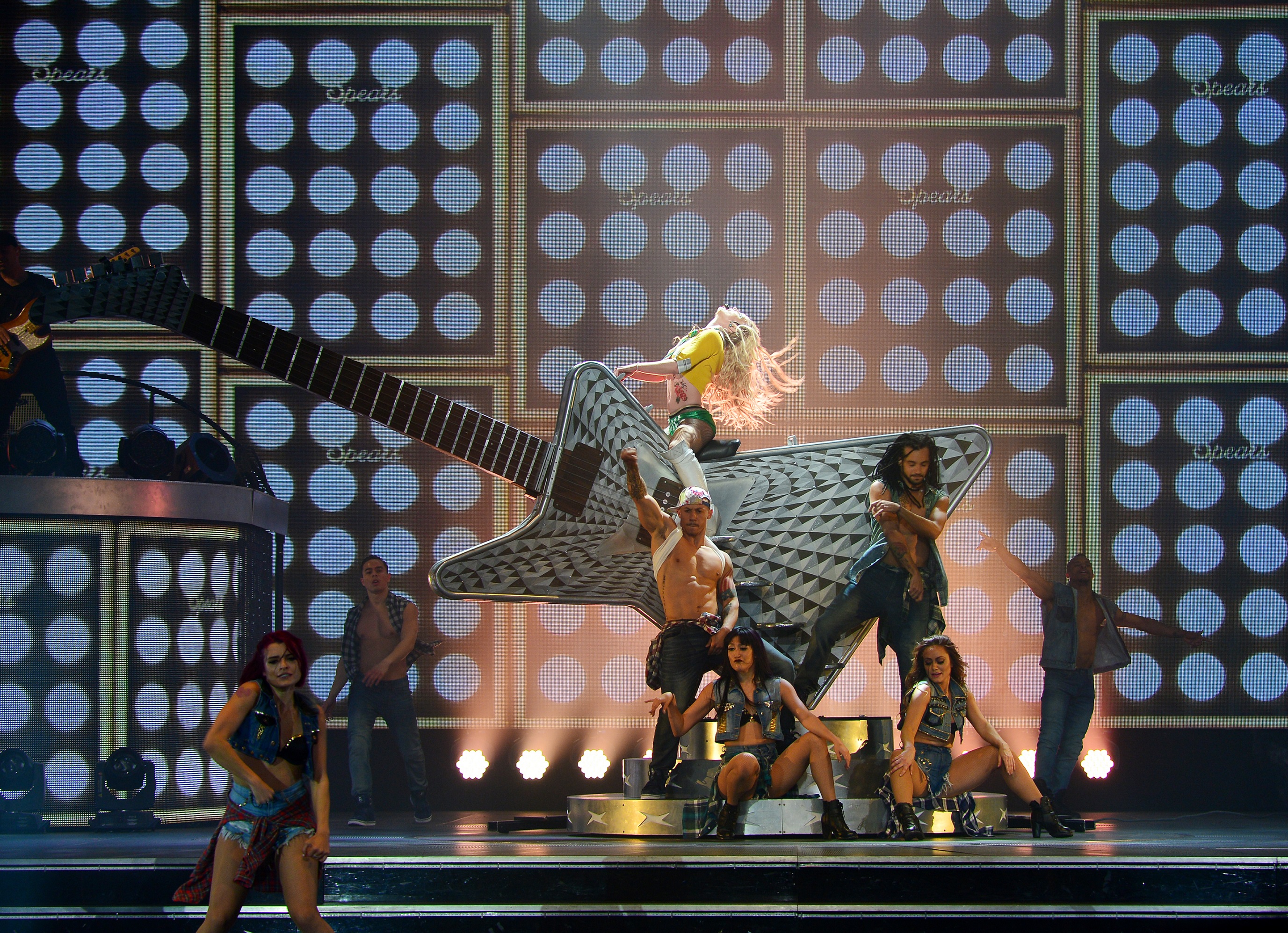 Look, I'm sorry for yelling, but facts are, you have to hand it to Las Vegas: the most over-the-top place in the world was exactly the right place for Britney, whose career has come to symbolise so much of pop's camp excess. The meeting between the city and Britney's still extremely bright star has changed and reinvigorated the idea of the Vegas residency forever, by making it bigger, brasher and showier than ever before. And really, it was destined for success from the beginning. One early review described the show's mission "to turn a cavernous 7,000-seat amphitheatre into a raging nightclub" as very much "accomplished", and noted that its production values are so good that you don't have to be a Britney fan to enjoy it, setting it apart from other residencies. Another praised its "glitz and glamour", its "greatest hits marathon" feel and, best of all, its "wig changes".
Audiences concur: they've flocked to the show in their droves. Britney: Piece of Me grossed $10.9 million (~£8.4 million) in its first 16 shows, and as of February this year, it had earned over $100 million (~£77 million) – so as far as the powers that be are concerned, Brit's been a hit. I spoke with Jason Gastwirth, senior vice president of marketing and entertainment at Caesars Entertainment, who himself had a hand in bringing Britney to Vegas. He'd long thought she'd be a dream Vegas resident, and he was right:
"Britney was on our radar for some time as a perfect artist to shift the paradigm for Las Vegas residencies to a new generation given her wide and devoted fanbase, music catalogue spanning over 15 years and ability to put on an incredible show," he told me. "We engaged with her team early on to develop the vision of this concept to be prepared when she was ready to pursue it. Once the timing was right, we all worked swiftly to get ready for what ended up being one of the most important milestones in music history."
It looks like Britney: Piece of Me was a long time coming, and all part of a plan to rebrand the Vegas residency as something that may, in future, attract artists at the peak of their careers. That's definitely something Jason says he has his eye on, as he made clear when I asked what sort of names we might expect to take up a Vegas residency in future: "One of the screens we have in booking artists for a residency is, 'can you refer to them with just one name?' In no particular order, Adele, Gaga, Justin (both Timberlake and Bieber), Madonna, Katy, Rihanna, Beyonce and Drake would put on tremendous shows."
Of all these names, Adele – with her throwback, almost 'variety'-style act that pretty much involves her doing about an hour of filthy stand-up comedy alongside belting out the hits for thousands of crying mums every night – seems like a particularly interesting bet, as she's someone who might marry Vegas' traditions of spectacular vocalists and old-school crowd rapport with its plans to attract younger artists. In a few years' time, I'd also add Ariana Grande into the mix, given Vegas' proven love of diva talent, and would bet many of my possessions on your boy Aubrey considering sliding across a moving platform in the middle of a Vegas coliseum before the next decade is out.
It's very possible that the Las Vegas residency – far from being the end-of-career graveyard it was once viewed as – may very soon turn on its head. It seems likely that a Vegas show will become even more of a pop status symbol, offering security and proving an artist's longevity in a music industry that seems constantly in flux. And, like a lot of things in life, really, that's all down to the star power of one woman. The Princess of Pop, the Duchess of the Dancefloor: Britney Jean Spears. Oops, she did it again.
You can find Lauren day dreaming about Howie D's Britney encounter on Twitter.