Donald Trump is a comically self-obsessed individual. His inner monologue is narrated by a miniature Donald Trump, who repeats the words "Donald Trump" all day, altering his inflection only slightly from one "Donald Trump" to the next. "Donald Trump?" the small, invisible Donald Trump asks from inside Donald Trump's head. "Donald Trump," he says with quiet confidence.
The Senate Judiciary Committee yesterday released a trove of documents about a 2016 meeting between top Trump aides and a Russian delegation that had promised to help the then-presidential hopeful to topple Hillary Clinton. Drew Millard of The Outline went through all 2500 pages of testimony. In the middle of a 375-page interview with Rob Goldstone, the British music publicist and tabloid journalist who set the meeting up, he found this: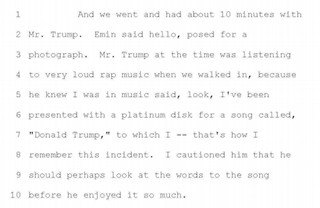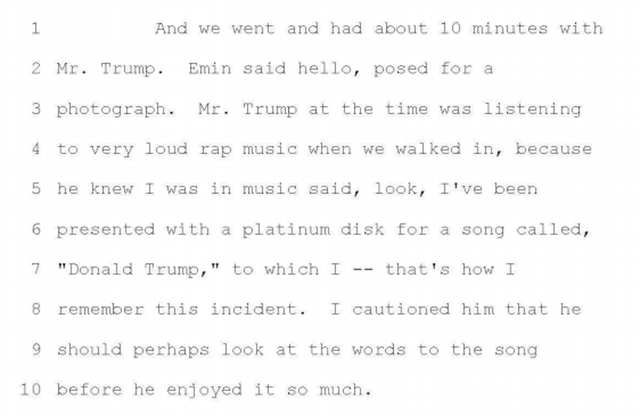 So, according to Goldstone, Donald Trump was listening to a "very loud rap" song called "Donald Trump." Goldstone cautioned Trump that he should "perhaps look at the words to the song before he enjoyed it so much." I assume that the inner monologue, desperate to be heard above the racket, began to whine: "Donald Trump! Donald Trump!"
Millard helpfully whittles down the possibilities, pointing to Trump's long-held affection for Mac Miller's 2011 single "Donald Trump." The song isn't particularly critical of Trump, but there's enough talk of getting "nuts licked" that it would make a presidential candidate with any self-respect blush a little. Neither Young Jeezy's "Trump" nor Young Thug and Gucci Mane's "Donald Trump" were certified platinum by the RCAA; Miller's was.
Trump, of course, threatened to sue Miller for using the words Donald Trump in a song. "I want the money not the plaque you gave me!" he wrote on Twitter in 2013. "I'm now going to teach you a big boy lesson about lawsuits and finance. You ungrateful dog!" That seemingly didn't stop him from blasting the song three years later.
That controversy does allow me to finish my blog by bringing up Miller's Nightly Show interview from 2016, in which he was asked about the Trump controversy. He addressed Trump through the lens: "The messed up thing is, I don't even know if you're evil," he said. "I think you're just such an egomaniacal, attention-thirsty, psychopathic, power-hungry, delusional waste of skin and bones that you'll do, say or allow anything if it means you'll just get one more minute in the limelight."
Follow Alex Robert Ross on Twitter.

This article originally appeared on Noisey US.