The massive popularity of the 2017 best-selling YA novel The Hate U Give by Angie Thomas proved there is an appetite for art that helps us better understand police brutality, one of the most contentious issues rocking the United States today. Its success put the topic in front of a wide array of readers and has many anticipating that its feature film adaptation—starring Amandla Stenberg, Issa Rae, Common, and others—will have a similar impact.
The Hate U Give centers on a high schooler named Starr Carter, who lives in a predominantly black neighborhood but attends a predominantly white prep school. Her world is turned upside down when a black childhood friend is shot by police during a traffic stop. Director George Tillman Jr. (Luke Cage, This Is Us) said that, while filming, he channeled Philando Castile's death at the hands of police, and the subsequent conflict between Castile's girlfriend, who was in the passenger's seat during the incident, and the cop who shot him.
It's a story that's all too familiar to black students, like me, who grew up on the edge of segregated communities. It's jarring when you realize your association with whiteness doesn't free you from the threat of being mistreated by police. For me, it happened when a group of mostly-white high school friends and I broke into a Central Park playground after hours and were stopped by NYPD officers. As soon as a white boy mentioned what schools we went to, the cops let us go, laughing and calling us "good kids." But another time, while hanging out on a park bench with a group of black kids after dark, police pulled up nearby, waited for backup to arrive, then aggressively questioned us with no evidence of wrongdoing.
The Hate U Give arrives at an interesting and polarizing moment in America. Opinions about police brutality and the value of black lives seem to have calcified in the Trump era. The film also arrives at a moment when films like Black Panther and TV shows like Atlanta, Insecure, and Random Acts of Flyness seem more interested in addressing issues within their own communities than explaining the topics they tackle to white audiences.
The activism of young people can sometimes have an arresting effect on Americans, breathing new life into divisive issues. It's a phenomenon we saw with the Parkland students and the gun control debate. But testing the country's capacity for empathy is still an uncertain task, especially when black student protesters are leading the charge.
VICE sat down with Tillman, director of The Hate U Give, to talk about how he tackled presenting this divisive topic to audiences, his relationship with police brutality, and why he draws a distinction between a "young adult movie" and a movie for everyone from a young person's perspective.
VICE: What drew you to want to direct The Hate U Give?
George Tillman Jr: I read the manuscript before it was published in January 2016 while I was working on Luke Cage in the Greenpoint neighborhood of Brooklyn. It started off in this house party and she's thinking, "I'm here at this party, but I don't know why I'm here. It's not enough to be myself at this party." And I thought, Wow, here's this African American girl at this African American party who's having identity issues. I started reading more, seeing her two worlds: her world in Williamson and Garden Heights. And then this shooting happened and it opens up a whole other thing.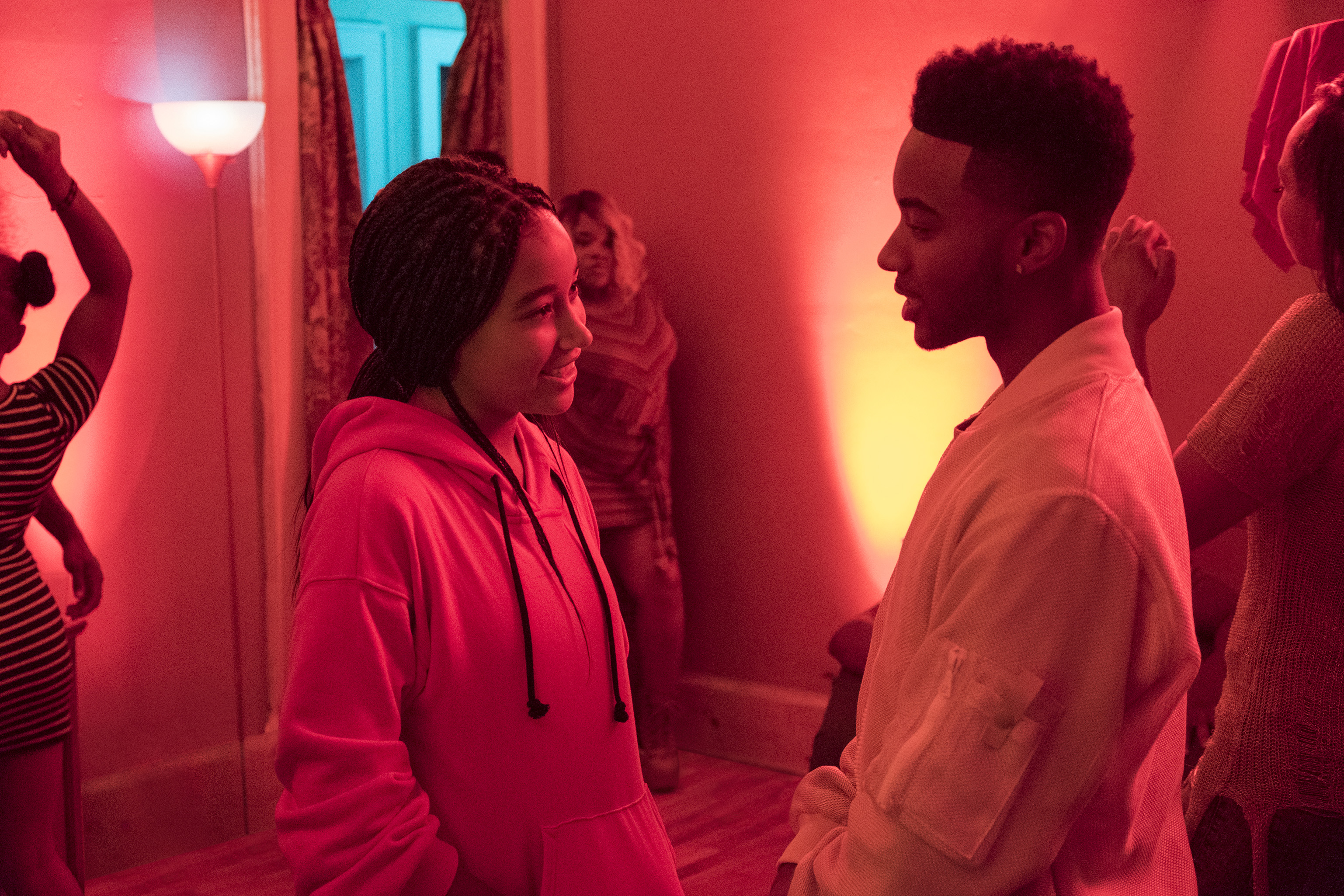 Did you experience mistreatment by the police growing up?
Where I grew up in Milwaukee, Wisconsin, it's very segregated by class as well as race. I remember one of my high school classmates [...] was arrested and he was killed in prison. I remember how the family dealt with that and some of the issues in the news dealing with the community and police officers. But that hit me, because it was somebody close to me who lost a family member. And I was taught at a pretty early age, between relatives and my father, how to conduct myself around police officers.
But it wasn't until 1991 when I was in Chicago and I was pulled over for making a right hand turn, which was my fault, and I didn't have my insurance card—instead of just giving me a ticket they brought me down to the police station and put me in a cage. So I saw that policing in Milwaukee and Chicago is very similar, and that's when it started hitting me, the relationship between communities and police officers.
I saw one of your cast members, Dominique Fishback who plays Kenya, also mentioned she saw a lot of police brutality growing up in Brooklyn. Were you guys talking about your different experiences behind the scenes, preparing for how you wanted it to unfold in the movie?
Eighty or ninety percent of the cast members were African American, and a lot of our experiences are from different geographical areas, but we've all had the same experience [with police]. That shared experience was brought to the forefront as everybody brought everything they could to the material. Because of our experience and because we had the same kind of experience, we were all really connected in trying to tell the same story.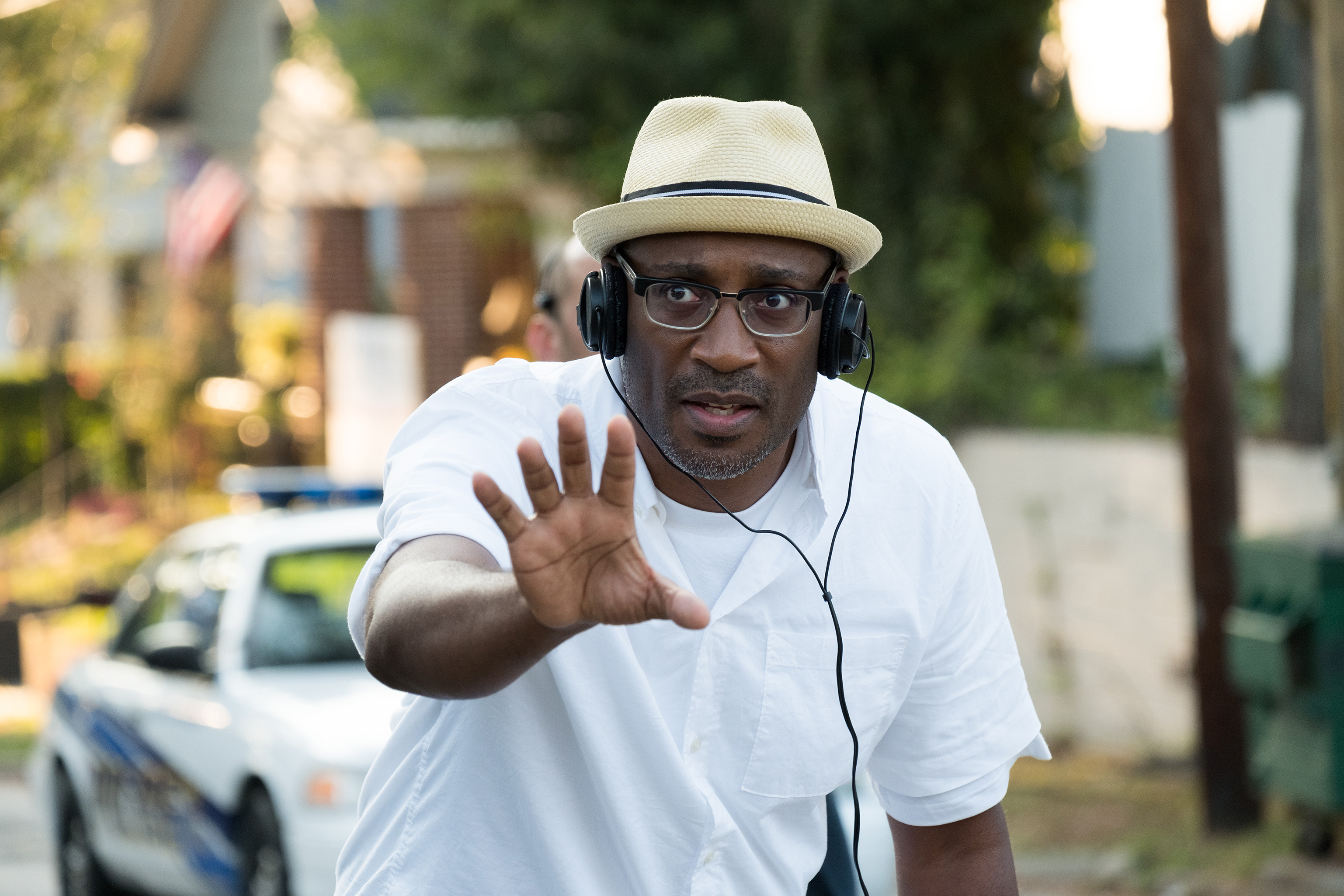 Did you think about how to depict such violent and traumatic scenes for young audiences?
I never set out to make a young adult movie, because I'm way older and I felt like I responded to the book just as much as a young person did. I felt like I was reading a book that was for adults that just had a young protagonist in it. That was my perspective going into the movie.
Eighty percent of the movies young people watch are adult anyway, and it felt like her experience was something a 16-year-old doesn't go through often. Her issues were very specific, and I wanted to shoot it staying away from some of the cliches of YA and the way high school scenes are usually shot, but treat it as a movie for adults that young people can also get behind. I knew it would translate. And I knew Amandla [Stenberg] and Dominique [Fishback] and others would bring the youthful side of their character.
How did you navigate the tension between empowering young people to be the voice of their own change and ceding responsibility or further burdening them?
Including references to the Black Panthers Ten-Point Platform [in the film] reminded me how young the Black Panthers were. I look at a lot of the activist organizations today and who's on the ground pushing trying to change things, and it's a lot of young people. I really like the idea that Starr would take on these big issues [at such a young age]. You see things start to change for Starr when she goes to that protest. That's the part of YA that I embraced—to instill in young people the drive to keep moving, keep pushing. Hip-hop started the same way, with a lot of young people taking music to a different level and saying the truth, so I'm a big supporter of that.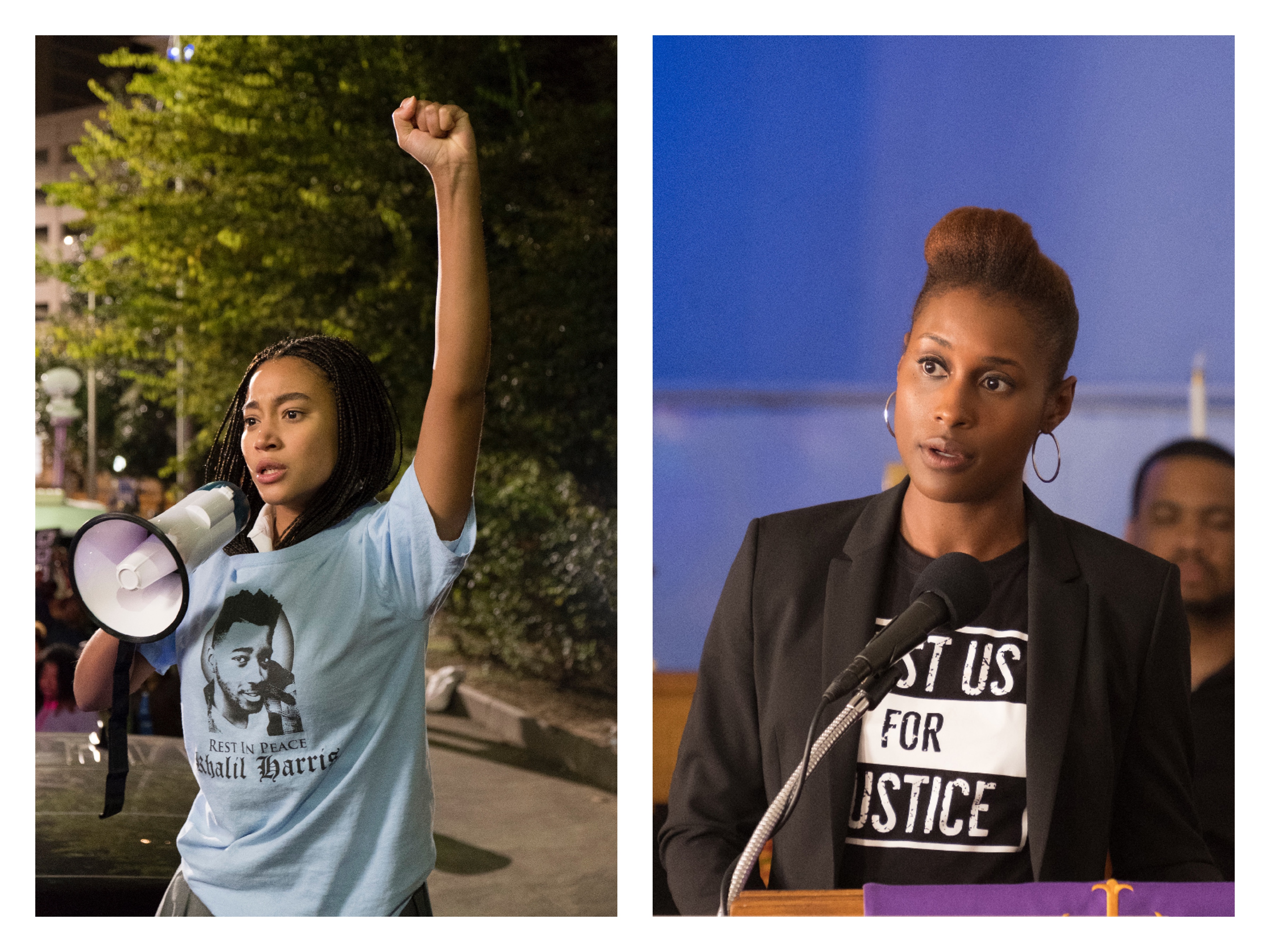 It feels like movies like Black Panther or Crazy Rich Asians are about conversations within communities more than explaining things to white audiences. But this movie had a lot of white characters. Isn't that a lot of emotional labor? How did you manage that?
That's really what was exciting to me about the book. Chris, the white character that [Starr is] dating, says he doesn't see color, but she says, "You have to see color." I've always wanted to say that. That's something we say in the black community, but how many times do we have that conversation with a white individual on film? Or [Starr's] relationship with Hayley, justifying her racist comments. All these things were exciting to be able to explore. Even the pivotal scene where Starr tells her father she's dating someone white. All those things are important to show from our perspective. It's important for a white person to see and say, "Well maybe I've done that, or not looked at it that way. Maybe I shouldn't say these things anymore." That's part of the process of moving forward in the book that I really wanted to embrace in the movie.
In the book Starr's family leaves their dangerous neighborhood at the end but in the movie they stay. Why did you decide to make that change?
After watching it with a test audience early on, the movie was sort of telling me [to change it]. It was telling me the inspiration that people were feeling meant [Starr's family] needed to stay. It kind of made me feel that way in the book with all the things that were happening, from [Mr. Lewis's] BBQ, to the barbershop, to all these guys in the community, at the store, and what it really meant when Starr spoke up. It felt like, Wait, what? Now you're going to move? In the book it feels different, but I wanted people to see that it's okay to stay in the community and give back and keep believing.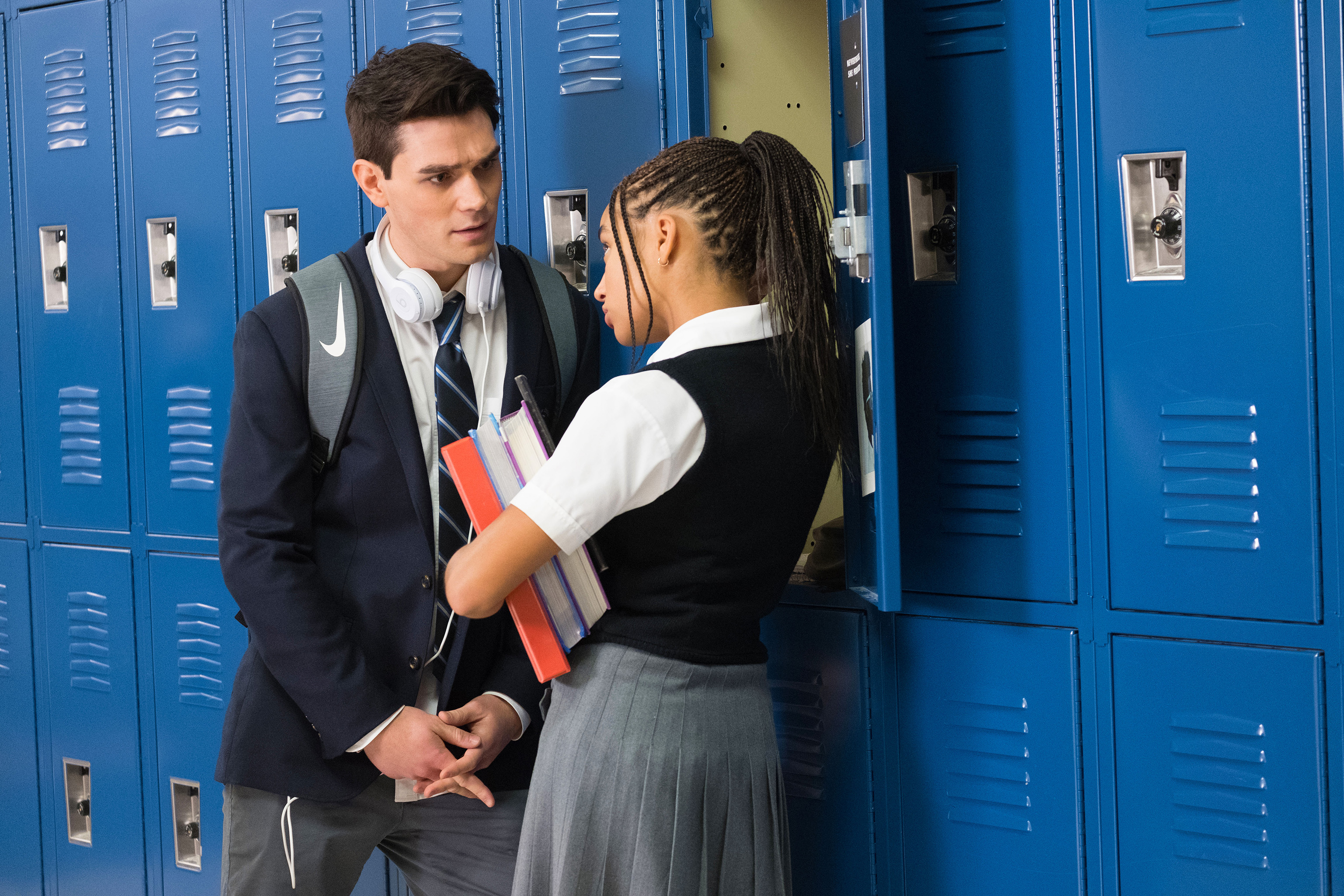 Activists are pretty reticent to talk about black-on-black violence in the same conversation as police violence, but The Hate U Give depicts characters suffering from both. Why was that important?
I think it was very important to show both. I love that [Thomas] included both in the book. From a narrative standpoint, with [King] being involved [in gangs], I had to touch on that to wrap him up. I thought King was positioned well to stand up and use his voice [to call for] gun control and stop the violence. But more importantly, It's really hard to [tell a story] in the world of Garden Heights without bringing [gang violence] up. That doesn't take away anything about police brutality for me. The movie really shows, to a certain degree, how cops are quick to assume and how the system teaches cops to think one way about black people.
What have responses been like so far?
We've been showing it [around the country] for the last two or three months, after the Toronto International Film Festival. It's been affecting people in a good way, both white and black audiences. I made the film, personally, for us African Americans, but within that, I embraced the idea that everybody can understand. I think being authentic breeds universality.
Sign up for our newsletter to get the best of VICE delivered to your inbox daily.
Follow Taylor Hosking on Twitter.
This article originally appeared on VICE US.