Long before Giannis Antetokounmpo decided to dominate the NBA with unprecedented physical characteristics so obscene they nullify his need for a reliable outside shot, there was Grant Hill: A unique, positionless natural who probably could've averaged a triple-double if averaging a triple-double was his primary goal.
A shoe-in for the Basketball Hall of Fame as soon as he's eligible, Hill redefined what a 6'8" forward could do, much like what Antetokounmpo is accomplishing at his size today, as the 2017-18 season's clubhouse leader to win MVP. Here are a few thoughts the Turner Sports NBA Analyst has about the Greek Freak heading into Tuesday night's game between the Milwaukee Bucks and Oklahoma City Thunder on NBA TV.
---
VICE Sports: Do you remember when you first realized Giannis had the potential to be a special force in the NBA?
Grant Hill: A few years back you saw the potential. You saw his length, his skill-set, and you felt like "Wow, if he can put it all together he has a chance to really be a force on both ends of the floor." I think it really, obviously, has accelerated here in the last year and a half. Last year he really emerged as, not just an All-Star, but now the conversation went from "He has a chance to be really good" to "He has a chance to be dominant. He has a chance to be an MVP caliber player." I think that happened last year and he's certainly living up to that now with the start to the season.
VS: Giannis' physical traits are unprecedented, but what specifically about his skill-set caught your eye a few years back?
Hill: Physically just his length. He's long, he's athletic, he had a great stride length when he ran. It also seems like he's gotten a little bigger since he first came in the league. I don't know if that's the case or not but it certainly appears that way. But he kind of reminded me of a Scottie Pippen with his body type.
And then his skill-set, he can handle the ball, he can facilitate, and so he has the ability to be a versatile, all-around player. I think that was what was appealing and attractive about him a few years back. It was a combination of his skill, his ability to put the ball on the floor. They even put him at the point guard position three years ago, when Kidd first arrived—maybe it was four years ago—and let him sort of take advantage of his length, his skill-set, his intellect. You can see every year he's improved, he's become more comfortable and more confident. That confidence is certainly on display right now.
---
---
VS: Michael Jordan and Steph Curry are the only players in the last 35 years who've scored more points in the first six games of a season than Giannis. As good as he was last year, are you surprised at all to see him average 35 points, 10 boards, and five assists on 63 percent shooting?
Hill: Not really. A couple things: When you have a year like he had last year, kind of a breakout season, now you have confidence. Now you feel like you've arrived and you're in that conversation, and so for a young player, as a result of that, the belief in himself as he prepared for this year, I think that's really important. Now you feel like you're on that level.
Then, I feel like he's gotten a little stronger. He looks like he's stronger, bigger, and I think physically that has helped him. And then he's just kind of figured it out. He's scoring very efficiently, but so much of it's in the paint, and he's really just attacking, using his length, and he's a really tough guard. Not many people are either big enough to prevent him from getting to the rim or they're not quick enough to stay in front of him.
He's like a 6'10", 6'11" Russell Westbrook...That was on display at the All-Star game last year, where he might've been the only one out there competing like it was a playoff game.
Unlike a Curry or even Jordan at the end of his career, [Giannis] will shoot in different ways, he'll get out in transition, he gets to the basket. He's a guy who's not necessarily shooting threes and sort of embracing the new NBA, but with the advantages he has it's allowing him to put pressure on the defense, get to the free-throw line, force people to help, create opportunities for others, and then also, of course, be very efficient from the field.
So I think people saw his versatility last year. Now people are watching him score which I don't think people necessarily pegged him as a scorer, and he's somebody that has shown he can score. He can put the ball in the basket. He understands the game now, he sees the game a little bit differently, he understands how to take advantage of strengths. It was interesting, one thing, I know Boston played them at home and put Al Horford on him, who's a tall guy himself, to try and disrupt [Giannis] and not let him get easy points in the paint. But he's doing most of his damage in the paint and in the open court.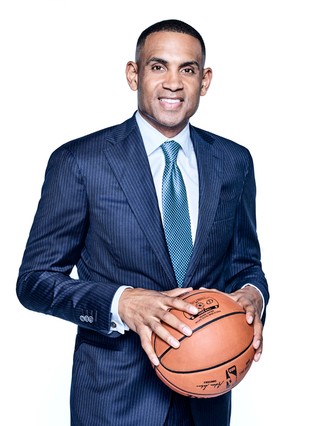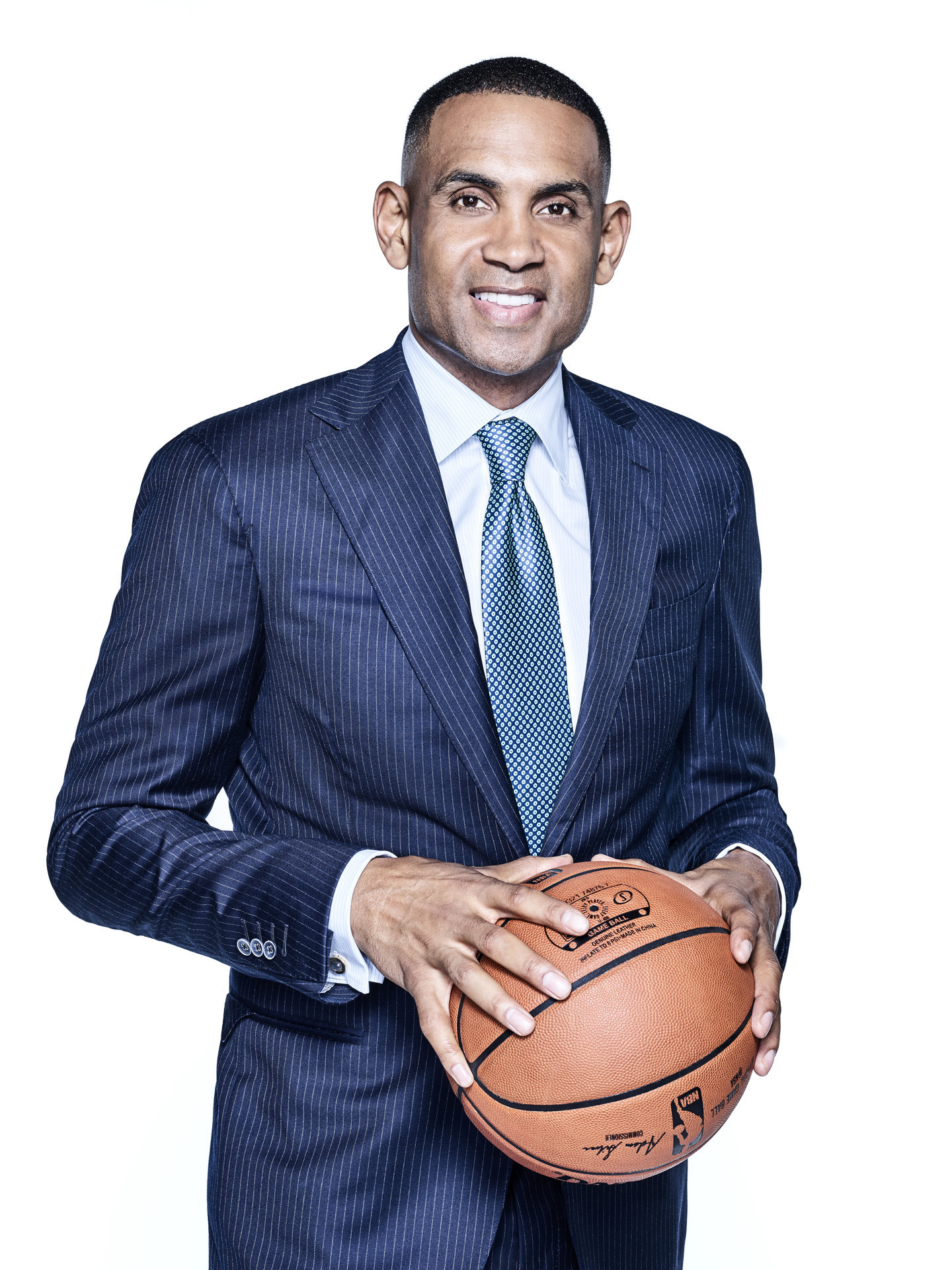 VS: Your all-around impact was ahead of its time, for someone your size to have all the different skills you had. Is it fair to say Giannis is sort of the next evolutionary step along the path you and LeBron walked on?
Hill: There's some similarities. He's somebody who just can really have an effect on the game in a number of different ways. As you talk about the evolution of that position, somebody like LeBron was so athletic and so strong, and I think you never saw somebody who looked like a defensive lineman who was powerful and graceful and athletic and skilled and now you've got a guy who's, he's almost like the next sort of evolution of that position, almost similar like to what Durant was as a scorer—6'11" who can shoot the ball like a shooting guard.
Now you've got a guy who's 6'10", 6'11", who's versatile, who can score, who can put the ball on the floor and get to the basket, who has a motor about him. He's like a 6'10", 6'11" Russell Westbrook. He plays hard. That was on display at the All-Star game last year, where he might've been the only one out there competing like it was a playoff game. So yeah, he is sort of an evolution of sorts at that position.
VS: If you were guarding him, what would be the ideal strategy? Are you sagging off, crowding him, playing him tight and hoping guys behind you can provide help? What's the move?
Hill: I think first of all you have to limit his scoring opportunities, a little bit like LeBron. You don't want him to get in the open court. Now he can get the ball, move from one end of the court to the other in one or two dribbles and be in a scoring position, so I think when you're on offense you have to be very much aware of balance on rebounds. Make sure you get back, be very careful and aware that he thrives off turnovers and changing ends as well as anybody in the league, so try to limit his transition baskets.
And then, the ball is in his hands a lot. He likes to do business there at the high post where he catches at the free-throw line, similar to what Dirk did. And now they spread the floor and he can dribble one way, spin, and now he's at the rim. You have to make him catch the ball further away from the basket, so I'd be more physical with him and not let him get to his spot there. And then in the half-court, I actually think you want to get in him. I know I felt it early in my career, I wasn't necessarily a guy who shot a lot from the perimeter, so people would give me space, and as a ball-handler I wanted that. Now I'm going downhill, I'm coming at you. The people who gave me problems got in my space and made me turn my back to them.
So I would try to pressure him a little bit more in the half-court and not just let him get momentum coming downhill right at me. The game plan would be make him take and make contested jump shots from the perimeter, so you just have to be disciplined. It's easier said than done, but keep him off the line, try to make him score outside the paint, and keep him out of transition.
VS: I don't mean to put you on the spot, but if we agree that LeBron is the best player in the world, how many other players are better than Giannis right now?
Hill: That's subjective. It's still early. You have Durant, you have Harden, you have some really good players, but so far [Giannis] has been the best player [this season]. I think you need more of a body of work. We say, you look at a player over the course of 20-25 games, like, a rookie comes in, and if a rookie is doing well early, I want to see 25-30 games because now at that period of time you can really get a sense, you know, rookie comes in and is dominant the first week or two, teams figure you out and they understand, they scout you, they get to know what you can do and they tend to take away those things.
I think Giannis is here to stay, but you need a little bit more time to really evaluate him in his current role with the Bucks.