On Thursday, Democratic senator Al Franken was accused of forcibly kissing a woman and groping her while she slept, prompting calls for the high-profile lawmaker to step down. He's since asked for a congressional ethics investigation into his own conduct, and while his Democratic colleagues have backed the idea, they're still unsure of how to handle the revelations.
On Friday, Ohio Supreme Court justice Bill O'Neill demonstrated one surefire way not to tackle the issue. O'Neill, a Democrat who plans to run for governor in the state, took to Facebook "on behalf of all heterosexual males" to defend Franken by detailing a few of his own (ostensibly consensual) sexual escapades. The post reads like a hack—but as Cleveland.com reports, it's totally earnest.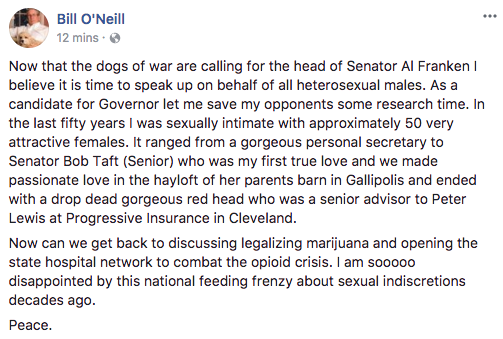 Aside from being flat-out bizarre, O'Neill's post conflates professed consensual trysts with sexual assault. The "feeding frenzy" he mentions seems to allude to the flurry of stories recently released about men all throughout Hollywood, in politics, and beyond accused of sexual misconduct. What O'Neill describes, however, are just his sexual experiences with "50 very attractive females."
Another thing he suggests, intentionally or not, is tabling a discussion of sexual misconduct in favor of issues he's vocally pursued in the past, like "legalizing marijuana and opening the state hospital network to combat the opioid crisis."
In an interview with Cleveland.com, O'Neill confirmed he wrote the since-edited Facebook post, and added that he wasn't positive if he'd been intimate with exactly 50 women because, in his words, he "doesn't keep count." He also defended Alabama Republican Roy Moore, a Senate candidate several women have accused of sexual misconduct dating back to when they were teenagers.
"Roy Moore apparently seems to be a challenged individual when it comes to morality," O'Neill told Cleveland.com. "He's been convicted of nothing and he's never had the opportunity to defend himself and that violates due process in America. The media is about to determine the election of a United States Senate campaign."
Ohio lawmakers on both sides of the aisle have called for O'Neill's resignation, criticizing his post as "crass" and "terrible."
As of this writing, O'Neill's Facebook post is still up, and he's made no indication he'd resign—a decision that, if he ever made, would likely end with a final, declarative "peace."
Follow Drew Schwartz on Twitter.