Brett Anderson sat at one end the Toronto Blue Jays dugout at Rogers Centre last Wednesday, frustration palpable with each exhale through the sweat still collected on a thick, ginger beard. Hoodie now adorned, Anderson took his hat, bit a tear in the elastic, and ripped it in half. It was equal parts Bushwacker and Darko Milicic, Anderson's stoic face still not betraying the disappointment his assault on the uniform laid plain.
He joked to reporters that he left a souvenir in the dugout for them, and later told baseball personalities Dallas Braden and Brian Wilson that "you're welcome for the content."
That Anderson was able to work some humour in after a tough night is true to his nature, even if he was still clearly upset with himself after getting hooked early, having surrendered eight earned runs in 1 1/3 innings. It was his worst start in his brief stint as a Blue Jay, and Anderson took little solace from manager John Gibbons' relayed comments about the outing not changing how impressed the team's been with him. He was hard on himself, describing his start as terrible, and talked about being humbled.
Long a forthright speaker about his success and his struggles, Anderson's self-evaluation often comes in the form of dry witticisms, the self-deprecation offering a peek inside a mind that's firing at a high level beneath the surface at all times. The son of a pitching coach, Anderson's meshed well with the Blue Jays over just six starts, and while the occasional humour is appreciated, it's been the more applicably cerebral aspects of his approach that's won him fans.
"You can tell he's witty. He's quick-witted," pitching coach Pete Walker says. "He's fit in nicely. We've had some great conversations. He's a student of the game. He knows the game, and he's very astute. Likes to talk baseball, likes to talk about situations and how to attack hitters. It's been refreshing. It's been a pleasant find."
Thinking is important. So, too, is a short memory. On Monday, Anderson toed the rubber at Fenway Park in an attempt to bounce back. Things looked bleak early on, with Xander Bogaerts and Eduardo Nunez lining back-to-back hits into the outfield to start the game. They'd both come around to score in the frame, too, but both came across on RBI groundouts, and Anderson ended the inning with a third groundout in a row.
He'd settle in from there, ultimately allowing three runs in total over five innings, recording seven groundouts (including a double-play ball) and earning the victory. Given how the game had started, a sense of relief that he was able to battle through was evident in his post-game self-evaluation.
---
---
Anderson taking to Twitter to debrief his outing is hardly new, nor is his penchant for letting his sense of humour show more on there than in person. He's half-joked about the juiced balls in baseball this year—though he genuinely believes a change is at the root of the wide-spread blister issues in the league, something he dealt with personally a few starts back—he's complimented teammates, shot back at fans and low-brow media outlets, and generally tweeted about whatever's on his mind or TV screen (for better or worse).
It would seem a modest contrast to the more muted approach on the mound and in interviews, and it's one Anderson has always employed but has grown over time.
"It's probably more common now than it was early on. Some guys use social media as an outlet for products and different things where I kinda let my personality show more. 'Cause I'm not the most vocal guy in the clubhouse or around, and so I kinda let my sarcasm and banter and maybe some sort of wit shine on Twitter. It's just an outlet for me to voice some stuff I might not share vocally," Anderson says.
"I think the sarcastic and more open tweets were fewer and far between, but they were still there. It's kinda been my M.O. Then I started playing with Brandon McCarthy, who's kinda like the poster child for that sort of stuff. So it probably opened up a little bit more so after playing [with] him and kinda saw not that it was OK but that you can do it and straddle the line of stuff people think you might say and might not."
It all reveals a sort of comfort of self, something the 29-year-old has managed to maintain on the mound as well as off of it despite some challenges over the years. Anderson landed in Toronto as a low-risk flier, his third club in two seasons as a pattern of injury trouble continued to arrest any momentum. All told, Anderson has thrown 736 innings over a nine-year career, hitting the disabled list 10 times. On Monday, he cracked the 50-inning plateau for just the second time since 2011.
He's made an estimated $49.9 million in that career, and it's a safe bet that teams will continue to invest because, as he puts it, he's a left-handed pitcher with a pulse.
That Anderson owns a 4.07 career ERA and 3.74 FIP is the real explanation for why teams continue to see if he can finally stick once again. It was just two years ago that he threw 180.1 innings for the Dodgers and was worth nearly two wins by RA9-WAR, and the Jays, who have taken a hands-off approach in order to let Anderson try to dictate his own comfort zone, have high praise for him despite a 6.04 ERA (4.14 FIP) in six starts.
"He's a pro. He's got tremendous stuff," Walker says. "Fastball command, and he can spin the ball. His breaking stuff is as good as I've seen. Since he's been here, he's done a great job. His issues in the past have always been health-related and right now, he's healthy and doing a great job for us. He's someone we're pleasantly surprised at where he's at right now with his stuff, and he's fun for our defense to play behind as well, because he works so quick."
Working quickly and keeping the ball on the ground has led Walker to compare Anderson to Mark Buehrle "except a click up in every aspect." Anderson trails only Buerhle and Tim Wakefield among starters with at least 200 innings pitched since 2009 in terms of pace on the mound, and he ranks seventh in that same sample with a 57.4-percent ground-ball rate. He hasn't kept the ball on the ground quite as much in Toronto, but all of the elements that made him so successful not that long ago remain in play.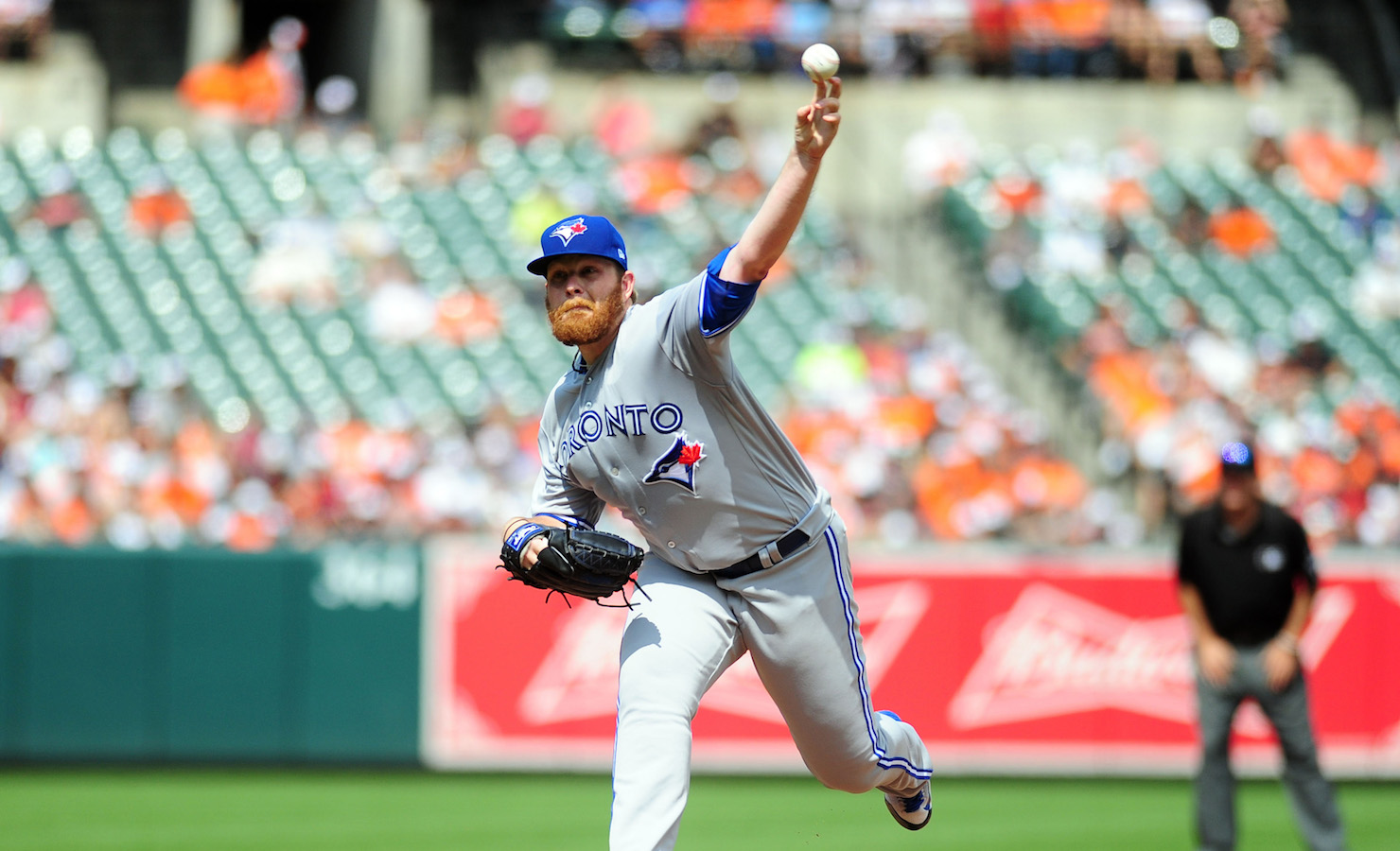 "He's got a lot of life on his fastball. It gets on you a little bit, I think it's a little bit sneaky," says Luke Maile, who's caught two of Anderson's best starts on the current comeback trail. "Mainly it's the movement, though. He throws a lot of groundballs. Both sides of the plate with his fastball, he's pretty consistent with that, and his offspeed stuff he can pretty much throw at any point in time. Experienced guy, he just kinda comes at ya.
"It's encouraging. You can tell even when he's not feeling a particular pitch, it doesn't mean he's gonna be afraid to throw it. I've noticed him making a lot of his best pitches with runners on base and making them out of the stretch, and there's a lot to be said for that."
His own jokes about his handedness extending his opportunities aside, Anderson remains steadfast in his belief in his stuff. He's averaged 91 MPH on his fastball in Toronto, more or less in line with his 2014-2016 seasons and up from his time in Chicago earlier this year. His strikeout rate is up a tick and his walk rate is mostly in line with his career marks. Most importantly, he's been able to take his turn for six consecutive starts.
"Whenever I'm healthy and able to go out there, I feel like I'm a good pitcher. It's just been kind of a battle to be able to do that the last couple of years and the couple of years before 2015," he says. "I'm more self-deprecating than most, but obviously being left-handed helps. I think whenever I'm healthy and able to go out there and pitch like I'm capable of, I'm a fairly good pitcher. I like where my body's at, like where my mind's at.
"If I'm able to go out there and throw up the stuff that I have for the first handful of starts, I'll feel good about it going into the offseason."
The Jays would seem to have interest in bringing him back, given how fond they are of him early on. Re-signing Marco Estrada means four starting rotation spots are spoken for, and Joe Biagini will be favoured for the fifth barring an offseason addition, but Anderson's shown enough to warrant the conversation.
The last start of Anderson's audition will come Sunday at Yankee Stadium, a road game free from the home cap he's joked he superstitiously doesn't want to wear anymore. It's one more occasion to make a case for 2018 consideration, a chance to affirm his stuff hasn't lost its bite, and an opportunity to end one of his healthiest seasons in years on a positive note.