Marlins P Jarlin Garcia May Not be an Ace, but He's Dealing and Easy to Root For
He's dominated the Cubs and Yankees, took a no-hitter into the sixth inning against the Mets, and is pitching for his family's happiness.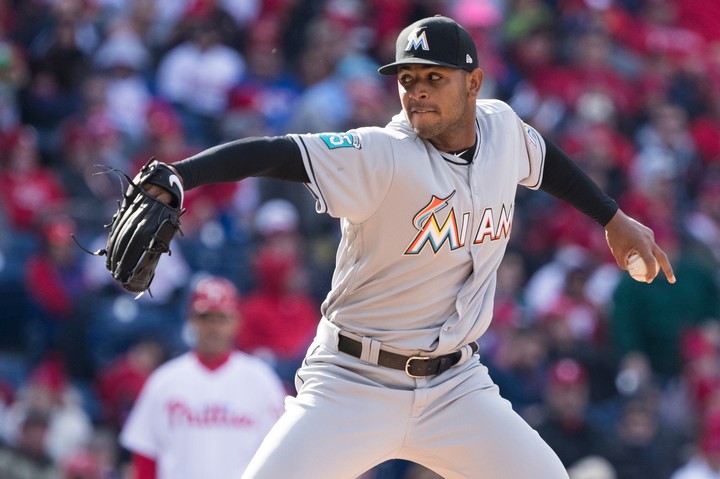 Bill Streicher-USA TODAY Sports
Bill Streicher-USA TODAY Sports
In late August of last year, well before Jarlin Garcia began his career as a Major League starter with a record-tying ten- and one-third hitless innings, hundreds of children—elementary-schoolers, members of youth baseball teams—gathered in the Dominican municipality of Pedro Brand, in the province of Santo Domingo. In front of them were tables stacked with brand-new backpacks, each of them filled with school supplies, and standing at the tables, ready to hand out a backpack to each child, were Garcia's father and girlfriend. When an organizer asked the gathering if they knew who Jarlin Garcia was—"Malibu," as he is known in Pedro Brand—a huge cheer went up.
While Garcia almost certainly wasn't a household name in North America, in Pedro Brand he was a star. Like the kids his foundation was providing school supplies for, he was born and raised there; like them, his family had often struggled to make ends meet. And now he was a pitcher in the major leagues, making enough money to provide an entire community of children with enough pencils, pens, erasers and paper to last them the school year.
Jarlin Garcia wasn't a star in the major leagues in 2017. He was a middle reliever with a low walk rate and a low-to-mid-90s fastball that could run a little flat at times. He had progressed slowly through the minor leagues after signing with the Marlins in 2010 as a 17-year-old. It took him three seasons in rookie and low-A ball before he moved up to playing full-season baseball. He wasn't a highly-touted prospect; he never had the kind of numbers that dazzled, high velocity or overwhelming strikeout capability. The Marlins were disappointed enough with his slow progression that they left him off their 40-man roster in 2014. And while he fared well in 2015 and 2016—going to the Futures Game, earning an All-Star selection, and slowly moving into the top ten on Marlins prospect lists—he was never highly regarded. This was someone who, if all went well for him, would probably slot in as the Marlins' fourth starter.
Garcia's first callup in 2016 was rather unceremonious: his manager in Double-A, where he had started the season, called him into his office and promptly told him that he was no longer wanted on the team and to "get the fuck out," which Garcia understandably found confusing. The callup was more a move of necessity, a means of acquiring some backup for a bullpen that was stretched thin. Garcia didn't end up pitching in Miami, only staying with the big league team for four days before getting sent back down. But he got $10,000 dollars out of the deal, and he got to say that he had made the major leagues. Both the money and the news were gifts that he could pass on to his parents back home.
Last season Garcia pitched in 68 games with the Marlins, posting a rather pedestrian 4.73 ERA with peripherals that hovered around league average—not numbers really worth noting. His debut season went essentially unnoticed by most baseball fans who aren't devoted followers of the Marlins. But it didn't go unnoticed back home in Pedro Brand. Garcia's success, moderate though it may have been, had an impact that reached beyond the confines of Marlins Park, even beyond the circle of himself, his family, and his friends. All the way over in France, a Dominican ex-pat singer named J Sugar, also a native of Santo Domingo province, released a song in Garcia's honor. Returning to Pedro Brand after the season was over along with Reds pitcher Ariel Hernandez, the song blasted from loudspeakers, floating over the enthusiastic crowd assembled to greet them.
Making it to the major leagues at all, regardless of how well you perform when you get there, is an impressive achievement, and it is in tight-knit communities where the gravity of this achievement is at its most visible. Garcia's $40,000 signing bonus, while modest compared to some of the paydays earned by other young international amateurs and top draft picks, was life-changing money for his family. The league-minimum salary Garcia earned with the Marlins in 2017 was the kind of money that could change the lives of hundreds of families. And that is exactly how Garcia has used the platform and privilege that his career in baseball has afforded to him.
Garcia was a latecomer to baseball; for most of his childhood, his only passion was soccer. On the urging of others, who saw potential in his athleticism, he took up baseball at 15. A year later, his baby sister Genesis Mabel died in an accident in their home while he was at baseball practice. He felt responsible for the accident—perhaps if he hadn't been out of the house, spending time on his own pursuits, he would have been able to prevent the tragedy. "I felt like my family lost its happiness that day," he told reporters in Miami. He promised his parents that he would use baseball to support them, to turn their lives around. He was going to be something big—a major leaguer. He was going to, in his words, "give them a reason to live."
Garcia says that he still thinks about Genesis Mabel every time he pitches. The foundation that delivers school supplies and support to children in Pedro Brand is named after her. And now he is not only a major leaguer, but has inscribed himself in major-league history. After two long-relief appearances—the first of them a masterful six shutout innings in extras against the Cubs—Garcia pitched six no-hit innings against the Mets, one of baseball's hottest teams, in his first major-league start, before being controversially lifted after throwing only 77 pitches. On Tuesday he dominated the powerful Yankees lineup for another five innings, giving up only one hit. He has been an unexpected and welcome success for the Marlins, who could certainly use something to cheer for.
Jarlin Garcia might never be an ace. Even through his four excellent appearances this season, he has struck out few and walked too many. But even though he is not a star, and even though he might never be one, Jarlin Garcia has taken the opportunity given to him as a major leaguer and made the most of it. That, however the rest of his career might unfold, seems like something worth celebrating.
This article originally appeared on VICE Sports US.