Welcome to the maiden voyage of The Weekend in College Football, VICE Sports' new column. Each week, we'll take you through everything you missed on Saturday (or God, forbid, Friday night), the things worth learning, and look ahead to what happens next. Enjoy.
1st and 10
The answer, at last, has revealed itself: Penn State.
The question is the same as it's always been, the one that's defined college football for the last half decade: Who stands the best chance of defeating Alabama? Last year it was Clemson, and the Tigers actually pulled it off by the slimmest possible margin.
This year, the Nittany Lions cemented themselves as the cream of the challenger crop following Saturday's 42-13 drubbing of Michigan. The offensive backfield remains the best in the sport between Heisman favorite Saquon Barkley and the increasingly judicious Trace McSorley, who has cut down on the types of reckless passes that lost Penn State the Rose Bowl in January. Those two, plus a trio of playmaking pass catchers (DaeShon Hamilton, Juwan Johnson and Mike Gesicki) have elevated the Nittany Lions to eighth nationally in points per play, and 17th in yards per play.
The Penn State offense is potent, efficient, diverse—and only its second-most impressive unit. The defense is otherworldly: first in points per game and points per play, second in yards per play, second in opposing turnover margin per game and seventh in yards per game.
There are no exploitable weaknesses, in other words, which is the price of admission to simply stay in the ballgame with the Crimson Tide. That is how Clemson succeeded where every other school failed, by making the Tide worry about every position group on the field. It's still premature to put Penn State in that echelon. James Franklin does not have Dabo Sweeney's bona fides, McSorley does not have Watson's precision and Barkley, for all his brilliance, is still a running back and Nick Saban's defenses live to swallow running backs whole. But there is rightful cause for belief. And belief is always the first step toward slaying a monster.
18 Obligatory Words About The 2018 College Football Playoff:
The Pac-12 desperately needs Washington to win out.
Anything less, and the Conference of Champions gets shut out.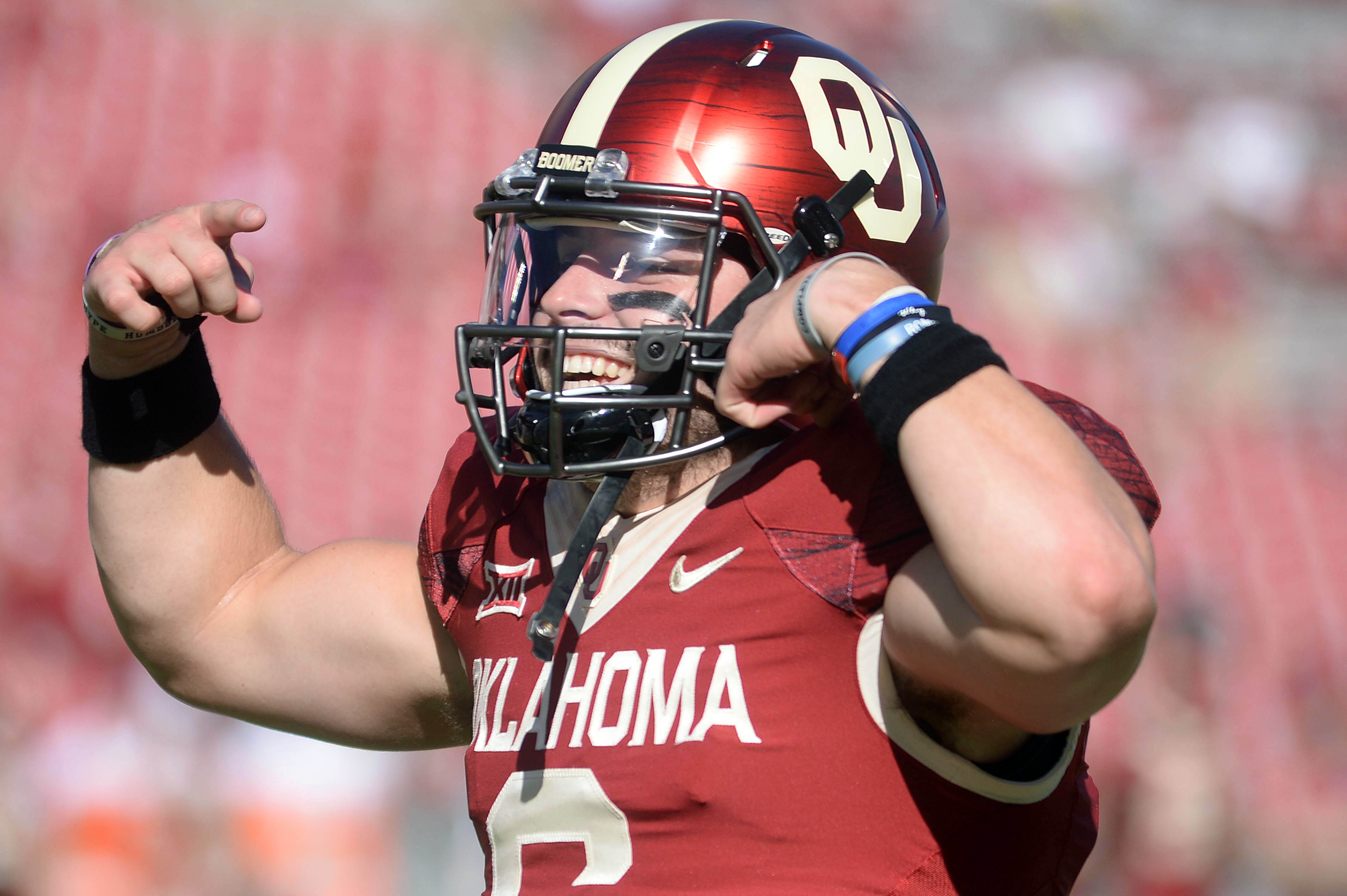 2nd and 8
As recently as a few weeks ago, Oklahoma may have been the number one contender. And even after a slog against Texas in the Red River Rivalry, the Sooners' offense is very much championship material. If Barkley doesn't win the Heisman, then it's going to Baker Mayfield, who is more efficient than he was a year ago despite losing Biletnikoff winner Dede Westbrook along with early-round draftees Joe Mixon and Samaje Perine in the backfield. Mayfield has elevated an ensemble cast into the very best version of themselves, the sort of thing that every quarterback is expected to accomplish but only truly great quarterbacks do.
So it's a damn shame that the defense is such a sieve. No fan base this side of Tuscaloosa is ever really content with their school's coordinators but few have more justifiable gripes than Sooner fans do with defensive coordinator Mike Stoops. Oklahoma plays middle of the road defense with personnel that ought to be in the upper crust. Until there's improvement, the Sooners will be left to eke out wins like Saturday's heartstopper against Kansas State and blow easy home games against teams like Iowa State. And with both of TCU and Oklahoma State remaining on the schedule, great offense and average defense likely won't be enough to make it through the rest of conference play unscathed.
GIFs Of The Week
Bronze: UCLA's Bolu Olorunfunmi spring-boarded off a dude's shoulder. Bonus points for the pratfall into the end zone.
Silver: Syracuse's Eric Dungy kneed a dude in the face after a far less successful hurdle attempt. Any man ballsy enough to emulate Seth Rollins in an honest-to-goodness close game is one after my own heart, and sheer innovation would give this the nod in most weeks.
Gold: But if I'm rewarding ingenuity, then the top slot has to go to something that was actually intended to be transformative instead of an unintentionally great moment in white dude awkwardness. Thus, say hello to Purdue's DJ Knox, who unfurled a fake flea flicker:
College football has been around long enough that someone, at some point, should have tried this already and yet I can't ever recall another one. Now the Boilermakers have, the latest highlight in a surprisingly enjoyable debut year for head coach Jeff Brohm.
3rd and 1
Make it three weeks in a row when Miami has been able to grind out a win in the final minutes. The optimistic take is that a young and obviously talented Hurricanes team is ahead of schedule in withstanding the boil of late-game pressure. A less charitable one is that those three wins came over Florida State, Georgia Tech and Syracuse, who sport a combined 10-10 record. We'll have a handle on how seriously to take the Hurricanes in three weeks, after Miami follows up a should-be snoozer at North Carolina with back-to-back home tilts against no. 13 Virginia Tech and no. 9 Notre Dame.
Player Who Deserves to Be Paid This Week
We are setting an insurmountable bar by handing this out to UCLA's Christian Pabeco, who paced the Bruins with 99 receiving yards and a touchdown in their 31-14 over Oregon. Why? Because Pabeco is a walk-on, which makes him extra special breed of exploited player within the country's most predatory sport. A scholarship is just the tip of what he—and every college athlete—deserves but at least comp the dude's tuition, Jim Mora.
Coach Who Does Not
Per friend of the program Adam Maya, USC has lost exactly two games since 1966 by 35 or more points. Clay Helton is the head coach who presided over both. You can pawn some of Saturday's 49-14 curb stomping by Notre Dame on injuries or a schedule that somehow dispensed with a bye week, but those don't come close to explaining the Trojans' underlying issues.
As it has all season, USC fell behind early, turned the ball over way too often, appeared timid in its offensive play calling and got gashed on the ground. They looked woefully underprepared to match up with a Notre Dame team that, like nearly every team USC plays, has less overall talent at its disposal.
Last year, the underlying question about Helton was just how good he'd truly look without Sam Darnold's brilliance to prop the Trojans up. Now that Darnold has plummeted to earth as a sophomore, we have an answer: A long way from where a would-be playoff contender needs him to be.
Obscure College Football Team of Note
Let's hear it for Bucknell, who became the 19th FCS team to reach 600 total wins. They did it in style: A 13-7 overtime win over Lafayette, via a 95-yard pick-six. They also did not score a single offensive point, so the use of "in style" applies about as liberally as it does to Mike Gundy's haircut. Nevertheless, dramatic milestone victories are few and far between, so tip of the hat to the Bison.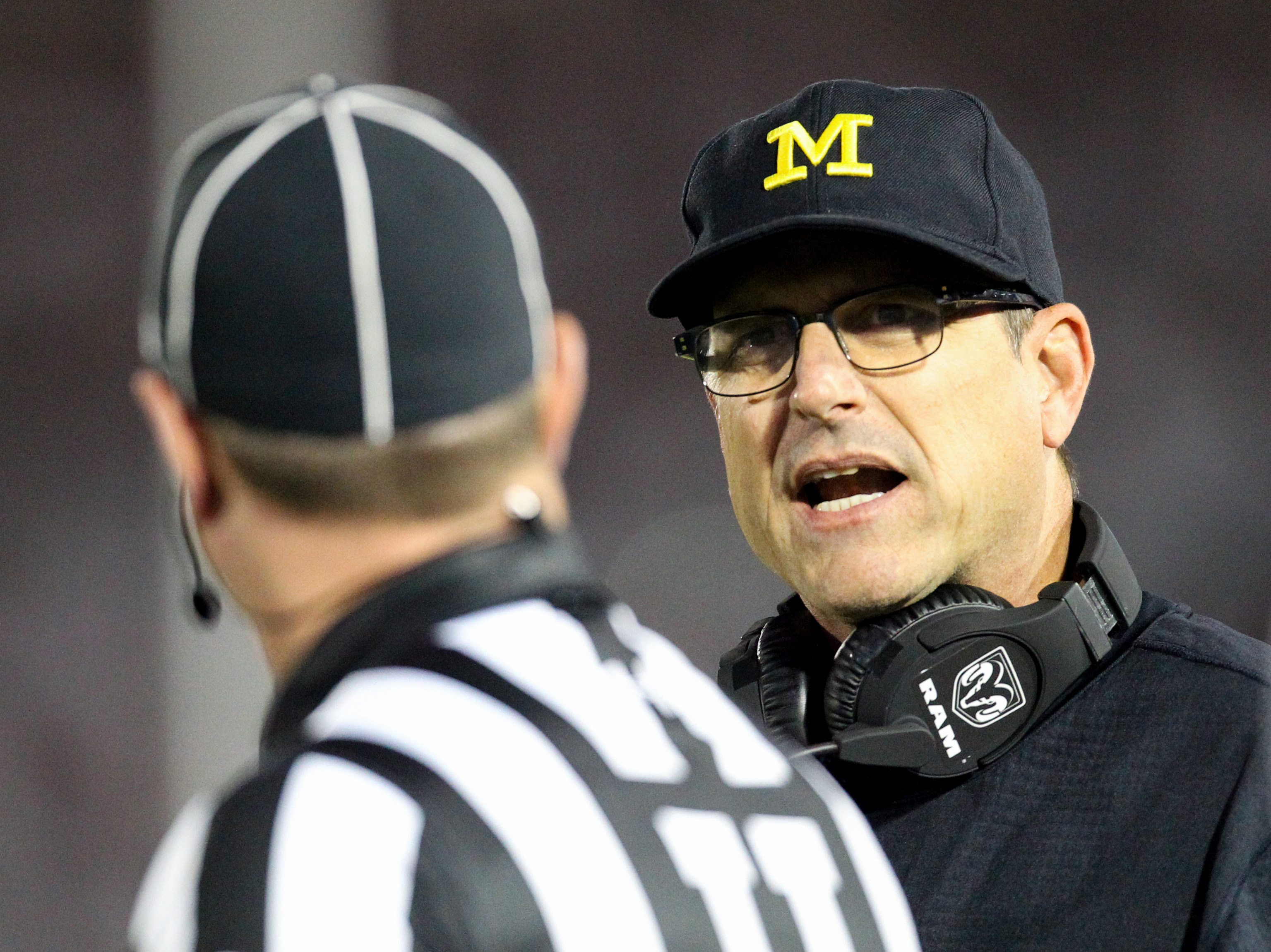 Punt
On the idea that Michigan, now staring down the barrel of a four-loss season with games against Wisconsin and Ohio State still remaining, is a catastrophe. Even during the preseason, the Wolverines' offense was a glaring red flag to anyone who bothered to look close enough, between two veteran quarterbacks whose absolute ceiling was competence, a running back group bereft of a true game-breaker and no established pass catcher to speak of.
Aside from the brief emergence of freshman receiver Tarik Black, who has since been lost to a foot injury, those units have delivered exactly to expectations. The offensive line, meanwhile, has underperformed to the tune of seven allowed sacks per game. No defense,not even one as good as Michigan's, can compensate for all of that.
The good news is that many of Michigan's dynamic skill players are their youngest, to say nothing of another banner recruiting class that's on the way. Feel free, in other words, to commute 2017's preseason hype to 2018. If the Wolverines collapse then, too—well, that's when it's truly time to discuss the returns on Jim Harbaugh's $7 million annual salary.
Something To Look Forward To
Matchups between ranked teams will be at a premium in Week 9, but TCU-Iowa State would be intriguing even if the 25th-ranked Cyclones hadn't just snuck into the AP poll for the first time since 2005. Iowa State looks rejuvenated under third-string, walk-on quarterback—you read that correctly—Kyle Kempt, who helmed a 38-31 upset win over Oklahoma and a 31-13 gutting of Texas Tech. Both of those victories came on the road; the Cyclones get fourth-ranked TCU, the lone undefeated team in the Big 12, at home.