How to Avoid Getting Caught Up in a Rental Scam
Scammers are taking advantage of housing crises across Canada. Here's how you can spot one.
Original image via Pixabay. Art by Noel Ransome
A housing crisis is the perfect setting for scammers to take advantage. If you've been following along with the fuckery in Toronto, a Liberty Village bro named Michael Adam Lemke just caught ten charges for a string of rental frauds. But Lemke is only one of a number of alleged fraudsters who've been using the housing shortage and skyrocketing rent prices to their advantage at the expense of other people's sense of security. Robbing someone not just of their savings but potentially even rendering them homeless when they discover they don't have a place to live days before they were supposed to move into a new place seems especially evil, but this is the world we live in apparently.

While scams like Lemke's are increasingly advanced and easy to fall for in the current rental climate, I spoke to a number of people who've gotten caught up in rental scams in the last few months to come up with the following warning signs.
Unnecessary Virtue Signalling
It's cool to express that you don't discriminate based on race, gender, age, and sexuality. But if your prospective landlord is claiming that he's a "missionary" or a "man of god" who lives in another country but just so happens to have property in your city he's looking to rent, something might be up. Several people interviewed for this article who responded to suspicious rental ads described this as a common trope in email responses about ads posted on Kijiji and Craigslist.
Odd Rhythm of Responses
Roberta Excell, 25, decided to "get cheeky" with someone she suspected was a scammer and kept contacting him to see how far he'd go. "It seemed like a really normal listing… fully furnished, luxury apartment, in Yorkville… all-inclusive rent," Excell told VICE. But since she'd nearly fallen for a similar rental scam when she was younger in the UK, she was able to figure out quickly that something was up when she received a response from the poster of the ad. "It was quite a long email—that's what really got me at first," she said. Knowing something was up, she continued to contact the person who was hustling a supposed Yorkville apartment. She described how he'd respond almost too quickly via email and by calling her—often within 30 seconds—which set off alarm bells.
Asking for Money Before a Viewing
Tempting given the rental climate and pressure to secure a place before someone else does, but no. Big no.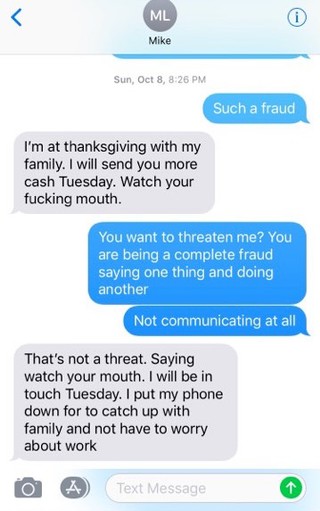 Endless Excuses
Earl Merrick, 22, alleges he was a victim of Lemke's. After viewing a Liberty Village condo, he paid Lemke first and last month's rent for a room. At the time of our interview, he had received less than half of his $2,200 after Lemke allegedly told him he couldn't move in days before he was supposed to.
When he didn't give Merrick back his money in a timely fashion, he became suspicious: "There were about a million excuses he gave: he wire-transferred himself money and couldn't pay back right away because the wire hadn't gone through; bank's not open; he accidentally gave out a wrong cheque to someone and he's got to wait for that to bounce so he gets the money back; oh, it's Thanksgiving weekend and I can't pay you right now, I'm with family; sorry, I've been driving all day; I've already sent you the transfer, it should come through soon (but he never actually sent it); oh I work construction, sorry, I haven't gotten paid yet." Merrick, along with other alleged victims of Lemke, filed a police report.
Asking How Many Months of Rent You're Willing to Pay Upfront
While it's normal in a city such as Toronto to pay first and last month's rent upfront, asking for any additional months of rent is a big warning sign.
Unwillingness to Pay You Back Immediately
Tim Staudinger, 22, came to Canada just over two months ago on a work permit from Germany. Last month, he became a victim of a rental scam in notorious party-hard ski town Whistler, British Columbia when he responded to an ad in a local Facebook rental group. Though it is a small community, it has a housing shortage and therefore is fertile ground for rental scams. Staudinger paid $1,280 to a young man in town after seeing a room for rent. Just before he was supposed to move in, the man told him that the room was no longer available but he could sleep on the floor if he wanted to. When Staudinger said he wasn't interested in that setup, he asked for his money back. "As soon as he said he couldn't give me the money back right away, I should have asked him to go to the ATM right away," Staudinger said.
Staudinger, who works at a ski rental shop, said he spent most of his savings on the ordeal and this could mean the end of his travels in Canada. (He's currently couchsurfing.) When he filed a police report over the alleged scam, he said cops told him they have been hearing complaints about rental scams weekly.
Excessively Low Rent
Know what is typical rent in the area you're seeking housing in. If it seems too good to be true, it just might be.
Multiple Rental Ads with Different Prices
For Claire Hay, a nanny who lives in Cambridge, Ontario and is looking to move to Toronto, the alarm bells went off when she spotted multiple ads on Kijiji with differing prices for the west-end condo she'd already viewed, signed a lease for, and paid first and last ($2,600 total) on. When she had a friend contact the poster of one of the duplicate ads, she said she suspected it was the same person she'd been speaking with. She filed a formal report with police. Hay also posted about the ordeal in the popular Toronto rental Facebook group Bunz Home Zone with photos of the alleged scammers and screenshots. And through an especially heartwarming testament to the power of Bunz, one of the alleged scammers freaked out and agreed to give her the money back if she took down the post. Hay said she got her money back but never did take down that post. She said other victims of the same scammers have not been so lucky.
A Note: Check In with the Front Desk or Property Manager
If you're looking to rent in an apartment or condo building, it's prudent to check in with the front desk (if there is one) and/or the property manager about the unit you're interested in. Some of those interviewed for this article said asking about if the person they'd been in contact with even lived in the building or if they had the authority to rent out a unit turned up useful information.
Another Note: Rental Scams Are Evolving
Lemke's alleged way of scamming is a perfect example of an increasingly common trap for prospective renters. He appeared to be living in the residences he showed people and took them for genuine viewings before requiring first and last month's rent. The same is true of the scam Hay got caught up in. Hay recommends asking to see property tax records as proof of ownership before you believe someone is allowed to rent out a residence. She was supposed to move into her new place on December 1 and is now staying with friends and family. "It's left me in quite the lurch. It's your life, you have everything planned," she said. "I've lost trust. Who do you trust?"
One of the only other ways to safeguard yourself may be to go through rental companies or agents who've been personally recommended to you by someone you trust.