The one-on-one matchup between Sidney Crosby and PK Subban continues to be the most intriguing battle of the Stanley Cup Final.
The two superstars clashed, for what seems like the 1000th time, as the first period of Game 5 was winding down. After mixing it up for a few, Crosby took the Predators defenceman down to the ice, gained a favourable back position, and proceeded to use Subban's head as a basketball—bouncing his skull repeatedly off the ice as Subban desperately clung to Crosby's stick and leg for dear life.
Crosby attempted to breakdown the wrestling match between the two superstars to reporters after the game, claiming he was simply trying to escape from Subban's bad breath almighty grasp.
"I don't know what he was doing... he was doing some kind of UFC move on my foot," Crosby said. "So I don't know what he was trying to do, I was trying to get out of there. He had lost his stick, he's just trying to hold me down. I don't know what he was trying to do with my ankle."
---
---
The two each received a roughing minor, which is a curious call as Crosby was clearly doing more of the head-bouncing than his counterpart—a sentiment that Predators head coach Peter Laviolette certainly agrees with, judging by his furious postgame tone.

"I don't understand it. I really don't understand the call," he said. "I saw my guy get his head cross-checked into the ice 10 times. I don't even know what [PK] did. I'm not sure. I disagree with the call."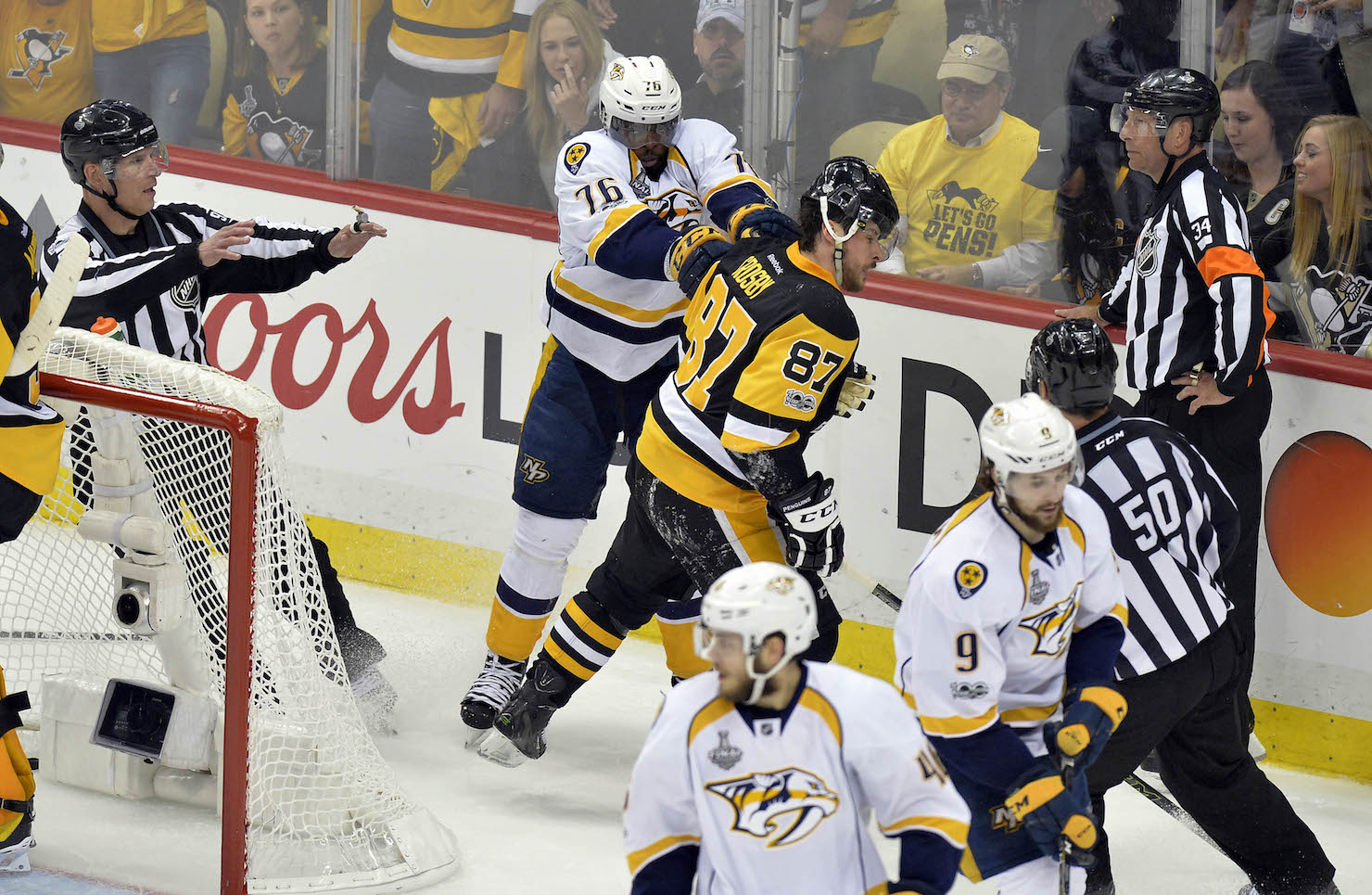 Crosby and Subban have been going at it all series long in what's been a joyous battle to watch. The two have been jawing back and forth and getting their jabs in on each other both physically and verbally, especially during Breathgate—which began with Subban trolling the media and ended with the Predators blueliner arriving to Game 4 with a bag full of Listerine mouthwash.
Subban has been a force on Nashville's backend, putting up 12 points in 21 playoff games while averaging a monstrous 25:28 of ice time per contest. Crosby, meanwhile, has been his game-breaking self, with 27 points so far—just one behind teammate Evgeni Malkin for the postseason points lead and sitting tied for third in points per game (1.17) after tallying three assists in the Penguins' 6-0 Game 5 shellacking.
As Pittsburgh heads to Nashville with a 3-2 series lead and one win away from its second straight Stanley Cup, it looks like it's going to take a lot more than a UFC-style leg lock to slow Crosby and the Penguins down.