This Chef Serves Up a Side of Ambient Music with Her Meals
Elisa Da Prato invites guests into her living room to enjoy modernist Italian cuisine and synth riffs.
Photos by Tom Keelan
In his 1937 book The Road to Wigan Pier, George Orwell wrote that "we may find in the long run that tinned food is a deadlier weapon than the machine gun." He was discussing the way that disease flourished in post-industrial British townships, but the sentiment holds true for the soul-crushing emptiness of homogenized food in any time and place. Who hasn't dug into a lukewarm plate of Seamless' finest pad see ew, or shoveled down yet another eggs benedict from some bleak Morgan L stop brunch factory, and felt a bit of their soul crumble into dust?
Brooklyn-based chef Elisa Da Prato, for her part, wants to make food a comfort again. She describes her mission as opening people's "receptors to experience taste more dynamically, and experience each other with perhaps a bit more tenderness."
Once a month, Da Prato hosts around ten paying strangers (at $60 a head) in her living room for a home-cooked meal, accompanied with a side of ambient electronic music from a rotating cast of local musicians, which she calls "sonic grace." "I think it has a few different lovely effects on the experience of the meal," she explains. "Much like the traditional grace, it offers a moment of contemplation to consider the fortune and bounty of the meal one is about to have." Last Sunday, I sat down with a dozen guests to see if she could rescue me from culinary malaise.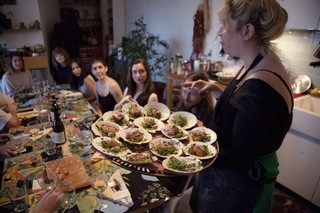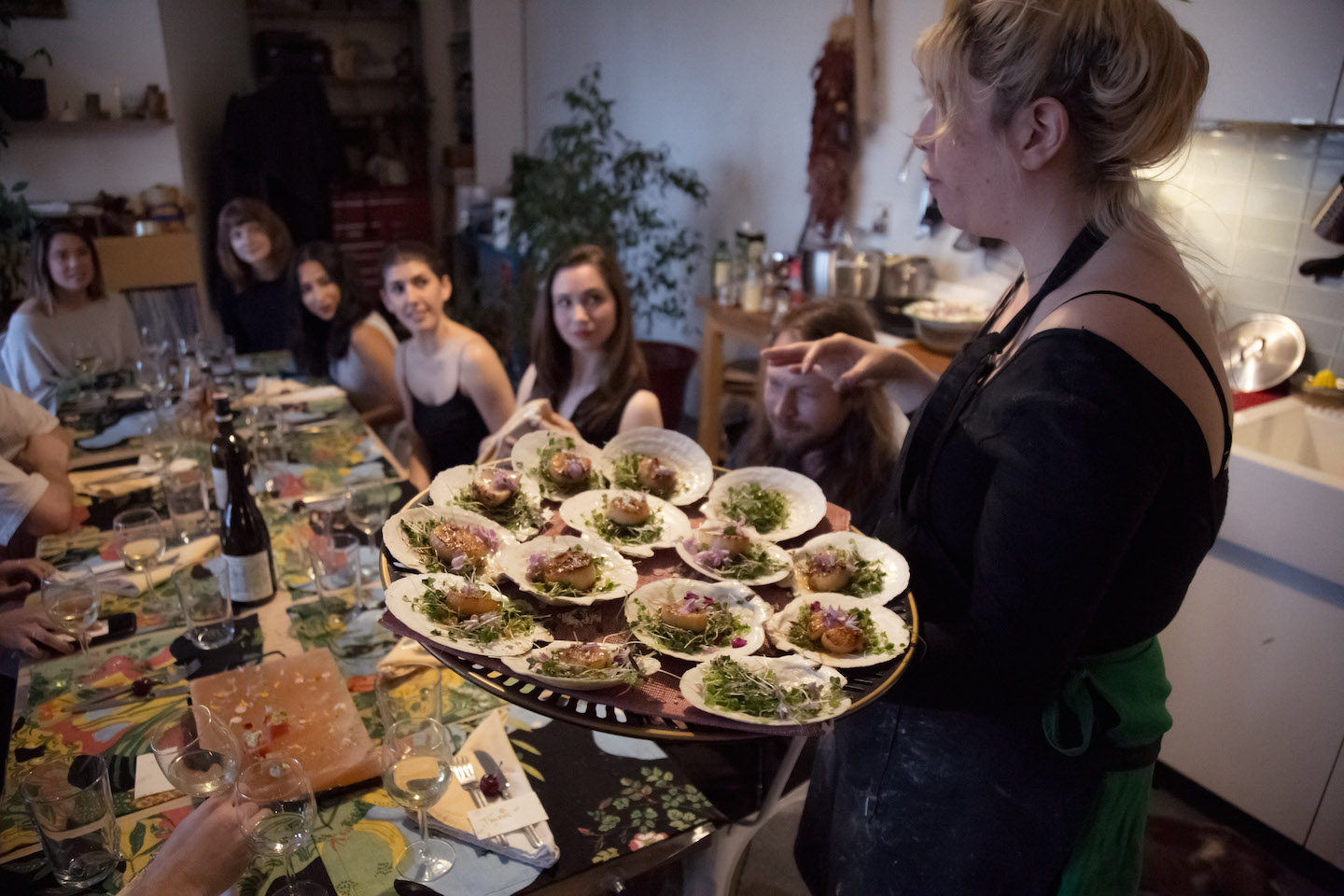 Da Prato has never worked in a restaurant, but food is in her DNA. "I was raised by people who cooked religiously," she explained to me later over email. "I think my cooking personality is a cross between my mother's style and my paternal grandmother's. My grandmother in Barga [a village in Tuscany] would be up early in the morning to prepare the two-course pranzo [a traditional Italian lunch] every day. Pastas and meats. I remember her teaching us how to use the half-moon cutter and teaching us how to knead dough. She taught me a lot of the beautiful classic Italian stuff."
From her mother's side, Da Prato gained the hippie sensibility that's inspired her utopian dinner experiments. "My mother, on the other hand, a wild-eyed new ager with a penchant for leather pants, was (and still is) very creative in the kitchen," she told me. "She took the recipes of her Italian parents and injected them with a lot of wit and creativity."
Da Prato credits her mother with teaching her how to "eat flowers," which show up in her many of her dishes, and to "consider flowers as this really integral part of everyday life."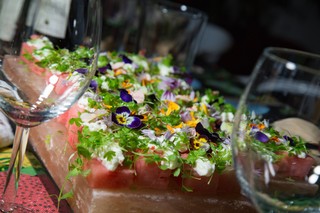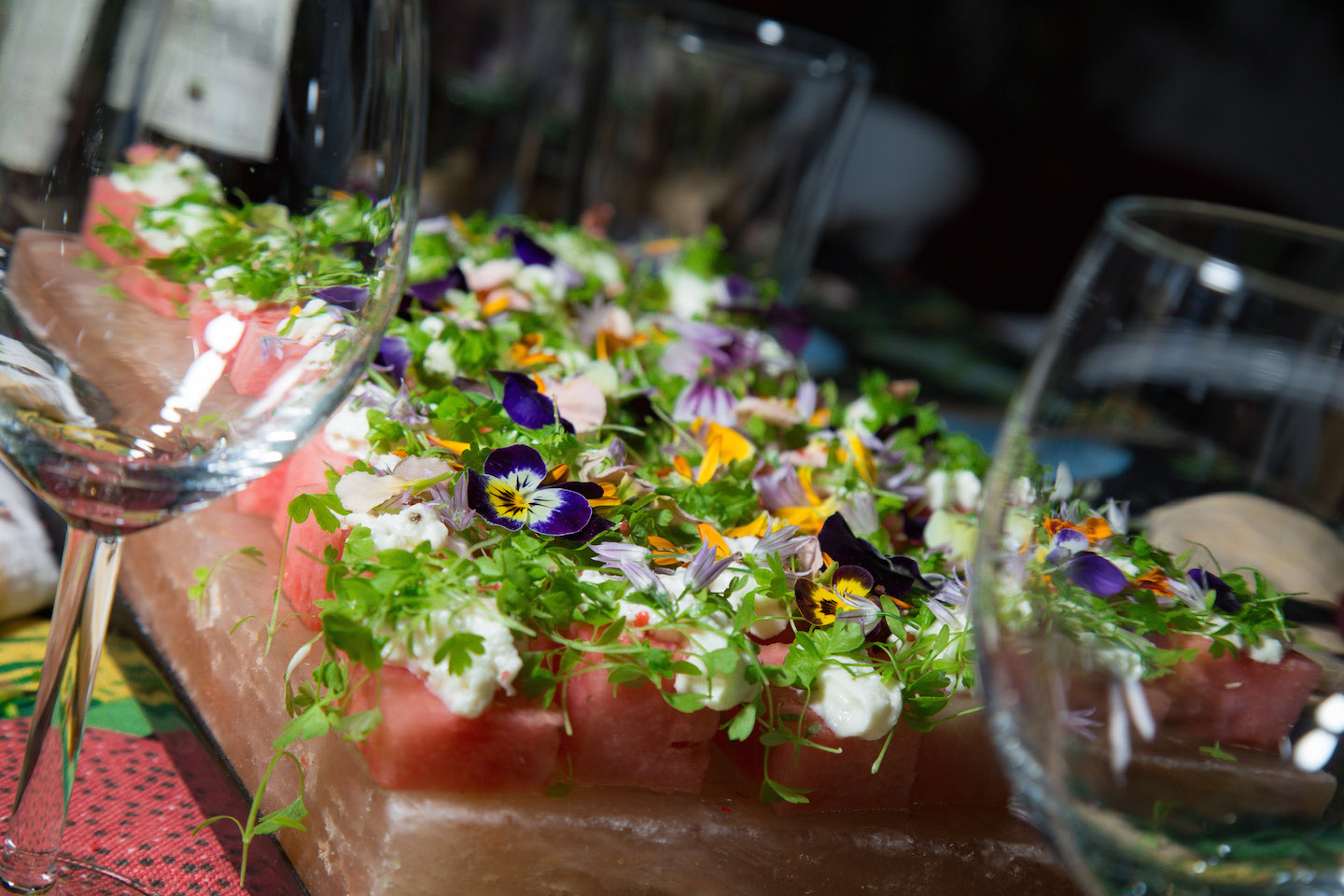 Da Prato grew up cooking for friends and enjoyed "bringing interesting people together." In 2015, she sent an email to some friends inviting them to a meal at her home, which she dubbed the Da Prato Test Kitchen. She wanted to present her twist on Italian food, enlivening the experience by seating her guests next to cool people they might not know. "It was an opportunity to really cook with focus and cut my teeth a bit on some more sophisticated techniques," she explained. That first dinner sold out, and she's thrown them monthly ever since.
On Sunday night, as people filed in to Da Prato's cozy loft, she passed around an entrancing appetizer—a hefty slab of pink rock salt covered in cubes of watermelon, themselves topped with a dab of feta mousse and smothered in edible petals. It served as an introduction to her style, which she describes as starting with very "traditional dishes" and then "finger-painting with the tones and coming up with really playful but also elegant and delicious combinations."
Guests took their seats around the long table, and Da Prato introduced the evening's musical guest—Matt Mottel of the longrunning Brooklyn-based experimental duo Talibam! (which gained some notoriety two years ago for attempting to levitate the offices of this very website into the East River).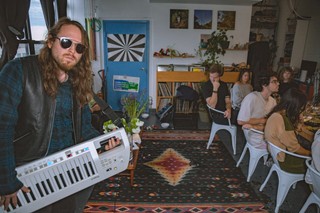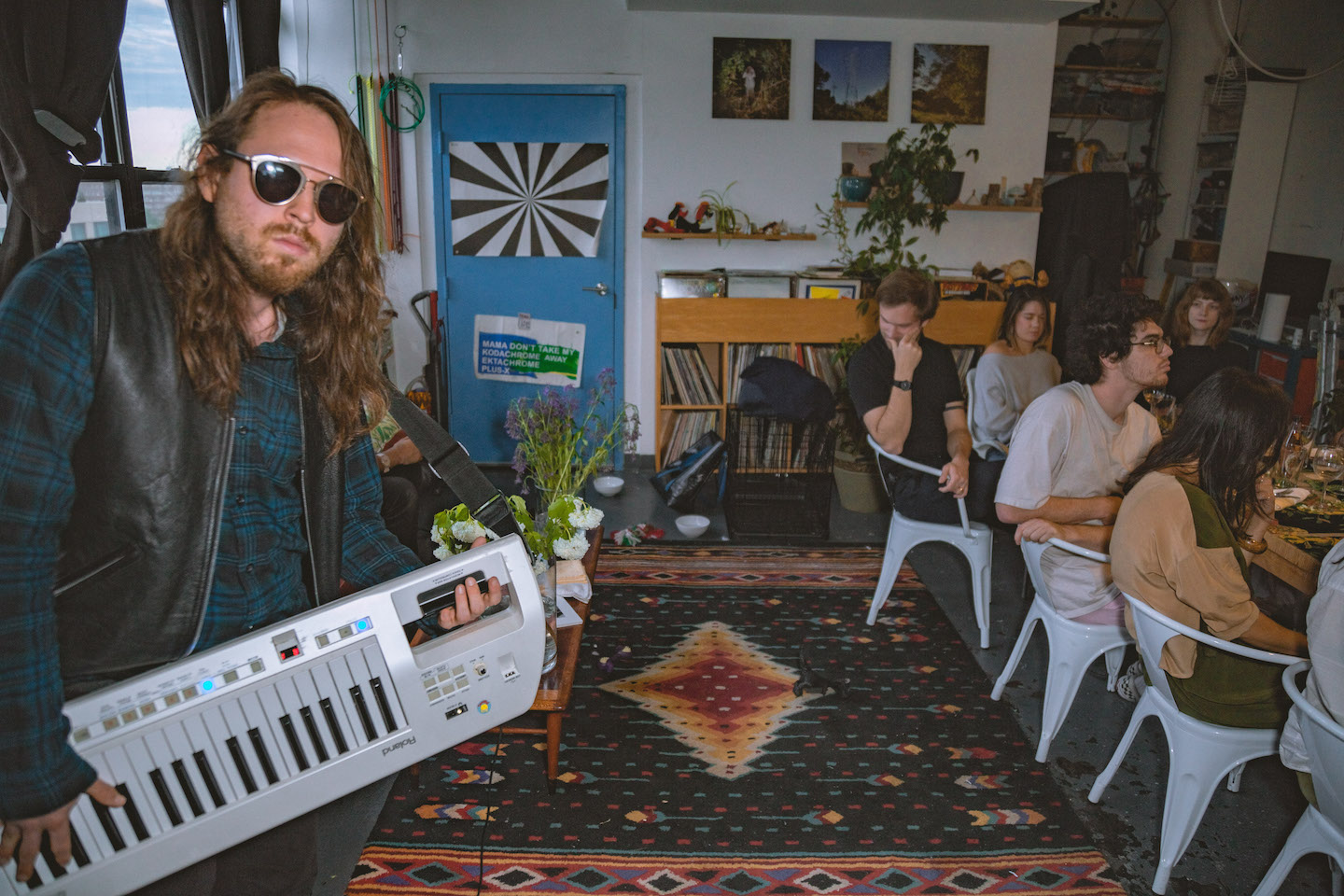 She asked us to close our eyes as Mottel performed a "sonic grace." He plugged a synth into a small speaker and played for several minutes, his peaceful riffs oddly matching the charming piquancy of the watermelon snack.
For Da Prato, the musical appetizer plays a crucial role in establishing a social dynamic that transcends the commercialized way we often consume food. This wasn't a concert—rather it felt like a prayer, lending a consecrated air to the forthcoming dinner.
"The idea behind sonic grace was to take the idea of saying grace before a meal and re-imagine it in a musical, non-denominational, all-energy encompassing modality," Da Prato said. A religious grace turns a meal into a communion with God; Mottell's sonic grace helped us "squeegee off that third eye, give thanks for the meal ahead, quiet the mind for a moment."
After grace, Da Prato handed out the first course—a single scallop, served on its own shell. We were instructed to link arms the person to our right, and feed them the bite. After my wobbly arm nearly sent my crustacean tumbling into a glass of prosecco, I managed to plop my morsel into the mouth of the agreeable Human Rights Watch employee seated beside me.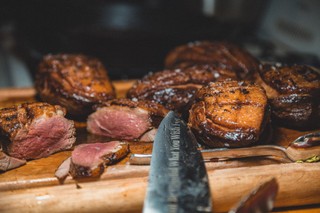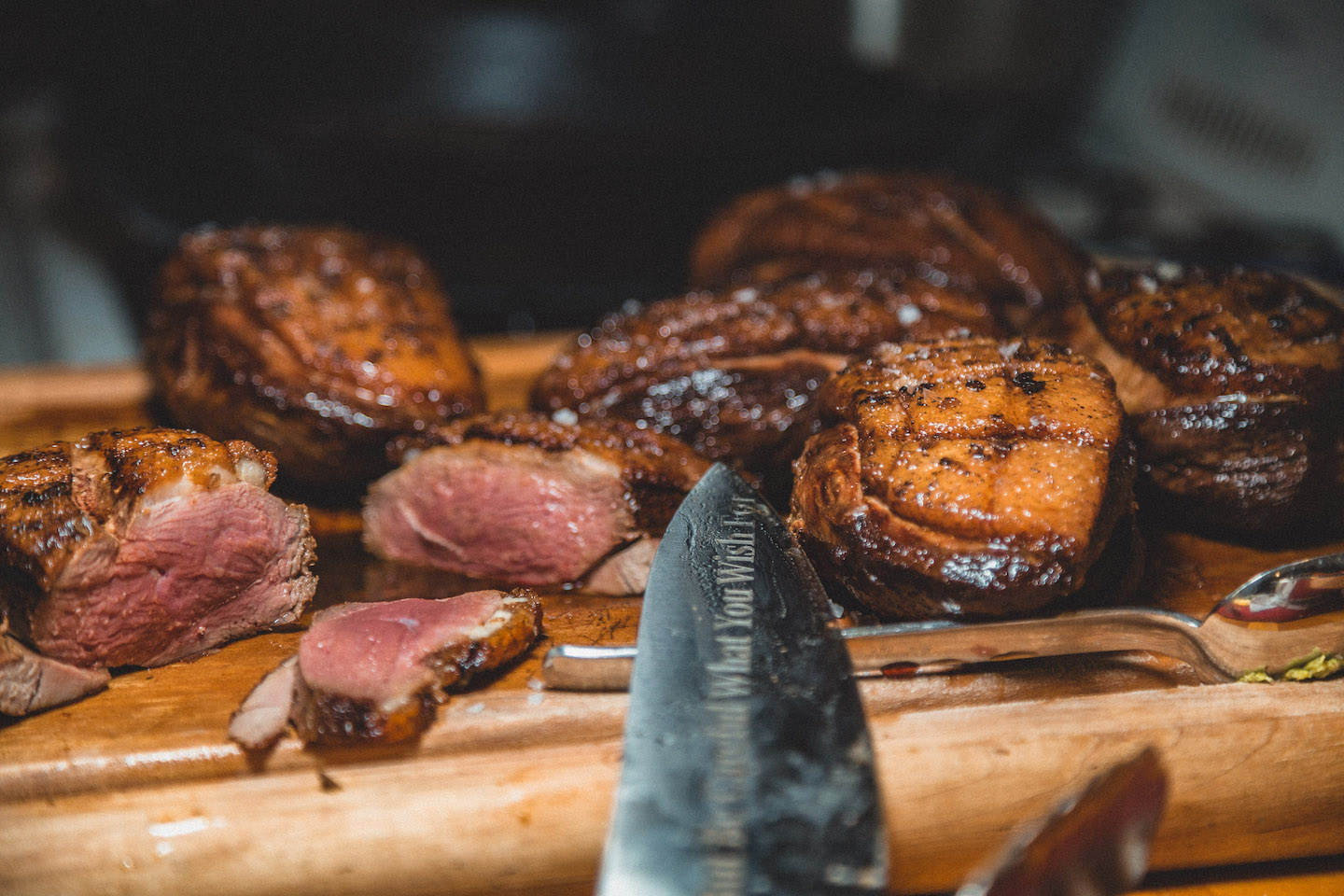 If all the ritual sounds just shy of a new age-y cult initiation, well, maybe it was. But as a carnation sunset bloomed through the window and the courses rolled on—feather-light pouches of pasta filled with cream of asparagus, an earthy duck breast from the Hudson Valley—I found myself setting cynicism aside. The ceremony helped conversation flow smoothly; it's hard to feel awkward around people you've fed scallops to, after all. The environment didn't feel so far from a family meal, even though I was among complete strangers. As a testament to her deft hosting instincts, Da Prato mentioned that four separate couples have met at her dinners and since become engaged.
After dinner, Mottel took up station once again with his synth. This time, he placed a piece of glass over the speaker and let it rattle and hum as he played, adding a note of organic complexity to his viscous drones. As we listened and digested homemade pistachio and honey ice cream, I leaned back in my seat and wondered, "Why shouldn't every meal be like this?" Unfortunately, I'm not yet in a position to relinquish Seamless for good. But after my dip into the world of crustacean rituals and locally sourced neo-Italian cuisine, I certainly wouldn't mind.
You can sign up for the Da Prato Test Kitchen here, and check out Tom Keelan's photography here.