It has been a little over seven months now since Mike Montgomery threw a curveball in the dirt to Michael Martinez for the final out of the 2016 World Series between the Chicago Cubs and the Cleveland Indians, ending in a moment a game, a series, and an era that will forever link the two franchises.
Time, however, has not been kind to either team since that early November morning.
The Cubs entered Monday 31-31, and losers of four of five; they are redeemed only—and then only in part—by the remarkable futility of the other four teams in their division.
The Indians have fared scarcely better. They're 31-29 and, like the Cubs, in second place, looking up in the American League Central standings at a young and talented Minnesota Twins team that might just be arriving a few years ahead of schedule.
It wasn't supposed to be this way. Cleveland's front office spent the winter doing everything it could reasonably do to extend the franchise's window of contention, allowing October stars Rajai Davis and Mike Napoli to walk in order to bring in free-agent slugger Edwin Encarnación from Toronto on the largest contract in franchise history.
It was a gutsy move, and at the time there was no particular reason to think it was a foolish one. Despite his age (34), Encarnación was coming off five straight seasons in which he put up numbers at least 30 percent better than a league-average hitter, and his power numbers—among the best in the game since his 2012 breakout—were expected to exceed Napoli's in the middle of the order.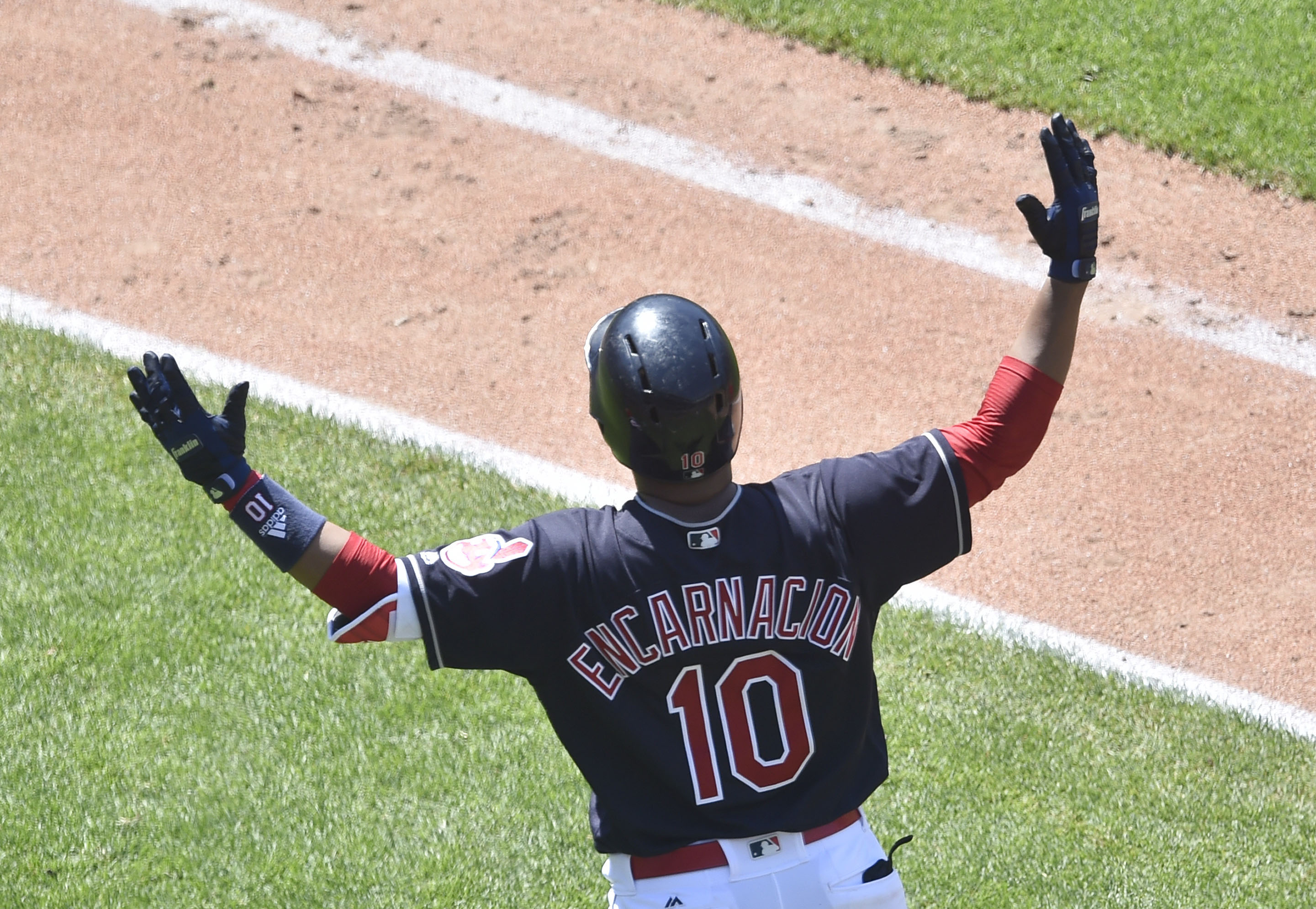 It hasn't quite worked out that way. Encarnación hasn't been a bust. Not even close. But he hasn't been a superstar, either, and alongside some underperformance from other key players, Cleveland offense's baseline performance is about where it was last year: good, but not great. In a season with such high expectations, that won't cut it.
Perhaps more worrisome, the starting pitching hasn't shown up, either.
Coming into the season, the idea was that stud starters Carlos Carrasco and Danny Salazar—both of whom ended last season on the disabled list—would rejoin ace Corey Kluber and back-enders Josh Tomlin and Trevor Bauer to form a fivesome to rival any team outside of Boston, D.C., or L.A. They, in turn, would hand over big leads to a bullpen led by the fearsome Andrew Miller.
Not much has gone according to plan. Salazar is out again, with a shoulder injury. Tomlin and Bauer have been outright bad at the back end of the rotation, plagued —especially in Bauer's case—by longballs and the free passes. Cleveland likely will make a deal at the deadline for a replacement starter, but for now their rotation is still a weakness.
It may not be an insurmountable one. The Twins are good, yes, but hardly unbeatable, and, according to the Baseball Prospectus adjusted standings tool, one of the luckiest teams in the league. There is reason to think that as the summer wears on, both teams will return to form and the Indians will end the regular season where they began it—on top. This underperformance can't last.
Then again, perhaps all this talk of underperformance is being too hard on the Indians. Maybe we give too much credit to the idea that the 2016 Indians were just a single good swing away from being World Champions—a quasi-mythic standard that elides the team's flaws for the sake of a good story.
After all, Cleveland's rotation had whole months last season where it faltered and failed, and the team made it to the postseason anyway. Last year's club struck out more and walked less than their 2017 counterparts, and hit for less power, too, with Encarnación still in Toronto and Francisco Lindor not swinging for the fences quite as much as he seems to be this year. The bullpen this season has been clearly better than it was in 2016.
The 2016 Indians were just three games ahead of this year's pace through the same point in the season, and they finished 94-67 and eight games up in their division. They were a good team last year, possibly a great one, and they didn't look that much different than they do now. And then they went on an October tear and nearly became legends.
So perhaps, as is the case in Chicago with the Cubs, there is less to worry about in the Forest City than we might think.
If you don't quite buy the Minnesota renaissance, there's a lot of reason to keep the Indians as your pick in the AL Central this year. A good July—a month they went .500 last year—would put the team well ahead of last year's pace more than halfway through the season. And 94 wins, or anything above it, should be enough to claim a spot in the playoffs again.
And come October? Anything can happen. The Indians haven't yet looked like the champions they almost were last year, but they have looked pretty damn similar to last year's squad through the same point in the season—albeit with some (fixable) soft spots in the rotation and slack in the lineup. And that just might, for a second straight year, be enough to give them a real chance to make history.