If you need proof of how far the world's views on marijuana have advanced, consider that what was likely the first professional sporting event to be sponsored by weed-related companies has come and gone, and nobody put up a fuss.
On April 20, Lee Baxter Promotions held a professional boxing event in Toronto with two primary sponsors, Cannascribe, a medical marijuana prescription service, and Bransterdam Cafe, a vape lounge in Brantford, Ontario. As patrons filed into the Danforth Music Hall for the night of fights, they were met with a giant display from Cannascribe, inviting them to provide their contact information if they wanted to inquire about the service. The lineup for information at times was longer than any line for either booze or boxing merchandise.
The marijuana imagery wasn't just confined to the lobby, however, it was front and center. The ring's corner pads were branded with Cannascribe's insignia, and not to mention, the event itself was a nod to the fact that it took place on 4/20, and was titled "Light 'Em Up."
That said, the event didn't look like a zany weed-fuelled soiree. There was no pot leaf in the middle of the ring, no fans were tripping on edibles or hitting bongs ringside, and outside of what security didn't find on people, likely no actual marijuana was present in the building whatsoever. Rather, it looked normal, with the clientele if only a little more relaxed than the typical boxing crowd.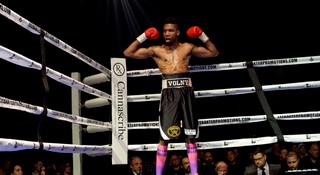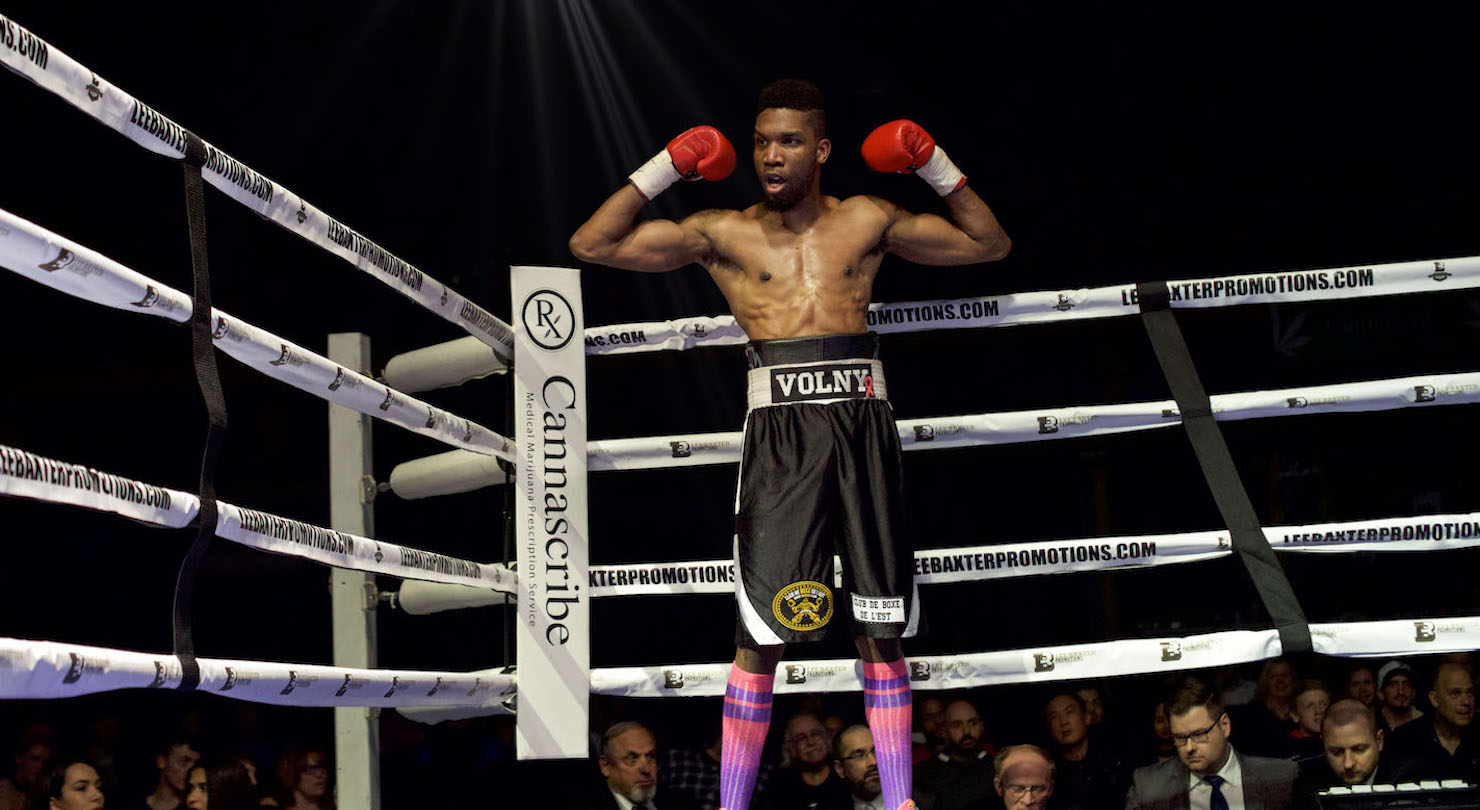 Outside of the Toronto Star, this monumental event didn't resonate with the Canadian media, let alone anyone abroad. While this is indeed evidence that weed isn't taboo in the way it used to be, it's also evidence that boxing continues to exist in the far reaches of the periphery of mainstream media.
And that's exactly why the marriage works. Boxing and marijuana need one another right now. As both inch their way from the outer reaches of public interest and acceptance, they can help one another reach the center.
"Once it became public that I'd made a deal with these two companies, I probably had more than 20 dispensaries approach me about advertising. It was a nice problem to have, I guess, but I had to turn them down," said Baxter, who personally isn't into weed himself.
Weed companies have linked up with other fringe sports, as well. In 2016, Weedmaps sponsored Smash Summit 3, a major eSports tournament. Earlier this year, Shango Premium Cannabis signed on to sponsor Formula Drift racer Danny George's car for the season. But while boxing remains closer to the mainstream focus than gaming or rally racing, it still can struggle to scrape together sponsorship dollars.
There are historical parallels to suggest that the marijuana and boxing partnership could be a success. Boxing was first televised in 1939, and by the end of the 1940s, was a staple on American television. As a brand new venture on a medium still in its relative infancy, televised boxing struggled to find a financial backer, but eventually found perfect partners in razors and beer. While Gillette sponsored bouts on Friday night, Wednesday night tilts were branded by Pabst Blue Ribbon. Still not even two decades removed from prohibition, there was still a tinge of taboo associated with slinging booze in the postwar period. The state of Michigan tried to ban alcohol advertisement altogether, and when that failed, Rep. Eugene Silver upped the ante and introduced a failed bill to the House which would have done the same nationally.
Beer companies made a calculated play. Alcohol advertisement at the time accounted for just three percent of all advertising spending on television and radio, according to Lawrence R. Samuel's findings in his book Brought to You By: Postwar Television Advertising and the American Dream. That said, televised boxing ratings during this period sometimes exceeded 20 percent of all American households. The little amount they did spend was an incredibly sound investment.
Over the years, boxing and beer have remained loyal to one another. Almost every single boxing event today is sponsored by either Tecate, or Corona, which has stayed on board with the fledgling Premier Boxing Champions series as its presenting sponsor. The two industries have even worked together to help break down barriers on either side. Corona recently produced a run of bottles featuring PBC fighters on them, putting the names and faces of fighters not known to the general public in the fridges and on the bar tops of people around the country. On the other side of the equation, in 2001, Miller Lite's affiliation with Jesus Chavez prompted the University of Texas to allow beer sales on school-owned property for the very first time during his bout against Tom "Boom Boom" Johnson.
But will boxing at large open up to marijuana the way it did for alcohol?
Boxing's relationship to drugs from a performance standpoint is an interesting dichotomy. In many ways, it is very much behind the times in terms of testing for performance-enhancing drugs. Until the WBC's institution of the Clean Boxing Program alongside VADA, there was nothing even remotely close to a standardized procedure for testing in the sport, despite the fact that its athletes are most prone to physical harm. While the WBC's efforts have rightfully been universally applauded, it still really only impacts the top levels of the sport, and generally nothing that would be outside of television broadcasts.
If and when athletic commissions do test, however, athletes can still be suspended for use of marijuana. Sometimes, the punishment borders on absurdity. In 2014, veteran fighter Lanardo Tyner tested positive for marijuana following his bout with Christopher Pearson. Later, his home commission of Michigan suspended his license for two years, effectively taking Tyner's livelihood away from him, as it more or less prevented him from fighting in the United States.
In Ontario, there is no requirement for fighters to be drug tested whatsoever, with the implementation of testing being solely at the discretion of the promoter. This, of course, has its own dangers with regards to PEDs. As combat sports lawyer Erik Magraken recently told the Toronto Star, "it basically delegates an important regulatory aspect to the body supposedly being regulated."
This does mean, however, that with regards to legal marijuana use, as long as the commission doesn't know about it—as in, don't step on the scale visibly high on fight day—boxing is more or less in the clear on that front.
Boxing's ability to be openly affiliated with marijuana on a North American scale is contingent upon federal legislation in Canada and the United States loosening with regards to the sale and consumption of marijuana. It must be noted that the co-main event of Baxter's show was cancelled, when Chordale Booker—a top American prospect with a prior conviction from his days dealing marijuana—was denied entry into Canada.
Both boxing and marijuana have varying degrees of mainstream acceptance. A good fight with the right marketing can garner 5.1 million viewers, as Keith Thurman and Danny Garcia recently did, but almost every other fight comes and goes without an agate line in the newspaper. Similarly, a recent poll found that 63 percent of Canadians were in approval of the Liberal government's proposal for marijuana legalization, but it's still not entirely commonplace to see people brazenly lighting up in the streets. People are in favour of boxing and weed under the right circumstances.
Boxing can provide broad visibility and normalization during the times it is on television, while cannabis companies can help provide funding for cards like Baxter's which exist in the dark.
If the fight game is looking for a ray of hope that sponsorship dollars can start rolling in again, marijuana may have just lit one up.