Watch Zeal & Ardor's Eerie New Video for "Devil Is Fine"
Get lost in purple fog and witchcraft in this new clip, taken from the Swiss black metal blues artist's groundbreaking debut (one of Noisey's Best Albums of 2016).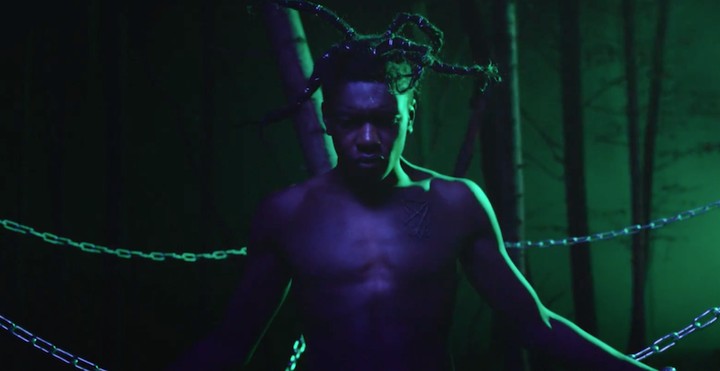 Screenshot von YouTube aus dem Video "Devil is Fine" von Zeal & Ardor
Zeal & Ardor defied all odds this year with his genre-decimating debut full-length, Devil is Fine. The Swiss musician behind it, Manuel Gagneux, boldly blended elements of negro spirituals, prison blues, and blackened metal to create a sound that had never before been presented to the metal world—or to any particular scene, for that matter. Devil is Fine hosts songs that join the clank of chains with heavy, hypnotic riffs, and that combine the xylophone with demonic chants in Latin. We named it one of our Best Albums of 2016, and it's not hard to figure out why.

Today, we're premiering Zeal & Ardor's first video from the album, an eerie visual that accompanies the project's title track. The Samuel Morris-directed video takes place under a purple and green-tinged night sky in a woodsy terrain. Building off of the album's inspiration from music that soundtracked American slavery, a young man is chained between two trees, jerking his way back-and-forth. From the tree, he stares into a bird bath that shows the image of angelic figures transforming into demons.



"I was hesitant about making a video at first," Gagneux told Noisey. "Luckily, I had the chance of working with Samuel Morris and Fabio Tozzo, who immediately understood what the song was about. The result is something we are immensely happy with. A layered and telling series of images waiting for you to notice their intent. I'm beyond excited to share this with you."
Lawrence Burney is fine on Twitter.