"Lowlife" is the feel-bad hit of 2012
Something strange is lurking in the wilds of Nova Scotia...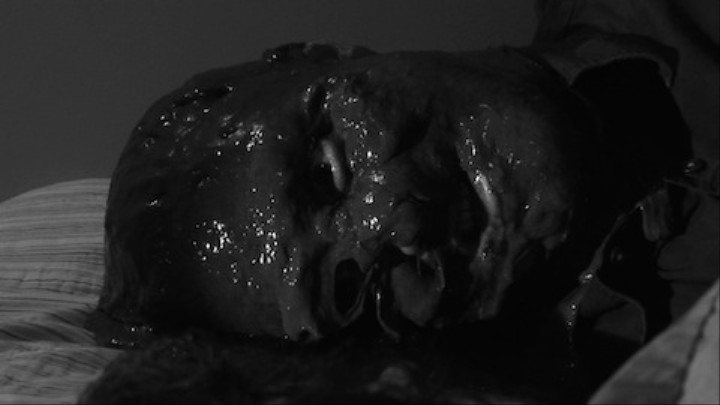 Something strange is lurking in the wilds of Nova Scotia. For their feature film debut, Dog Day frontman Seth Smith and Divorce Records/Obey Convention head honcho Darcy Spidle put their primary projects on the backburner to conjure the spine-chilling visions of Lowlife. Like a Maritime twist on the Blair Witch, the black and white horror follows a drug-addled musician haunted by a 'Mudman' and other creepy creatures. Check out the trailer below:
"After living in Halifax for most of our adult lives, we had all just moved to rural, coastal communities," Darcy explains. "Our concepts of urban and country were certainly shifting. There seems to be a particular kind of alienation that comes from living in the sticks that, for better or worst, forces a person inward. I suppose Lowlife exploits this idea. On a more aesthetic level, I think using the forest and ocean in early spring gave our film a rugged look and feel. The actors and crew were always hurting, wet, and cold. It was often a brutal experience, and I hope it shows on the screen."
With a perfectly spooky shooting location in the weathered forests outside their front door, Lowlife began as a more man vs. wild adventure. Yet in Seth's words, their original intentions to create a survivalist story spun off into far more surrealist territory as the project took on a life of its own.
"The fantasy/drug concept was a way to allow us some experimentation in filming and not have to commit to a realistic, linear narrative," he says. "As for the black and white look, I thought it would go nicely with the movie's dark tone, and it seemed like an interesting take on a psychedelic drug flick. The name Lowlife came from a prop we had on set. I had made up a bunch of fake book spines for a bookshelf shot, and over time, seeing it in the scene, it just sort of summed it all up... and maybe reflected how we were feeling making it."