Few pieces of legislation have their anniversaries celebrated in quite the same way that Title IX of the Educational Amendments of 1972 has for the past 45 years. For politicians and bureaucrats, it's an occasion for anodyne platitudes about the importance of gender equality in our schools and institutions. For activists, and even for the NCAA, it's a reminder that there is still much work left to be done. For many women, it's a day to appreciate the hard-fought struggle for opportunities we now often take for granted—including access to sports, to facilities, to uniforms, to futures that men had long enjoyed. Fewer than 30,000 girls played sports when President Richard Nixon signed Title IX into law on June 23, 1972. Now that number reaches millions.
So why, on the 45th anniversary of that watershed moment, is Betsy DeVos and the Department of Education, who are tasked with its enforcement, totally silent?
Given that DeVos's stance on Title IX and the Department's subsequent guidelines around it has been ambiguous at best and, in the case of protections for transgender students, in active opposition, this might not be that surprising. There is plenty of reason to believe that the Trump Administration will weaken Title IX protections in the years to come.
And yet, the complete lack of any affirmation to the cause of gender equality from DeVos or the Department today is striking. There isn't a peep on the Department's homepage, nor its social media channels. For the past 48 hours, the Department's press office has been unable to provide VICE Sports with any information about Secretary DeVos or the Department's plans to recognize the anniversary or re-affirm their commitment to gender equality in education, or even a statement to that effect.
The closest the Department comes to acknowledging anything about Title IX this week is a progress report from the Regulatory Reform Task Force, which is reviewing DOE regulations, including Title IX, and deciding whether to keep, modify, or repeal them.
This administration isn't the first in which Title IX's protections have been under threat. George W. Bush tasked a "Commission on Opportunity in Athletics" with re-evaluating the law on the 30th anniversary, and a few years later his Department lowered standards for schools to prove they provided "equal opportunity" (a policy that was later undone by the Obama Administration).
Even so, on the 30th anniversary then Secretary of Education Rod Paige at least acknowledged the progress that Title IX enabled. "Without a doubt, Title IX has opened the doors of opportunity for generations of women and girls to compete, to achieve, and to pursue their American Dreams," he said. "This Administration is committed to building on those successes."
More recently, President Barack Obama embraced Title IX, and expanded its scope (though not uncontroversially) to address the issue of campus sexual assault. His Secretary of Education, Arne Duncan, took the opportunity even on odd-child-out years—the 38th anniversary, the 41st—to call attention to the progress made on the march toward equality, and the need to stay vigilant to ensure its continued success.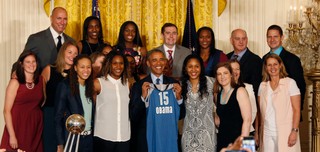 To mark the law's 40th birthday, the Obama administration went all out. The White House Council on Women and Girls hosted a panel and discussion. The Departments of Education and the Interior hosted a basketball game that featured members of the WNBA. Obama himself published an op-ed for Newsweek.
"Committed women from around the country, driven by everyone who said they couldn't do something, worked with Congress to ban gender discrimination in our public schools," he wrote. "Title IX was the result of their efforts, and this week, we celebrated its 40th anniversary—40 years of ensuring equal education, in and out of the classroom, regardless of gender."
Today, the Trump Administration is celebrating nothing. (Well, I take that back: Mike Pence celebrated Focus on the Family's 40th anniversary earlier this morning. Melania Trump "is pleased" to announce the White House's new Chief Usher.) But Betsy DeVos and the Department of Education are silent. Even Ivanka Trump, whose Twitter bio currently reads "Entrepreneur & advocate for the education & empowerment of women & girls," has tweeted nothing about Title IX all week.

Again, none of this is a surprise, really. But Title IX has profoundly altered the landscape of opportunity in the United States for millions, and especially for millions of women. To watch a Presidential Administration not view that as even worth acknowledging, let alone celebrating, is a disappointment I didn't totally expect to feel today, to be honest, but nonetheless here we are.