Why the Taliban and Criminal Organizations Have Gone Low Tech
For this week's episode of VICELAND's 'Cyberwar,' we spoke to a spokesperson for the Taliban on how they try to avoid US spies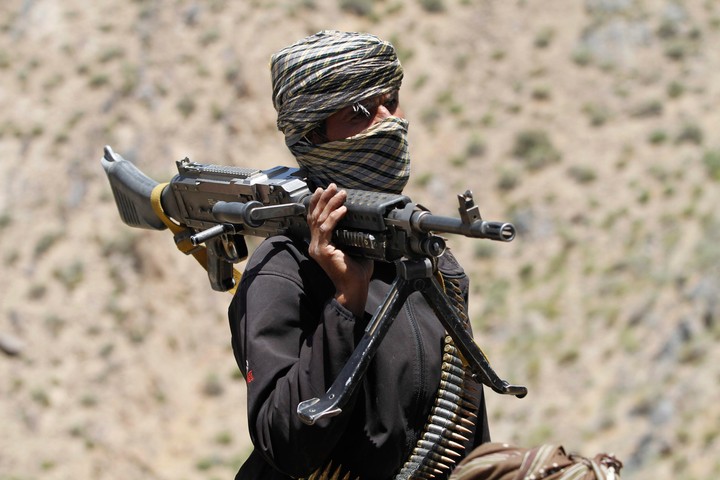 A file photo from 2016 of a member of a breakaway Taliban group in Afghanistan. (AP Photo)
The Taliban is a cultural spectre for the post-9/11 generation. Along with al Qaeda, it's the OG boogeyman on CNN, way before ISIS started posting beheading videos. Even rappers like Drake and Future call out the jihadist group for some reason or another.
And right now, one of its public voices is the shadowy figure known as Zabiullah Mujahid—a known official spokesman for the Taliban. We got into contact with Mujahid—his nom de guerre and alias—for an episode of CYBERWAR on how US spies track and kill militants globally.
After a trip to Pakistan, we were able to nail down his contacts through a local source who knew how to communicate with the Taliban. We couldn't confirm his identity independently, but that's sort of the thing with Mujahid: nobody knows if he's alive or dead, or one or several people. He's basically the defiant voice of Taliban interviews, or the author of an online claim of attack.
Following the 2009 Camp Chapman suicide attack, carried out against a US base and CIA facility, Zabiullah Mujahid was the name claiming responsibility for the Taliban, stating the bombing was done by a "valiant Afghan army member" and Taliban sympathizer. Six CIA employees died in that attack, which was famously fictionalized in the film Zero Dark Thirty.
As you can imagine, Mujahid isn't easy to find, mainly because the militant organization has figured out a way to evade the American intelligence machine: going tech basic.
Close to two decades of eluding the CIA and the Taliban continues to survive. Part of that survival is because of an evolution of tradecraft. Like other militant organizations, the Taliban has learned through trial and error that your cell phone activities or whatever you do online, like opening Google Chrome and logging a search, can impact whether or not US intel can track you down and kill you.
I was interested in how Mujahid's organization continues to operate while the American surveillance machine is watching its every move.
"Sixteen years have passed since we are fighting with these agencies and American CIA and other organizations," said Mujahid over the phone from somewhere in Afghanistan.
"We are now used to their techniques. They [the agencies] are not the way they used to be in the beginning years to create rifts within us. We are now used to them."
Either way, casting doubt on your identity or spreading a single one across several individuals is a potential operational security measure undertaken to avoid being fully identified by your enemies.
The CIA declined comment on this story, and would not clarify with me whether they consider Mujahid dead or alive.
In 2011, the National Directorate of Security (NDS), the Afghan intelligence agency, said Mujahid was a 40-something named Haji Ismail, living in Paktika Province, Pakistan, along the Afghan border. They claimed to have killed or captured him, which he denies.
I asked him if he was one or several people.
"When war ends, we will assess things and will reveal the facts. We are now in a war and have to keep privacy and cannot discuss everything," he said. But if there's one rule of geopolitics from the last few decades, war never ends in Afghanistan.
We weren't able to meet with Mujahid in person (for obvious kidnapping reasons) or over any communications systems within Pakistan given the sheer omnipresence of its infamous spy agency, the Inter-Services Intelligence (ISI), which prowls every phone line and internet network for traces of the various iterations of Taliban all over the Central Asian nation.
It should be noted, however, that Pakistani intelligence is often accused of supporting and coordinating with certain Taliban entities to carry out its own geopolitical goals.
"In Afghanistan," Mujahid told me, "in the presence of the American forces and the NATO forces and with their technology, the usual methods like the internet and the telephone are not effective [to communicate freely]."
We were told by our sources how Taliban commanders physically change their SIM cards every eight hours to offset any NSA tracking operators zeroing-in on their phones and thus enabling a targeted strike. What usually happens if Taliban SIMs are tagged (essentially a way of tracking cellphone positions in real time) is the target is first stalked, then eventually killed either by a drone or special forces team.
According to Mujahid, the Taliban takes precautions: Messages between Taliban commanders are physically passed between a central communications network, so it's never commander-to-commander.
Using bags of flip phones or old BlackBerrys is a standard move when it comes to secure communications by shadowy criminal networks. And it's no different for the Taliban. Sources have told me everyone from bikers, cartels operating in Mexico, and members of ISIS use basic radio communications and the classic Motorola Razr to lessen their digital footprints and make themselves less visible from prying American spies.
Unlike the infamous internet exploits of the Islamic State, on which the US has declared both a kinetic war and cyberwar on, the Taliban remains difficult to track online—mainly because of its ability to stay outside of the traditional signals intelligence nets of the new cyberwarfare scape. Even its online presence pales in comparison to the well documented efforts ISIS has undertaken to recruit new fighters.
That said, Mujahid is allegedly active on social media. For example, this is believed to be his current Twitter account.
It's widely known how the group uses basic walkie-talkie and radio networks to communicate. Government forces even exchange insults with its Taliban enemies on these networks and Mujahid concedes the Americans can listen in. But the group also uses "special channels as we make new channels and then we change them daily," he explained. "We make another channel then another. It's not possible for them to catch every channel."
Mujahid says that sometimes, key communications operators for the Taliban travel two to three provinces in Afghanistan to physically deliver messages between fighting positions. And day to day, fighters do not use the internet, because "for official and jihadi purposes or matters that are confidential, they are not allowed to use the internet and are communicated carefully using other means."
Mujahid claims the group has in the past infiltrated CIA sites in Afghanistan and "broken into their sensitive jails and have killed many of their men." This particular claim should be taken with a grain of salt, terrorists often use hyperbole and make threats. Especially when it comes to statements on their military capabilities.
Besides operational security measures, Mujahid did find time to deny to that his militant organization received Russian weapons aide and denounce the recent surge in American activity in Afghanistan. (In the summer, President Trump authorized General 'Mad Dog' Mattis, and current Department of Defense chief, to send thousands more troops to the country in the midst of spiking levels of violence in the capital of Kabul and other regions.)
For Mujahid, he had more respect for the prowess of his American adversaries during the early days of the invasion in 2001 following the Pentagon and World Trade Center attacks.
"Now the Americans are in a weak position and are not as strong as they used to be," he said.
Follow Ben Makuch on Twitter.