Prisoner Combine Extreme Metal and Extreme Noise for Maximum Terror on 'Beyond the Infinite'
Stream the jagged debut from these industrial-tinged metallic hardcore upstarts, out 4/4 via Forcefield Records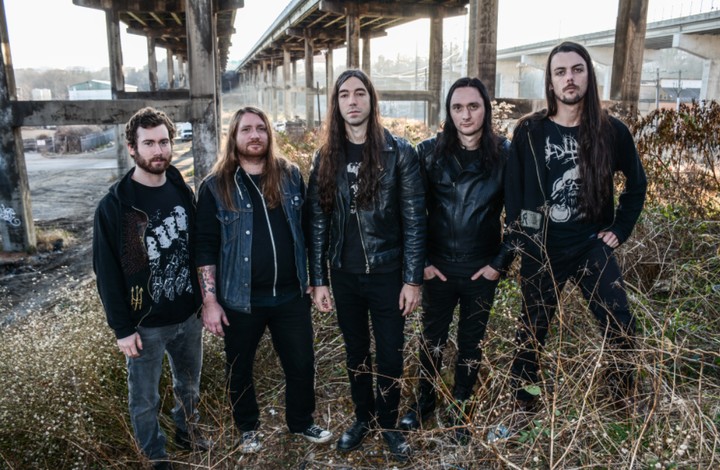 Prisoner is the latest addition to Forcefield Records' heavily stacked roster, and will release their debut full-length via the Richmond, VA label on April 4. Following 2014's Fear Is the Mind-Killer EP, they five-piece has returned with Beyond the Infinite, a jagged slab of experimental metallic hardcore that was recorded by Ricky Olson at The Ward in Richmond, VA and mastered by Audiosiege's Brad Boatright
Beyond the Infinite is truly a mixed bag. Its roaring d-beats careen headfirst into rhythmic, thrumming industrial segments as often as slithery black metal passages crash into bruising metallic hardcore and snappy synths, stirring up a sonic stew that confounds as much as it compels (there's even a moment of garbled synths on the title track that sounds just like the opening melee of Morbid Tales). What initially felt like a straightforward metallic hardcore record quickly became an altogether more dangerous beast once those harsh electronic elements kicked in, and add an intriguing dynamic to the proceedings by offering up an interesting example of how extreme metal and noise can artfully coalesce without losing the soul of either.
Listen below, and snag it from Forcefield tomorrow!
Catch Prisoner on tour:
May 18th - Richmond, VA @ Strange Matter
May 19th - Raleigh, NC @ Slim's
May 20th - Johnson City, TN @ The Hideaway
May 21st - Asheville, NC @ The Odditorium
May 22nd - Jacksonville, FL @ Shantytown Pub
May 23rd - Orlando, FL @ TBA
May 24th - Miami, FL @ TBA
May 25th - St. Petersburg, FL @ TBA
Kim Kelly is disintegrating on Twitter.