A sign indicates how long the Justice for our Stolen Children camp has been set-up near the Saskatchewan Legislative Building in Regina. | Image courtesy of CP/Michael Bell.
A disturbing act of violence targeting the Justice for our Stolen Children camp at Regina's Wascana Park provides another grim reminder of Saskatchewan's long and troubling culture of racism.
Brent Holland—a 25-year old man from Yorkton—faces four criminal charges of allegedly firing off multiple flammable projectiles toward the protest camp in the middle of the night, before fleeing the scene in his vehicle.
Holland was arrested by Regina police and charged with arson with disregard to human life, uttering threats, assault with a weapon and mischief.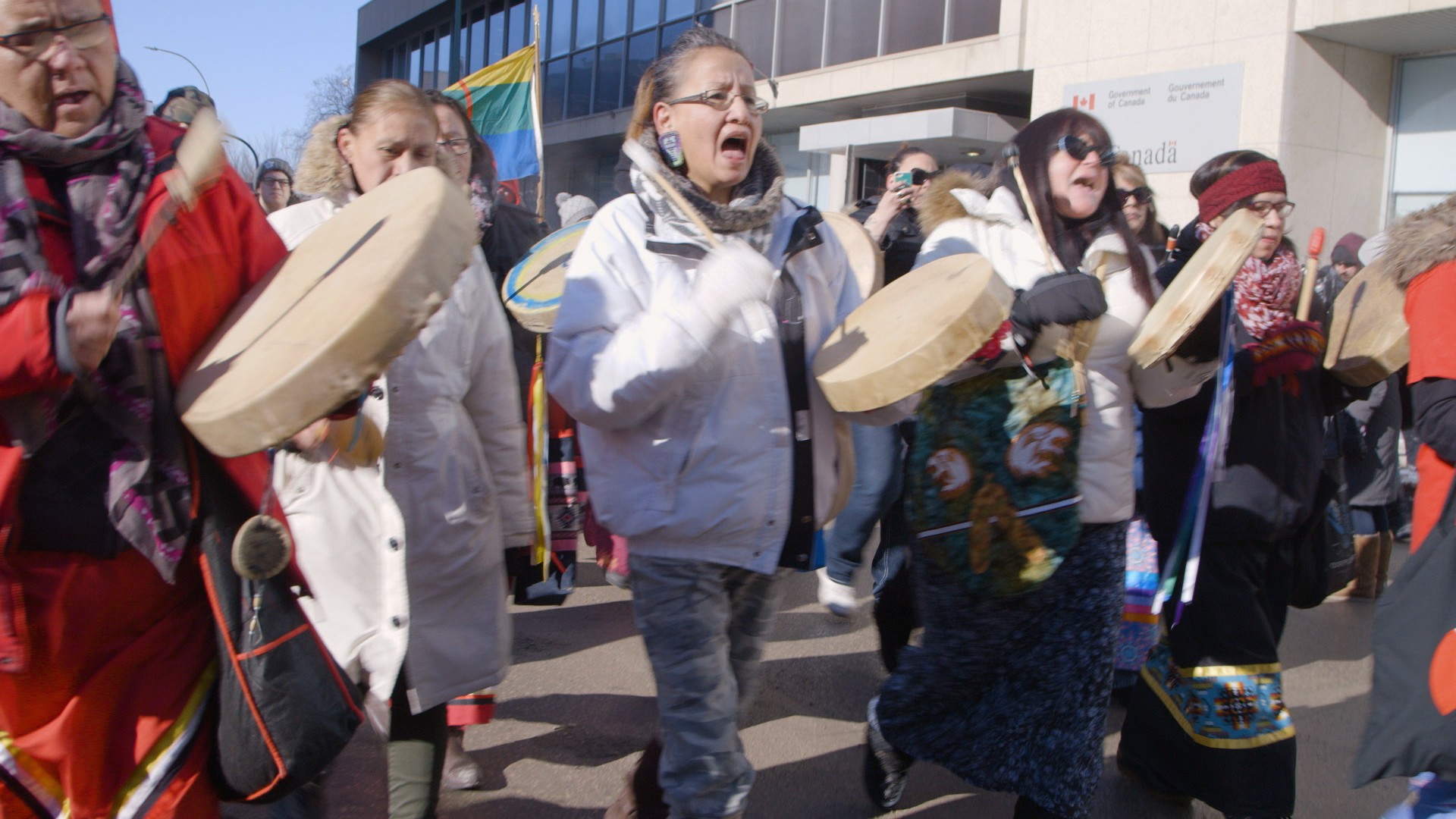 The targeted attack isn't Saskatchewan's first such high-profile incident, coming just one year after an RCMP officer wrote Colten Boushie "got what he deserved" during the trial of Gerald Stanley. Boushie was shot dead by Stanley in August 2016. Nor is this the first time the camp—situated in an area near Saskatchewan's Legislative Building in order to protest racism and systemic injustice—has been targeted.
The Justice for Our Stolen Children camp was set up in Wascana Park on February 28, 2018 in response to the Colten Boushie and Tina Fontaine trials, where acquittals were handed out in cases involving the deaths of two young Indigenous children from the prairies. Boushie, from Saskatchewan and Fontaine from Winnipeg, Manitoba. The camp exists to shed light on the systemic injustices that Indigenous people face through the child welfare and justice system in Canada.
As a resident of Saskatoon, the growing list of troubling events regarding race in the province deeply disgusts and disturbs me as I notice a continued acceptance of hate speech and a resistance towards making steps at healing the injustices of the past. Instead of acting, leaders in the province have chosen silence and deflection, allowing hate to spread and attacks on protesters to go unaddressed.
Earlier this summer, a video surfaced of a man giving a Nazi salute and saying "Heil Hitler" in the direction of the protesters.
Based on social media interactions discussing the protests this summer—comments similar in tone to the ones in regards to the protests over Colten Boushie's death—the peaceful protests becoming targets of racist vitriol and alleged violence was regrettably predictable.
A local Yorkton message board on Facebook for residents to sound off on community news recently featured a post in response to the arson incident. As a member of the group I viewed several comments supporting Holland's alleged actions and targeting of the Justice for Our Stolen Children camp protest
In July, two women were arrested for posting comments about "Shoot an Indian Day" on Facebook and charged with uttering threats along with public incitement of hatred. The two women posted comments suggesting a "24-Hour Purge" of Indigenous people—a reference to the horror movie franchise where all crimes, including murder are legal for 12 hours—as well as referring to the Indigenous as animals in an allusion to hunting.
This is becoming a clear trend of a disturbing attitude towards Indigenous people in the province, out in the open and from everyday Saskatchewan citizens who direct hate speech toward and against Indigenous peoples.
I grew up in Yorkton and went to high school with alleged arsonist Brent Holland, and sadly report I am not surprised that the cultural environment of my hometown fostered attitudes allegedly culminating in a targeted attack of protests; protests against the very type of hate allegedly invoked in Wascana Park.
Hearing casual racism, racist jokes told over generations, stereotyping and plainly unacceptable rhetoric has, for too long, been a troubling reality associated with living in Saskatchewan.
The words of Vanessa Brass—also a high school classmate of mine at the Yorkton Regional High School—sharing her experience of casual racism and its impacts on her as an Indigenous woman resonate with anyone who has felt guilt or shame by virtue of living in a province where these viewpoints are shared so openly. In a province where 16.3 percent of the population is Indigenous, it feels unacceptable that many still feel unsafe and uncomfortable with their existence on Treaty territory.
"I've been followed around stores too, I've been called ugly names, I've been treated differently than my friends," Brass wrote.
Common deflecting and demeaning depictions of Indigenous people as complainers looking for a handout in response to protests magnifies to light the history of Saskatchewan's problems with discrimination of First Nations peoples. This is a hollow, and itself racist, defence that only further illuminates the province's inherent racism to the rest of Canada.
More concerning is the potential next steps: these racist attitudes turning to outright hate speech, then to acts of violence. Hateful speech on social media has been a link in many of Canada's recent terror attacks on Muslim and Sikh Canadians.
The New York Times reported this week that research has suggested Facebook racism was a clear link in anti-refugee attacks in Germany. With similar rhetoric appearing in Facebook groups and comment sections across Saskatchewan, the alarm bells should be ringing in regards to the dangerous atmosphere online that is present in the province.
Nazi salutes and shooting roman candles at a protest camp are red flags signaling the powder keg Saskatchewan's racist behaviour has cultivated. The province's people and civic leaders need to confront this toxic atmosphere, that has always been a black eye for Saskatchewan, before it spirals further out of control and more violent.
For now Saskatchewan Premier Scott Moe has failed to take a stand against racism in the province. In fact, just days after the Holland incident in Regina, Moe bristled at the idea of Saskatchewan observing the proposed federal holiday to recognizing residential school survivors.
The Idle No More, Justice for Colten, and now the Justice for Our Stolen Children movements have been the target of a pushback from Saskatchewan's racists looking to hold onto a shameful past that should have been reconciled a long time ago. As a province and a country, we need to be better if Indigenous people are ever going to find the justice and peace they are protesting so hard to achieve.
Follow Chase Ruttig on Twitter.
Sign up for the VICE Canada Newsletter to get the best of VICE Canada delivered to your inbox.