Desert mega-fests are good and well, but we at Noisey like to keep things a little more weird. That's why we've teamed up to present the inaugural Emerge Impact + Music festival, a three-day bonanza bringing together can't-miss new artists, speakers, installations, workshops, and more. It's social impact with a Vegas twist, baby.
The walkable, all-ages-inclusive discovery event goes down April 6-8 on the Las Vegas Strip, with a stacked lineup featuring Poppy, Waxahatchee, Cuco, CupcakKe, Hurray for the Riff Raff, Downtown Boys, Jubilee, Kevin Morby, and many, many more. In addition to *fresh tunes,* the fest will feature events focused on personal identity, resistance, and mental health, helmed by the likes of Madame Gandhi, podcaster Dylan Marron, Noisey special guests, and others—plus parties, activism workshops, protest art, a Fairytale Ball vogue celebration, and a whole heckuva lot more.
Three-day passes to Emerge Impact + Music fest, presented by A Beautiful Perspective and Noisey by Vice, start at $125 and go on sale Thursday, Feb. 1, 2018 at 10 AM PT. For additional details and the most up-to-date information, visit EmergeLV.com.

Check out the full lineup below, and stay tuned for more additions soon.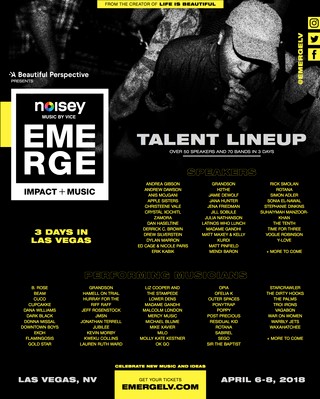 Follow Noisey on Twitter.

This article originally appeared on Noisey US.