It began like any other football game. On the last day of September, just outside of Atlanta, Georgia, the Kennesaw State University Owls were hoping to build on a two-game win streak.
Before kickoff, the band tuned up for the national anthem. The crowd at Fifth Third Bank Stadium rose to its feet. Then, just as the band hit the first note of the Star Spangled Banner, five Kennesaw State cheerleaders dropped to a knee.
Right before the big moment, the cheerleaders had prayed together. They were Michaelyn Wright, Tommia Dean, Taylor Mclver, Kennedy Town, and Shlondra Young. They said they had put a lot of thought into the possible reactions they may face. They had all consulted with their parents.
"It was the scariest thing I've ever done," said Wright. "I was shaking."
In a video posted to Instagram, you can hear an audible gasp come from the crowd. But the loudest reactions came much later.
When former San Francisco 49ers quarterback Colin Kaepernick began protesting during the national anthem in the 2016 NFL preseason, he was objecting to unchecked police violence against people of color. He made this extremely clear.
"I am not going to stand up to show pride in a flag for a country that oppresses black people and people of color," Kaepernick told NFL Media at the time. "To me, this is bigger than football and it would be selfish on my part to look the other way. There are bodies in the street and people getting paid leave and getting away with murder."
It has been more than a year, and many football fans (and owners) still refuse to hear his message. However, other athletes have heard it—including those five college cheerleaders at Kennesaw State University.
For weeks before the September 30 game, the five women talked about what they could do. They each had their own reasons, but all five knew they needed to make a statement. Something public. As cheerleaders, taking a knee seemed like the appropriate action, given that their protest would take place within the context of a football game.
In the weeks that have passed since their demonstration, the Kennesaw Five, as they have come to be known, have learned that kneeling in protest during the national anthem can bring resentment and anger, media obsession, and a surprising amount of support.
On the day of their first protest, Young posted a message on Facebook:
"Today, I kneel for equality, I kneel for social injustice and I kneel for those who unjustly lost their lives and are no longer here to kneel for themselves I kneel in a city where a Confederate culture still exists among some and issues such as this are often placed on the back burner. I kneel in a city where I am a minority. But most importantly, I kneel for unity in a country that needs it the most right now."
Other members of the group had specific instances of police violence or racism in mind when they acted.
"I just don't think people deserve to die like that. I have watched all these events and they touch me," said Dean. "Alton Sterling was killed in my home state of Louisiana. That was close."
Sterling, 37, was shot in the chest and back while two police officers pinned him to the ground. The July 2016 incident caused public outcry from the Baton Rouge community.
"We go to school in Cobb County and this is where a white cop said we only shoot black people," said Town. "That told me I have to do something in Cobb County to make a change."
Town was referring to an incident outside of Atlanta, Georgia last July when during a traffic stop a Cobb County police officer jokingly tried to assure a white motorist not to be scared by saying, "But you're not black. Remember, we only kill black people."
The interaction was caught on the officer's dashcam, which was leaked to the public at the end of August.
Wright said that it was simply her inability to imagine what it was like for a mother to lose her child to police violence that drove her to take part.
"I know if I was a parent and that happened to my child I would be highly upset," she said. "Even though I am not, I can feel that pain. That's not the way you should lose a child, or someone should die. That's why it speaks to my heart."
Kennesaw State, which boasts the third largest campus in Georgia, fielded its first official football team in 2015. The Owls play in the Division 1 Big South Conference. Even without the added attention of protesting cheerleaders, this has shaped up to be a landmark year for the fledgling football program. After losing the season opener, they have won eight straight games and are at the top of their conference with just two games left in the season.
In Kennesaw, a town that just saw its first black City Council member elected in 2016, and has an unusual city law requiring gun ownership, the negative response to the cheerleaders came swiftly, with numerous comments on social media claiming that the five were disrespecting the flag and the country.
So far, the football team's head coach and the cheerleading coach have publically remained quiet in response to the protest, but the Kennesaw Five said that their fellow cheerleaders have been supportive, even as those outside of the school's sports programs have been less so.
Cobb County Sheriff Neil Warren and state Rep. Earl Ehrhart bragged about pressuring Kennesaw State University President Sam Olens to take action against the quintet, according to a report from the Atlanta Journal Constitution, which featured text messages between the three.
At football games after the protest, the entire cheerleading squad was made to wait in the tunnel that leads to the field during the anthem. The administration repeatedly claimed that the decision to keep the cheerleaders off the field was part of a series of changes that had already been planned. Other changes included adding metal detectors at the stadium entrances and painting the school's logo at midfield, according to a statement released by the university's athletic department.
In the wake of their protest, the cheerleaders were inundated with media requests. News crews repeatedly showed up to their practices. "It's tiring, I didn't realize so many people want to talk to us. I run out of things to say," said Dean. "Glad, my brother has been there to help." Once the maelstrom hit, Dean's older brother, Davante Lewis, stepped in to help deal with members of the media.
"The media has asked many questions. However, we are getting the story out there and starting the conversation,"said Young. "I don't focus on nothing negative. There is too much positive going on for me to do that."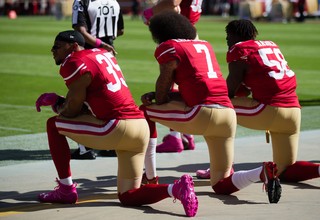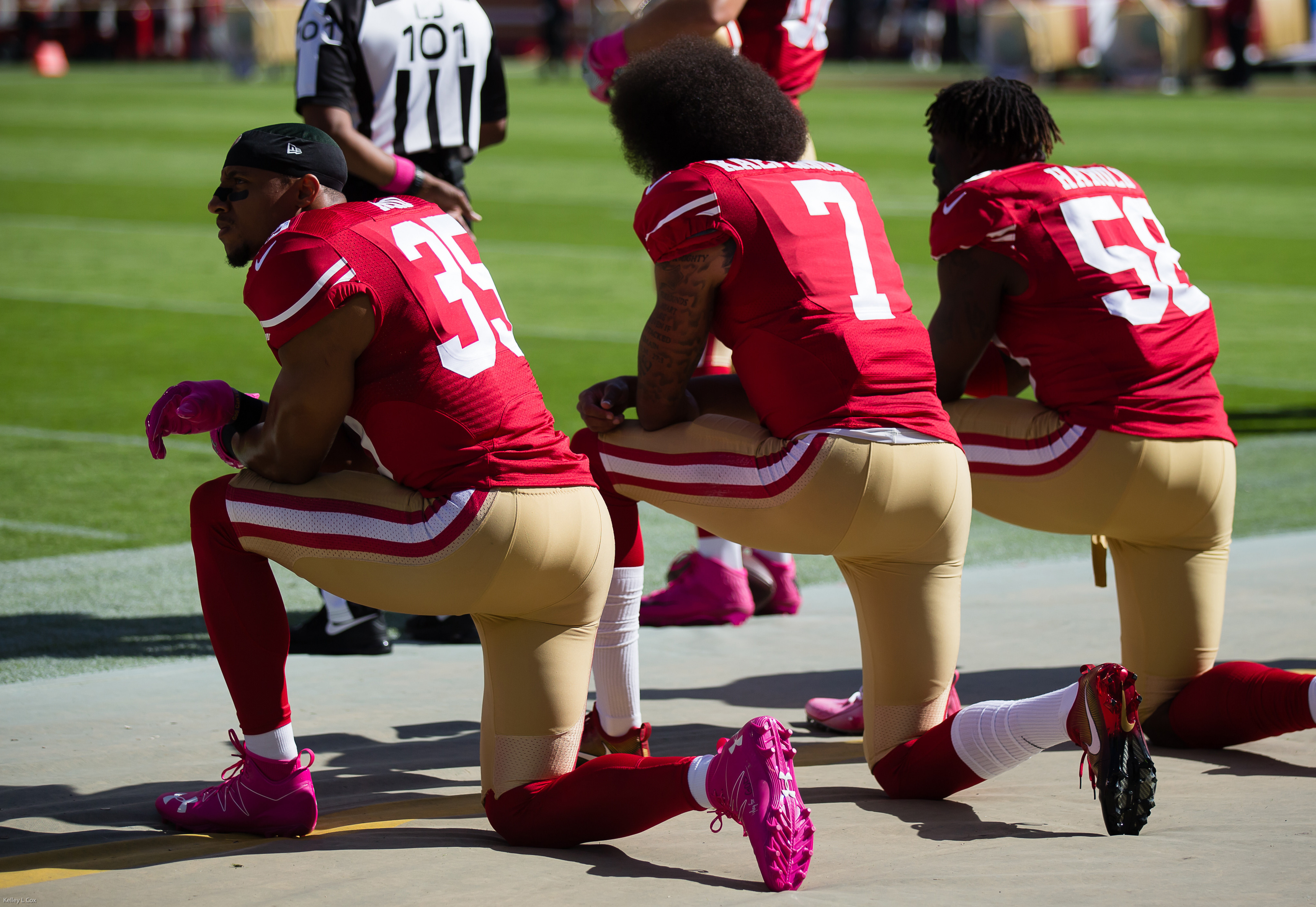 The five women were surprised by how much positive feedback they received. Young posted on Facebook that a member of the Army handed her a challenge coin. In the military there is a tradition of giving challenge coins to fellow soldiers for brave acts of courage.
Meanwhile, Dean mentioned another veteran who emailed them, emphasizing that he fought overseas to protect the right to protest and praising them for exercising that freedom.
"He stressed for us to ignore those who say we were being disrespectful," Dean said.
More recently, the five women were also presented with plaques from the families of victims of police violence, including Sybrina Fulton, the mother of Trayvon Martin.
"She gave us all one, and the love we have seen blows my mind sometimes," said McIver. "To receive this plaque from a mother in the movement is an amazing gift and I will cherish it forever."
Martin's death at the hands of a self-styled neighborhood watchman who was subsequently acquitted of murder was one of the first major sparks for the Black Lives Matter movement.
"This family and their case was among the many that started building my passion for the issue of police brutality and social injustice," Young wrote on Facebook after receiving the plaque.
After the cheerleaders were removed from the field during the anthem, the student body rose up to support them. Just over two weeks after the cheerleaders first took a knee, dozens of students marched on campus. The school's mascot even made an unsanctioned appearance. Wright was shocked by the show of support from her fellow students.
"I just didn't think we would have all these protest on campus and reaction from faculty and students would be that big," she said. "We all talked to our family first hand to make sure we got their support."
Since then, the cheerleaders have continued to take a knee (albeit in the tunnel), and in many ways the furor on campus has died down.
"I tend to tune out the negative, and look at the amount of support we have gotten. We have been so blessed to have so many people all over the country support us. I have seen nothing but love from those close to me," said Young, who, as the eldest member of the quintet, is closest to graduation. She said she hopes to pursue a law degree.
Although there were rumors that the women were in danger of losing their scholarships, they never received official word that it was even considered and, the Georgia Board of Regents recently announced that it plans to investigate whether or not university president Olens was coerced into retaliating against them.
"I would do it all over again," said Wright. "While I wasn't expecting this reaction, we wouldn't be having this conversation without this action."
On November 8, the school announced that it would rescind the policy change that cloistered the cheerleaders during the anthem.