GARAGE is a print and digital universe spanning the worlds of art, fashion, design, and culture. Our launch on VICE.com is coming soon, but until then, we're publishing original stories, essays, videos, and more to give you a taste of what's to come.

There are lots of people in the black-and-white photograph Woman Holding Mao Poster, September 21, 1971, one of dozens of images and pieces of ephemera on view in the small exhibition Unlikely Historians: Materials Collected by NYPD Surveillance Teams, 1960–1975 at the New York City Municipal Archives, but the image stands out for its central figure. There are seven other identical posters in the shot, also held aloft by Chinese Communist party supporters in front of the United Nations. The General Assembly was at the time on the cusp of granting membership to the People's Republic of China (mainland China) in lieu of the National Republic of China (Taiwan). Americans who thought this was a good idea were, at the time, in the minority.

Such facts, detailed in the show's lengthy wall labels, are required to make sense of most of the photographs on view. But the 1960s and early '70s were years of such social tumult, they're fascinating to read about. From a visual perspective, however, the woman with a Mao poster dominates her photograph. She looks valiant, but also oddly fashionable. Her high-waisted bell-bottom jeans accentuate her mile-high legs, and a chunky black belt offsets her tidy white-collared shirt. Her arms support her Mao poster in a defiant V-shape, which frames her formidable afro and serious expression. A cop to her left, his mouth slightly agape, appears to be sleepwalking his way down the street. Mostly baby-faced, politically left-leaning activists surround her like so many extras from the Pepsi commercial that "ruined" Kendall Jenner's life this spring.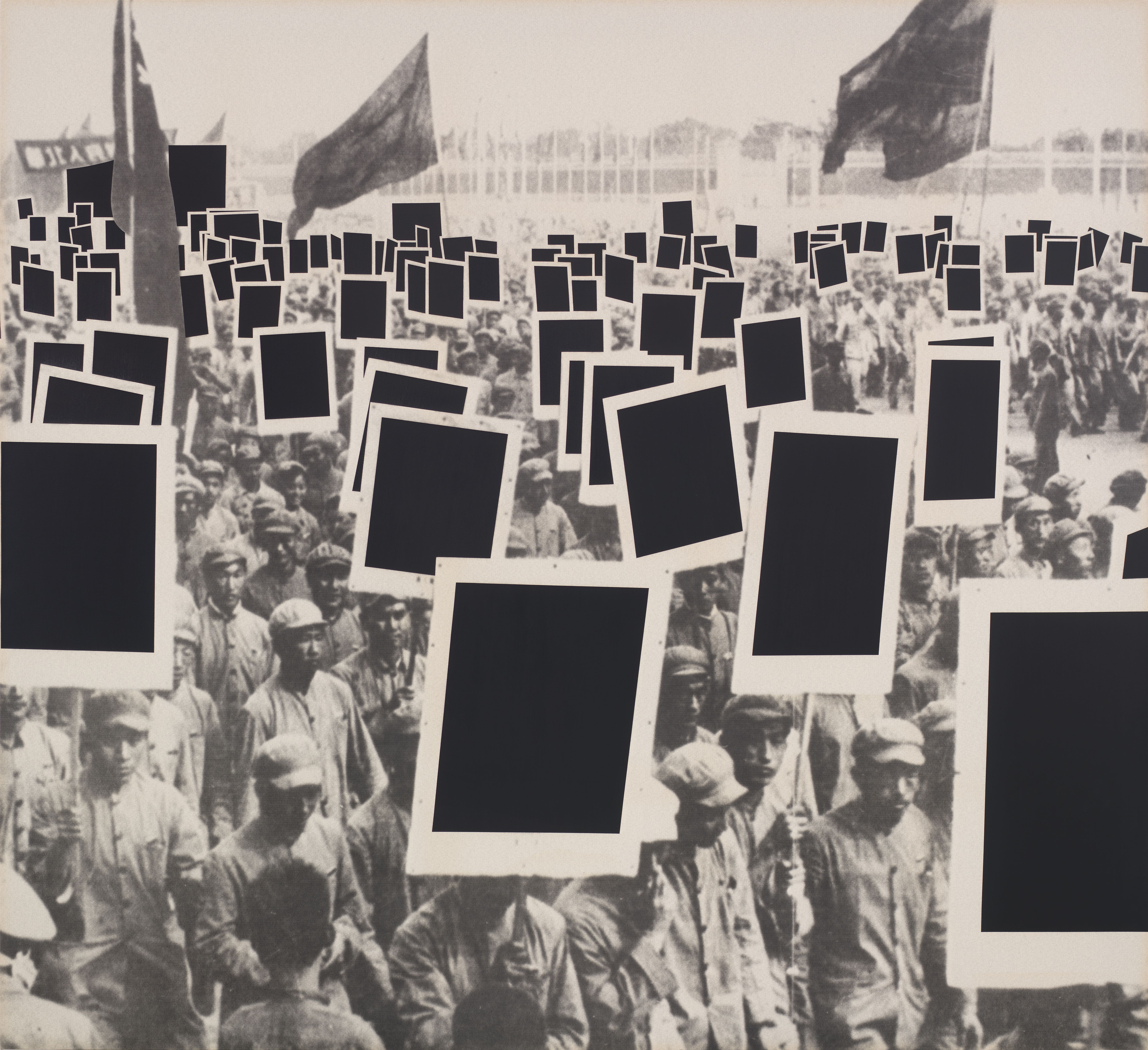 Annette Lemieux's black-and-white painting Black Mass (1991), intended as art and presently on view as part of An Incomplete History of Protest at the Whitney Museum of American Art, comes to mind as a comparison. A sea of protesters in Lemieux's composition holds signs and flags, all horizontal black rectangles, no Mao portrait here; the figures in the painting do, however, wear hats reminiscent of those worn by the Chinese Communist army. Lemieux's all-male protesters fight against, or express support for, something opaque but unmistakably ideological. Fight the power, be the power, harness the power: Lemiux's protest chic borders on abstraction and begs the question of how much information is conveyed by protest portrayals aside from whom may be a candidate for jail time.

Communists were indeed a frequent target of the NYPD's so-called "Red Squad," established in to keep photograph dissident activities and grill activists' families, neighbors, landlords, and employers—sometimes costing their subjects jobs and relationships. The squad also surveilled anarchists, Black Panthers, environmentalists, fair-housing advocates, feminists, the German American Bund, labor unions, LGBT groups, the Nation of Islam, opponents of discrimination, socialists, Vietnam War protesters, Women Strike for Peace, Youth Against War and Fascism, and workers' rights advocates—as well as individuals including Martin Luther King, Muhammad Ali, and Malcolm X, among others deemed dangerous extremists.

In an era predating facial-recognition technology, omnipresent urban pole cams, Google maps, cell phone cameras, and police body cams, the photographs here were primarily meant for prosecutorial purposes, as data and evidence of antiestablishment activities. A nondescript NYPD surveillance photo shows the Gay Liberation Front at the 1970 Gay Pride March, the first commemorating the 1969 Stonewall riots, and the first Pride march in New York City. The image mainly includes the backs of marchers' heads and a banner with interlocking male and female symbols: not really much to look at, though the photograph is historical in terms of the event it commemorates. One wishes, however, that the NYPD had caught more images of the intrepid drag queens who notoriously commandeered that year's parade.

Former New York City Mayor Ed Koch was a staunch opponent of political surveillance, including that of the "Red Squad," in his congressional days. "Anytime you have cops monitoring, it means that someone who would like to be here [at a protest] . . . is going to think twice. That's not what the United States is all about. I think it's an outrage that the . . . government is collecting these political files . . . and that the city government is doing it. We've gotta end it," he said in 1970. Koch, like a great many New Yorkers and other Americans, changed his mind in the wake of 9/11.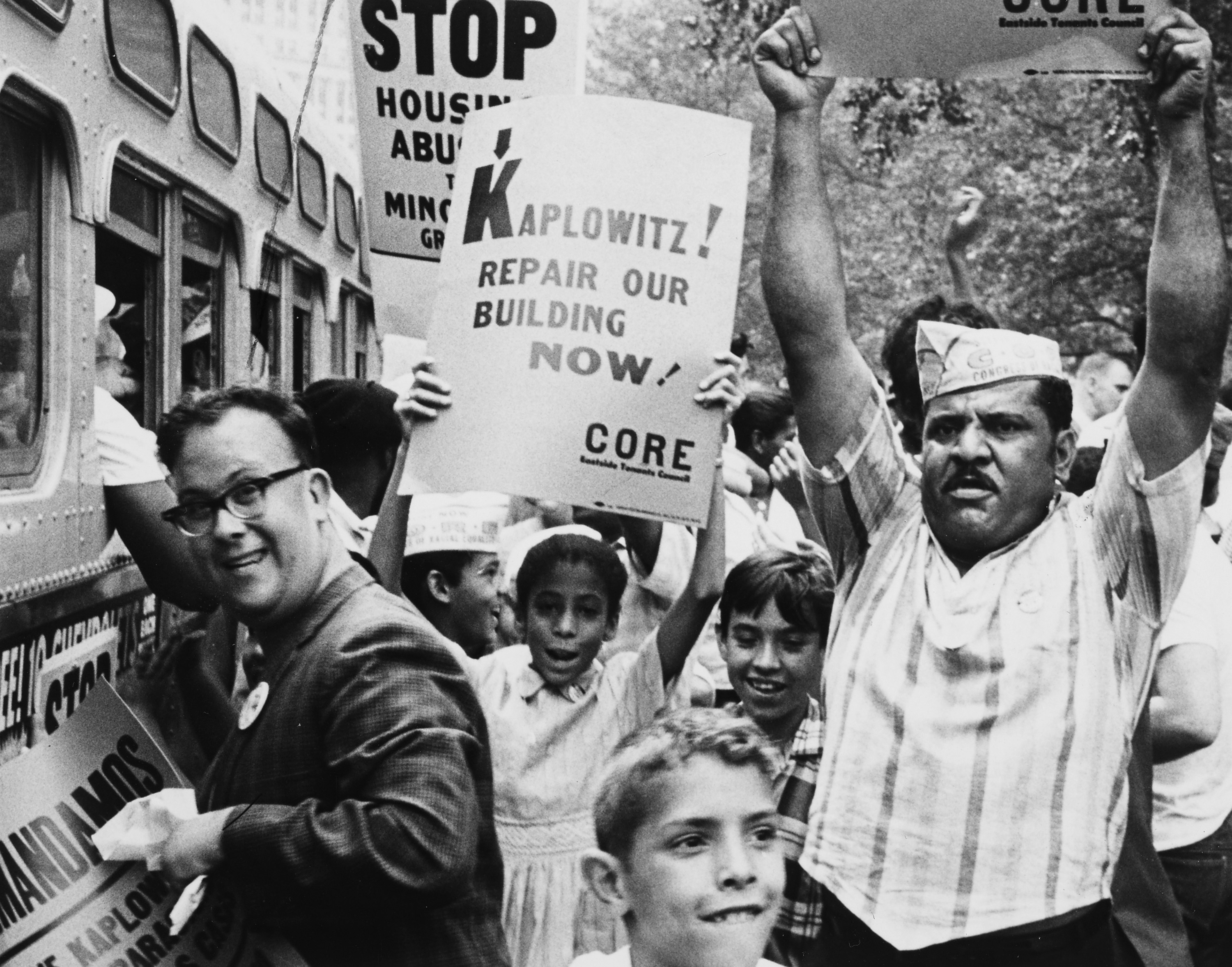 Some of the public protests documented by the NYPD unsurprisingly took on a celebratory vibe, as is the case with C.O.R.E. Demonstration for Fair Housing, August 21, 1963. More than 16,000 housing violations were reported in the city during that particular month, with nearly 400 of them being turned over to criminal court for prosecution: serious business involving overt racial discrimination that C.O.R.E. regarded as an issue worth addressing with militaristic zeal. For a C.O.R.E. protest, however, grinning children join adults holding signs on a sidewalk adjacent to a school bus. "Kaplowitz! Repair Our Building Now!" reads one. A few men seem to have stepped out of work, two wearing fry-cook hats.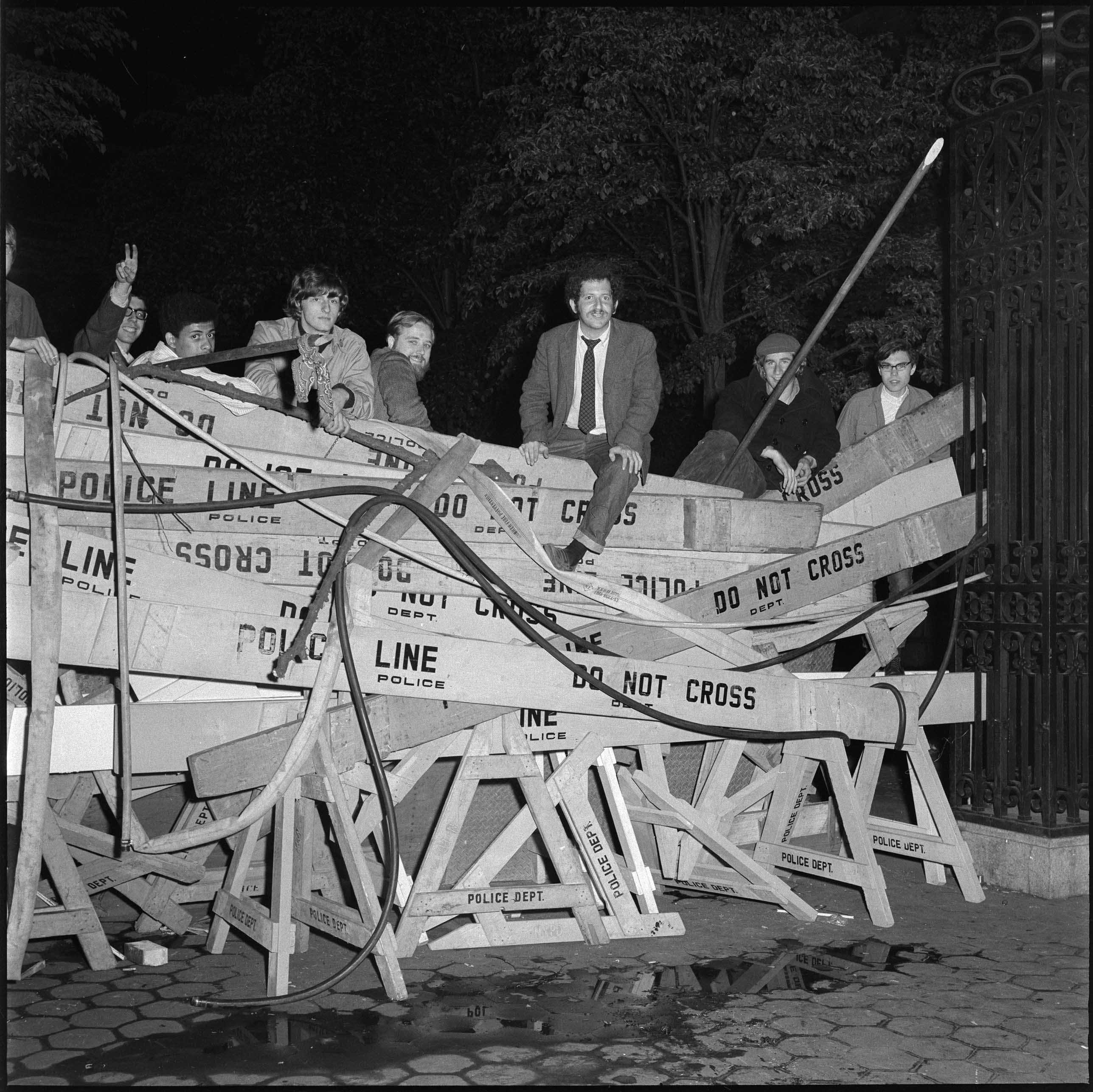 Among a smattering of collectibles on view is a prescient green flyer suggesting that men make use of newly hatched digital technology and "cruise by gay computer" (the lexicon of online dating had obviously yet to emerge): "Forget standing on street corners—being harassed by the authorities—searching through smoky bars. Now do it the easy-scientific way." A group of Columbia University students appears rather playful in Columbia University Protests, April 1968, another year rife with political dissent. Seven young men sit and stand, perched atop a sizable stack of "Do Not Cross" police barricades. One flashes a peace sign. A few grin. The students had gathered to oppose a gym to be built in Morningside Park, which was intended to have segregated entrances, one for Harlem residents and another for Columbia students, and was funded by a defense-industry think tank the students disapproved of. The gym was never built.

Another NYPD photograph documents a guy with a large forehead—we're in 1972 here—wearing spy-style sunglasses peeking out behind a poorly yet meticulously designed handwritten sign reading "Who Needs Niggers." (Why else would he be standing there concealed by his sad sign as though trying to obscure his identity or block someone from punching him in the face?) Another man in sunglasses behind him pokes his head out from behind another sign, partially legible, reading "KILL Red Peace C[…]ps." People mill around; a shop window advertises 40 percent off. Another poster, this one nicely designed and with an opposing racial agenda, advertises a heady event that took place in a Brooklyn mosque on April 7, 1968, featuring Muhammad Ali and Louis Farrakhan. This one states that "the black youth represents the future of our nation and must be guided right." At the time, Ali was on a three-year hiatus from boxing due to his refusal to serve in Vietnam.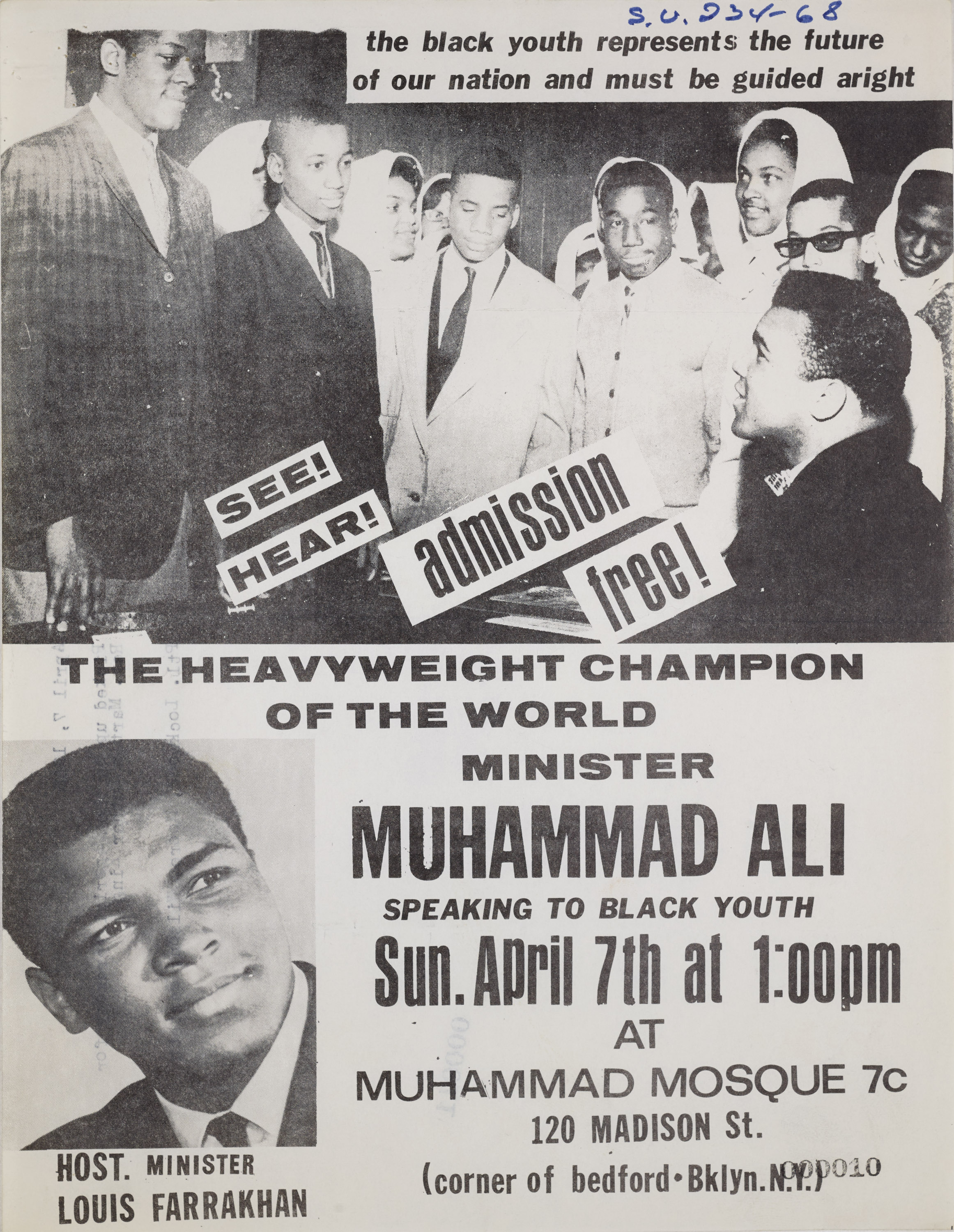 Operating in what some historians have deemed the "era of assassinations," many of the individuals whose likenesses are included in Unlikely Historians took the risk of being harassed and even killed for their political activities. In addition to the proliferation of protests during the Unlikely Historians era, there was a spate of hijackings and a general lack of airport security. One such hijacking is the subject of a tightly packed street gathering, depicted in Russian Embassy Demonstration, December 20, 1970. In the middle of that year, nine Soviet Jews had escaped Russia and attempted to settle in settle in Israel to escape persecution in their atheist homeland. Police helmets and yarmulkes commingle in this aerial view dotted with protest signs: "Anti-Semitism is Alive and Well in the USSR" and "Stop Russian Terror Trials," object to the proposed death sentence for two Jews involved with the hijacking plot.
Unlikely Historians captures a fifteen-year period of the so-called American Century characterized by upheaval of all stripes. And by using surveillance in an attempt to preempt future crime, the NYPD left behind a trove of uniquely fascinating images.
Sarah Valdez is a New York-based writer and editor.

Unlikely Historians: Materials Collected by NYPD Surveillance Teams 1960–1975 is on view at the New York City Municipal Archives until February 28, 2018.