For the most part, Los Angeles locals stay as far away from Hollywood as possible. Despite living less than two miles from the intersection of Hollywood and La Brea Blvd, I can count on one hand how many times I've willingly ventured through the area—and three of those times were to shoot for this article. However, tourists flock there in exorbitant numbers, with an image of the former Tinseltown glamour, glitz, and Gatsby-like effervescence ingrained in their minds.
That glistening vision of LA's most famous neighbourhood is not totally fabricated; Hollywood once resembled what the film La La Land sought to recreate in 2016. But today, such decadent iconography is only a memory. The reality of Hollywood is that it is losing both its mystique and its monopoly on the movie industry. Films are being outsourced to other cities and countries with lower taxes. Hollywood Blvd has increasingly become an overcrowded street lined with litter, overpriced souvenir shops, vacant theaters-turned-museums, people dressed up as movie characters simultaneously posing for pictures and panhandling for money, and self-proclaimed rappers heckling passersby with their homemade mixtapes.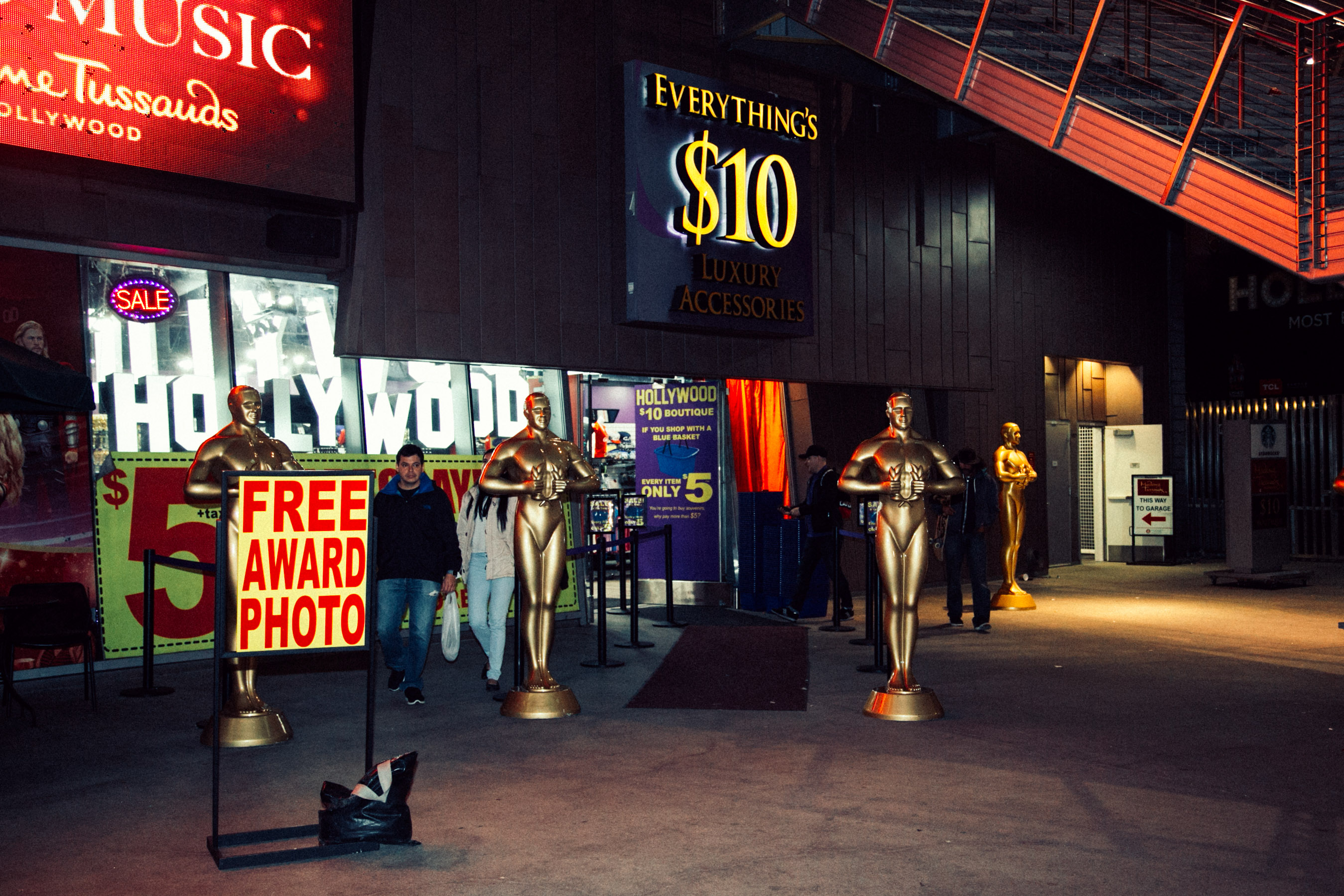 While perhaps Los Angeles natives such as myself seem to be disenchanted, visitors keep coming, and seem to enjoy it. Regardless of the time of day, Hollywood Blvd is bustling, with tourists taking photographs of their loved ones posed next to fictional characters or squatting behind their favorite celebrity's star. And then they board Starline Buses and purchase Star Maps to seek out where local celebrities live. According to the Hollywood & Highland leasing brochure, the area hosts 25 million visitors annually, averaging 5,000 people per hour. Clearly, everyone else still see some magic left.
The Hollywood that Gary Winogrand and Julius Shulman photographed in the late 1960s was iconic—both photographers documented a lifestyle that people around the country aspired to. The reality now is that Hollywood is a small—and quite frankly homogenous and curated, microcosm of a culturally rich and diverse city. In this series of images, I have photographed how Hollywood's once idyllic balance between grit and glamour has lost its essence, and become a commercialized, gritty, tourist trap.