For every episode of Uh Oh, the show always started with a funny question that set the lively tone from the jump.
"What do you say when you accidently rinse your contact lenses in hot sauce?"
Milk and cereal could be dripping from my chin on a Saturday afternoon after a laugh, but that wouldn't stop me from shouting back my line like clockwork, "Uh Oh!"
I don't think I'll ever forget these moments, these unforgettable days off when a younger me absorbed a show that felt completely interactive. It was the special sauce of any game show, to want to be a contestant. You'd memorize the energy of the studio audience, take in questions as your own, and be ready to answer on cue in the hopes that you'd be camera ready.
To television's credit, kids like me repeated these rituals on a constant during the 80s and 90s when the youth game show was an actual marketable thing. Networks had guaranteed audiences back then because, frankly, we were media poor. I mean dirt-poor. We didn't have all this on-demand entertainment to choose from unless it was some dusty VHS tape. We were at the whim of whatever the network decided to show us. Off that strength, game shows like Video & Arcade Top 10, It's Alive , Where in the World is Carmen Sandiego? , Legends of the Temple , Fun House , and so many others were given life.
While I can admit that game shows for kids still exist in some form like MasterChef Junior , the target audience is no longer aimed towards children, and it would be difficult to see a normal kid feeling like they could be a contestant on a prime time show. So as I usually do when I want to take a trip down memory lane and confirm my biases, wanted to speak to a few folks who were in the thick of the era.
Patricia Ribeiro (Quizmaster, Uh Oh!)
Patricia Riberio became known as the fast talking quiz master on Canada's YTV game show called Uh Oh! (1997-2003), a program known for its wonky antics involving a mix of slime and trivia. As a Ryerson Radio and Television graduate and YTV intern, she earned the reputation as someone that auditioned for everything but landed nothing until her streak broke with Uh Oh!.
VICE: So the obvious question, what was it like working on a crazy kids show like Uh Oh ?
Patricia Riberio: Oh I loved it, it was so much fan and we were really fans. I actually went to school with Wink Yahoo (the host) and we went to Ryerson in Toronto together, a lot of us did. It was this nice warm, friendly type of atmosphere. As far as the chaos with the kids, it was kinda built that way. It's what kept the show moving and everyone going. We all loved the excitement as these kids would pile into the studio and just be electric with energy. And the louder they were, the more fun it was. The grosser it got, even more fun.
Given how fun these shows used to be, it's kinda sad how they suddenly started to just phase out.
It's actually interesting that you'd say that, because I'm a mother now with three boys and they'd love a show like this. I don't get why they don't really exist. Yeah, the spectacle and gross aspects are still out there, but that quiz part, the knowledge based part, seems like it's missing.
Might have something to do with things like YouTube.
Yeah, I mean I look at what my kids watch and what's available. It's just fascinating to me that they could just sit and watch another child open up packages of play doh or play-act with toys as if they were virtually experiencing actual play. There's no educational aspect to it at all and they aren't learning anything. My kids watch something called EvenTubeHD, and all they do as a family is perform gross contests, it's pretty mindless.
I don't think I'll ever forget your face, and I'm grown. Does it get weird to have legit adults with kids looking at you weird like they know you?
It does get weird, and it's funny, I'm in New York now, so here, nobody knows me. But ever since I launched my career online, I'm working with clients from Canada and every once in awhile they're like, 'wait a second, are you the Quizmaster?' and I'm like, uh, matter a fact, I am. You forget how long ago it was because in my head, my fans are still little kids. It is so odd when a woman tells me her husband totally remembers me from the show. I mean these people are married. They have children. My fans have children!
Michael Stasko (Writer/Producer, Video & Arcade Top 10)
Video & Arcade Top 10 was the first and only video game competition show in Canada, and Michael Stasko served as its writer and producer during its 12 and 13th seasons. As a graduate in film from the University of Windsor and Sheridan college for television, Michael started out as a volunteer camera man and lighting person until he became a voice for the Canadian classic.
VICE: You obviously came to the show late, so you were at fan at the point of being hired. What surprised you most once on set?
Michael Sasko: The economic way in which they shot it. When I was doing short films, music videos and commercials, you had at least five days of production to actually shoot a ten-minute thing. I kid you not, they shot six episodes every Sunday on the show. So you had a new episode 52 weeks of the year with the whole season being 52 episodes.
How did that all work?
On those days we had a great support staff of tons of people shooting it with production assistants. All the kids in the audience would be there for three episodes, and if you pay attention, three weeks in a row, it's the same kids, same shirts and everything. They'd go back to the audience and three other kids would become contestants.

You know, I always wondered why those kids always looked so unhappy to be there.
Yeah, we'd shoot at three in the morning then break for pizza lunch and then break for three in the afternoon. So it was hectic some days, but kinda a well-oiled machine where everyone knew what they were doing. But long days for sure.
Other than that, you were a videogame competition show, you'd think something like Video and Arcade Top 10 would last longer with the rise of gaming and all. What shifted?
Everyone had internet in their homes. This was when kids started doing YouTube pages and where they'd play games and talk about tips on them. It just became a huge investment to redo the show and spread the Nintendo brand. At the time, it was the Nintendo 64 and the kid friendly Nintendo era which worked for television was beginning to end.
But just in general, game shows for kids like us began to disappear, what happened?
Well do you remember Saturday morning, like when it got into the afternoon, with cereal in your lap and all that? Then it switched to Double Dare and all that kinda stuff in the afternoon? If you think about it, a game show was the original reality TV, and then they decided to highly glamourize it, putting naked people on an island and that blows everything out of the water, so why wouldn't everyone watch that instead? Everything just shifted.
Franklin Young (Creator, Uh Oh!)
Franklin Young can proudly call himself the creator of Uh Oh. Now a teacher at Humber College as a broadcast program professor, he can proudly take solace in the idea that he created a game show that many in Canada will never forget.
VICE: So how does one create a crazy show like Uh Oh ?
Franklin Young: Well I worked on a show called It's Alive on YTV which went for an hour and a half every Saturday. It had musical guests, comedy sketches and then we started doing game shows that ran for eight minutes each. The most successful game shows as a kid seemed like the simplest ones, and asking kids questions and dumping slime on their heads seemed pretty simple.
So what happened? It seemed to maintain fans for the many years.
Well YTV basically had a complete monopoly in Canada when it came to after school programming. Back then they had a certain level of audience they could count on, now it's all about selling around the world and doing it live. That's some big cash. Right now it's just easier to go with animation with other outside partners where they don't have to spend as much. It also wasn't as corporate before and since YTV has been sold a couple of times, it ended up being a part of the Corus empire. They gotta watch every penny.
I'll probably never forget your show. Like I told Patricia, it's gotta be a little weird with someone like me being a full adult.
You have no idea how weird that is. A co-worker of my wife was pushing a stroller over here and she's got a two-year-old in the stroller while telling me how she used to love the show. And I go yeah, I'm an old man now.
Interesting way to be remembered tho.
I'll be honest. I was hacking on a computer late on a computer one night and saw that I was on Wikipedia. Just my name. Nothing about me. Just 'creator of Uh Oh.' I'm immortal now.
Shiwani Srivastava (Contestant, Where In The World Is Carmen Sandiego?)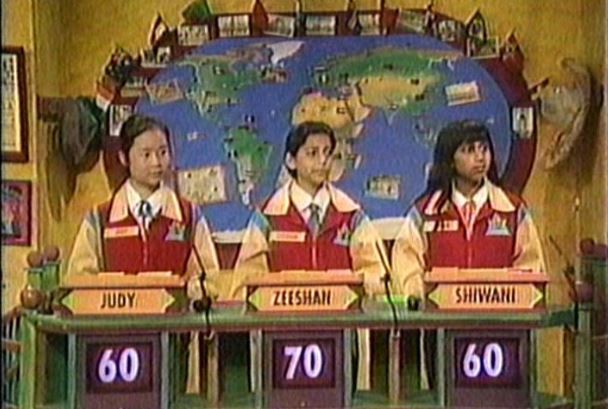 Shiwani Srivastava, a 35-year-old New Jersey-born freelance writer can't exactly call herself "famous" like the people above. In fact she regularly tells people she wasted her own 15 minutes as a contestant on Where in the World is Carmen Sandiego? (1992-1995), an American geography game show inspired by the computer game of the same name. She in fact wrote about her experiences on a Medium blog, and despite her admittedly bad performance, her memories remain positive.

VICE: How did you even end up on Where in the World is Carmen Sandiego?
Shiwani Srivastava: Some casting people came to our school and I just remember being in our cafeteria answering geographic questions. Nobody else knew the capitals of Kentucky and Oregon and I happened to know this and I remember her nodding and taking notes. And a week later I get the phone call telling me I'm about to be a contestant. I kinda knew that was the moment.
So what was your fan level at the time?
I was a huge fan of the show. My brother had the video game and I'd watch him until the show came on and I was absolutely obsessed. I always enjoyed memorization, spelling words, geography and I just loved everything about it.
So going from a fan to an actual contestant is obviously a completely different experience. What surprised you most about actually being there?
One of the biggest surprises came from how much stuff actually gets canned from all the footage they filmed in advanced. The Chief wasn't even there that day, they filmed all her stuff in advanced and we were so disappointed. Even the Rockapella stuff was prerecorded. When you're a kid, it all just seems like magic and once you reach the studio you realize that it's a pretty low-budget affair and it was amazing what they were able to do with it, but it did take some of the magic out.
So what did you take away from it all?
A whole new respect for the people who did it every day on those game shows. It's not easy to be eloquent and keep your cool on TV. I was really lacking confidence and my experience really pushed me to get out there and learn how to acquire it. And the joy of learning something just for the sheer joy of having learned it when it came to being on a game show was really great.
Follow Noel Ransome on Twitter.