With video gamers now having large enough audience, participant, and financial numbers to quash any debate about the legitimacy of e-sports, other non-athletic pursuits have started following suit, attempting to turn their own once solitary and sedentary activities into crowd-pleasing kinetic spectacles.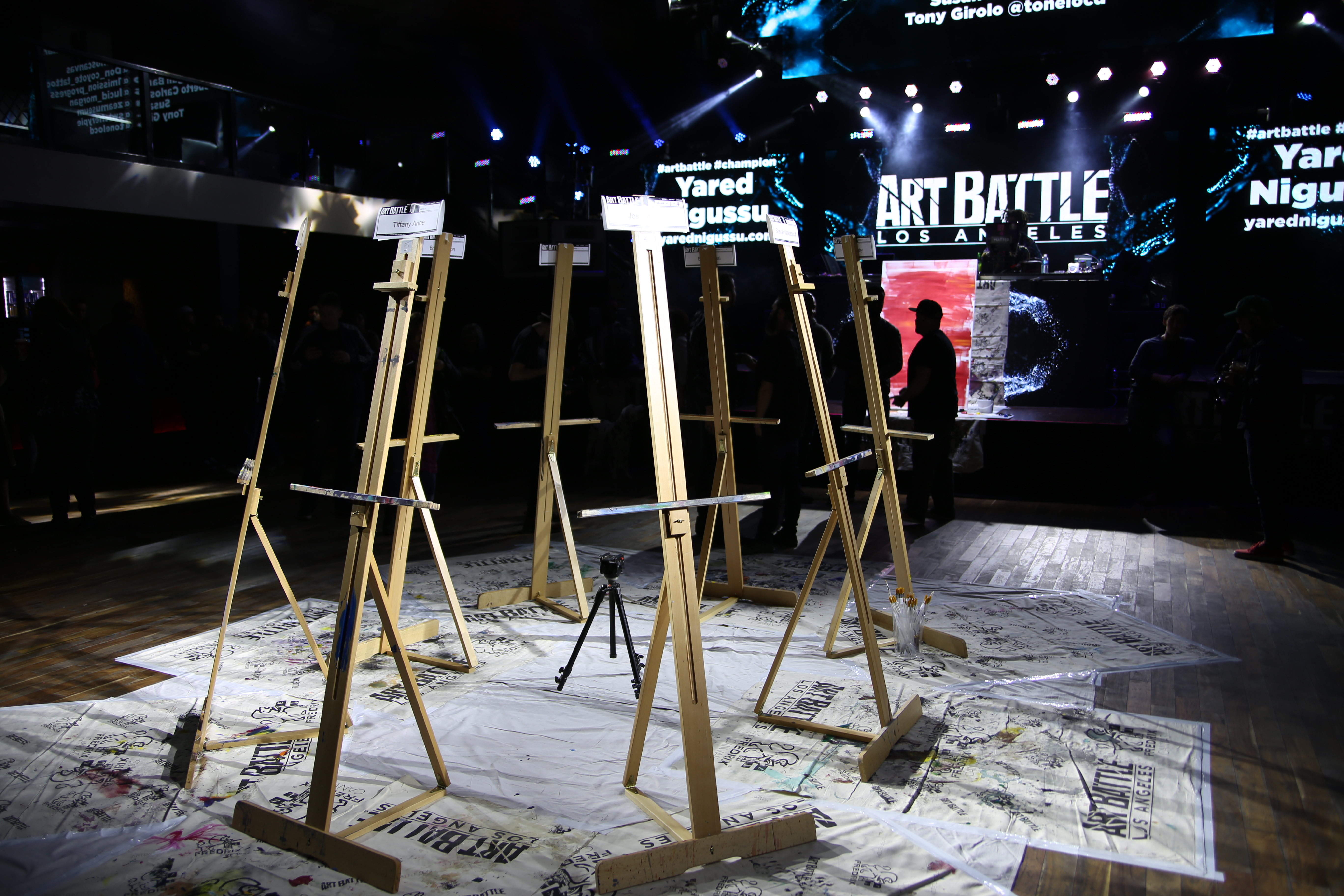 One type of contest vying for your attention is Art Battles. Founded in Toronto in 2009, Art Battle has spent the last few years evolving into an international brand, with events now taking place in cities like Amsterdam, Tokyo, and São Paulo.

Art Battles take place in three rounds. In each of the first two, eight artists compete to turn a blank canvas into a crowd favorite in twenty minutes. While the painters get to work beneath a countdown clock and a DJ plays hip retail store house remixes of circa 2000 rap, the audience slowly circles the contestants and refreshes their drinks at the bar. Once the time is up, the crowd is instructed to rip off a segment of their entry ticket and use that to vote for their favorite piece by dropping it in an easel-adjacent bucket. The first and second place winners of rounds one and two go on to the final round where the whole process repeats, albeit with a 30-minute clock this time. Got all that?
I didn't really know what to expect when I walked into the nightclub that would be hosting the November round of Art Battle: Los Angeles. From the Instagram story snippets and friend's recounting of the previous month's event, I'd built it up in my mind as a hybrid of WWE bombast and freestyle rap battle creativity, but with acrylic.
Though there weren't fireworks and entrance songs, I was still picking up some pro wrestling vibes as the contestants were called to their easels by an MC giving his best Michael Buffer-voice introductions. Some hyped-up the crowd, some had entourages hyping them up. The braggadocio was tongue-in-cheek, of course. These were painters, after all.

Competing that night were characters like a tatted-up Action Bronson-looking guy who painted a graffiti-style face that could have worked on a World Industries skateboard deck; a blue-haired woman who finished off her rendition of a cube by drawing boobs on it; and a man named "'Trap Art' Terry," who brought along his dalmatian and painted a Basquiat-esque scene of a man and woman fucking doggy-style.

Some were clearly classically trained, others seemed self-taught. Some went abstract, some depicted familiar pop culture references. But everyone brought something different to the table—which was a testament to the organizers' commitment to booking a diverse roster of talent.
Craig Oljenik, one of the event's organizers, selected the evening's combatants from hundreds of hopeful applicants. Oljenik told me the wide spectrum of humanity on display in the ring was no accident. Art Battle is absolutely looking to cast as inclusive a net as possible when it comes to finding artists.

"Straight up, I look for half male, half female," said Oljenik. "Beyond that, you just get better at judging people's ranges over time. There are people whose styles I responded to, and then there are people you kinda just take a chance on because they're doing something different somewhere else that fascinates me."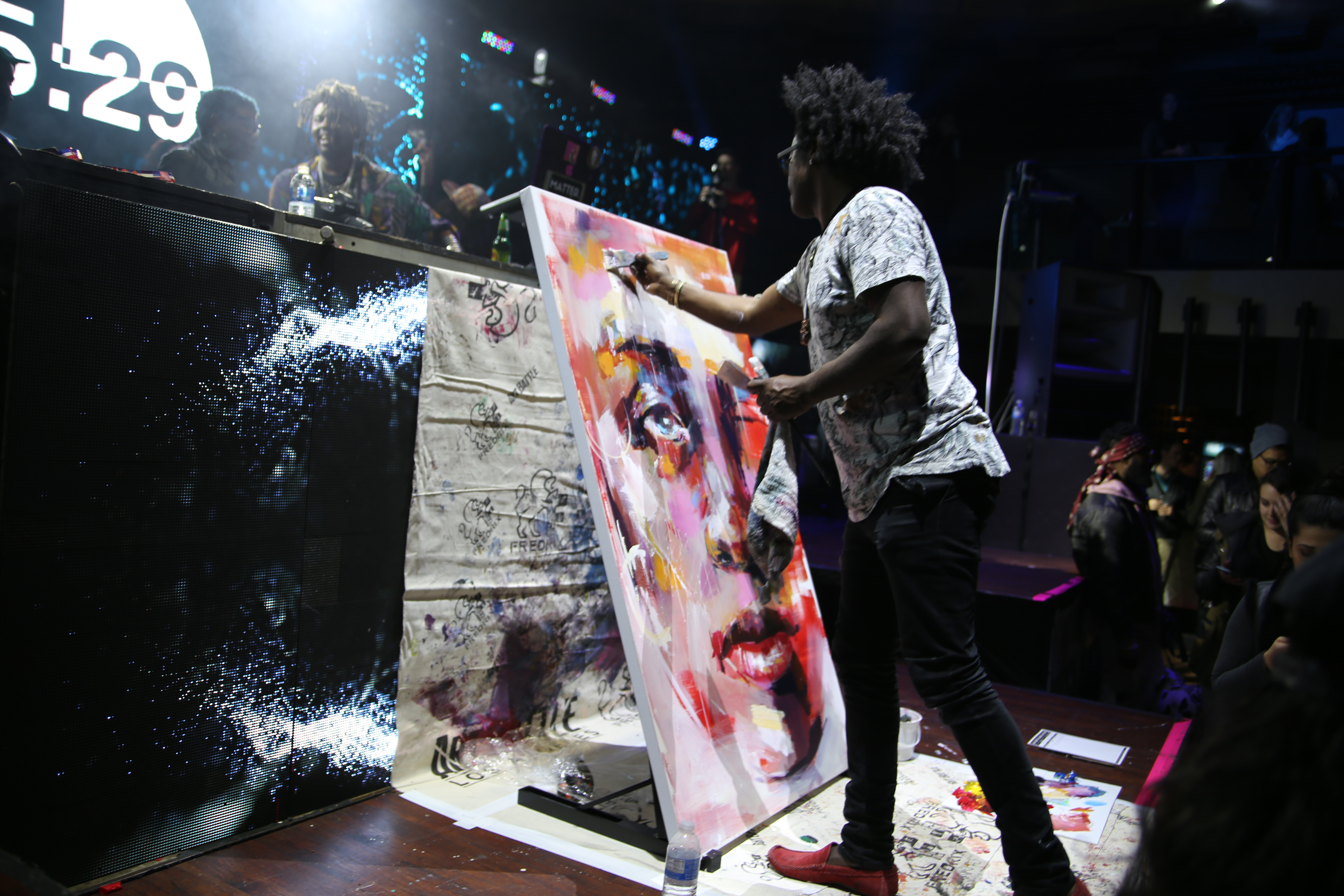 As an interlude between rounds, Ethiopian painter Yared Nigussu, a former Art Battle champion banned from competition after winning too many times, worked on a close-up of a face. One look at it instantly conveyed why he was no longer allowed to dunk on the other contestants.

Adding dancey flourishes while he made wide brush strokes, Nigussu's performance had me wondering if any past competitors had ever forgone the paints and just gone full Abramovic for their entry. I later learned that, while some artists have lead the crowd in chants or stripped nude to paint, the audience is instructed to only regard what's painted on the canvas as "the art" when casting their vote. So, nobody's yet attempted to cross that threshold.

Once he'd finished, Nigussu's painting joined the art from the preliminary rounds in the entrance hallway, where they were being bid on—some more than others—in a silent auction. For all the boozy revelry swirling around the main stage, these paintings were fetching soberingly serious figures, with one bid having climbed over $1300 by the time I'd left at the end of the night.

"I think that people are surprised at how legitimate this is," co-founder Simon Plashkes told me after the event. "Yes, we're here to put on a show and we're in a drinking establishment, but, in fact, this is the serious business of finding out who in the room tonight will be the champion."


The final round's four contestants—Joseph Lee, Ginger Jarvis, Suzie Cortez, and Shevah Vahdatpour—each stuck with their established painting style for their second stab at the canvas. In the end, the glory, advancement to nationals, and $500 prize went to Ginger Jarvis for a primary color profile of a woman that had resulted from some of the more unique brush techniques of the evening.

Jarvis, who works by day as an an art director in the fashion world, has competed in multiple prior Art Battles, but never taken the crown. Having lost so many times before, and up against such stiff competition that evening, she said she was "ready to hear [her] name not called again."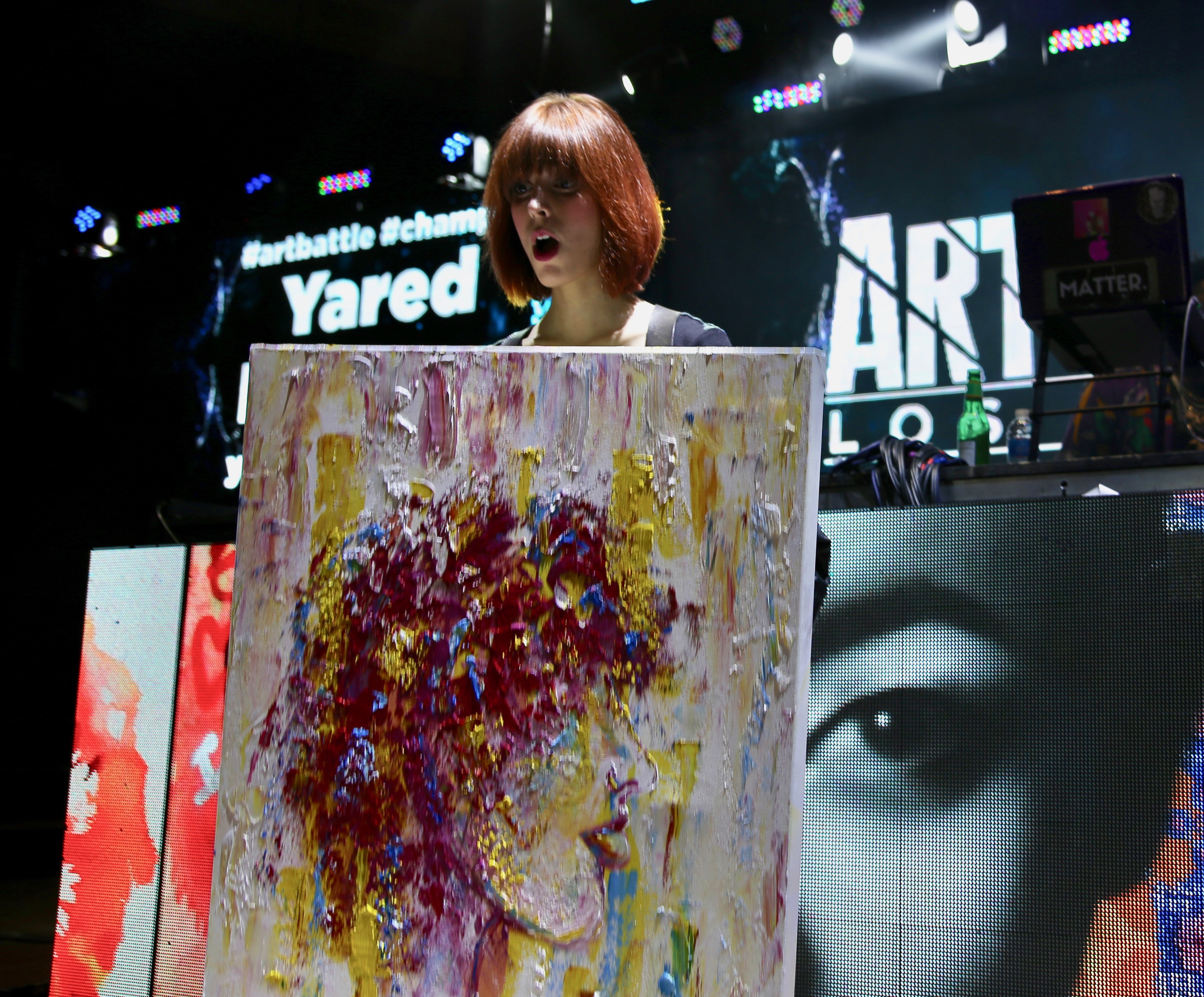 "Art is extremely personal, so Art Battle adds this extra component where you're sharing something that most people don't get to normally see," Jarvis told me. "I've never seen such a unique environment where so many people are so passionate about the same thing at the same time. I'm just honoured I was asked to paint in the event in the first place."
Though drained by the four hours the event had consumed, I left Art Battle with the kind of high that only comes from an entirely novel experience. Somehow, against all common sense, adding constraints to the process of creating art had made it more compelling.

My only regret is that I didn't have the energy to stay longer. Apparently they chainsaw the paintings that don't get auctioned off.

Follow Justin Caffier on Twitter.