Did You Guys Know an Olympics Is Happening?
Cause I sure as hell forgot about them.
Art by Noel Ransome. Images sourced from Shutter Stock and Wikipedia.
So… I guess there are some Olympic games happening soon, like really, really soon—like 10 days soon.
For those of you out there that don't reside in the glory of the Great White North you probably don't know that we are much more here for the Winter Olympics than the summer ones. For the last Olympics, which took place in Russia, some provincial governments allowed for liquor to be sold at 7AM so we could get all boozed up for the gold medal men's hockey game. (Which we won, obviously.)
I know we're the outliers here, as TV ratings for the Summer Games vastly outperforms the Winter ones, but we like the snow and stuff—Google Trends reinforces the notion that we love the hell out of the winter games. Also, it's the only one of the two games where we have a legit shot at winning the most medals, so take from that what you will. But, this year, it seems like all's quiet up in Canada—it's not the typical patriotism oozing in relation to the games but apathy.
It feels like everytime someone mentions the Olympics I, and most people I talk to, respond with "oh yeah, that's happening soon, right?"
It's not just mere anecdotal evidence as well, ticket sales are far down in comparison to the previous olympics, and the Korea Times reporting on a immense lack of both media and local buzz surrounding the games.
Maybe we don't care because the National Hockey League, doing as they do, fucked up the Winter Olympics biggest draw, the men's hockey tournament. The NHL—keeping in their grand tradition of shooting themselves repeatedly in the dick with a high powered pistol—decided they weren't going to let the best hockey players in the world play in Olympics. I'm not going to lie here, for most Canadians, this was the main reason to turn on the Olympics (sorry snowboard fans). We're not there for the mogul jumping or the bobsledding, we're here for the beefy farm boys who are good at the skate-stick-ice game taking it to the beefy Slovakian farm boys who are good at the skate-stick-ice game.
That said, thank god for women's hockey. (The most entertaining hockey game of the last ten years was the Canadian women's insane comeback over the US at the 2014 Games. @ me, an Oilers fan.)
Women's hockey is still going to be killer this year—although, unfortunately there's only two teams that have a legit shot at winning the tournament (sorry Finland). Men's hockey will be a little bit more wide open—with most non-Russia teams filled with college players, European league players and former pros who are now are destroying beer leagues. If Canada's team is worse than the one we put together for the World Championship—which no one watches either—then there is a problem.
Or maybe it's not just the hockey. Maybe it's because we're all slowly coming around to the knowledge that the Olympics are run by a gaggle of Jeepers Creepers-esque creatures who, once every four years, move into a country, force them to build a bunch of bullshit, and fuck up the local economy. Once they get their fill they then, and I'm assuming here, skedaddle away to a cave (or highrise apartment) to rest their full bellies for a few years before awakening from their slumber once more to do it yet again.
As it was 776 BC it will be again.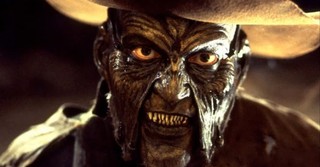 This year's Games are being held in PyeongChang, South Korea, and the main topic surrounding the location is on whether North Korea's boy king is going to nuke the games (he won't). But even then, even with the dang threat of nuclear apocalypse the Winter Olympics just can't get any respect.
Look, just to hammer the point home with completely anecdotal evidence, I smoke like 20 times a day with our goddamn sports editor here and we've barely even talked about the Olympics. There's something going on here and if I'm going to be honest, I don't really know the concrete reason why the lead up to these Olympics has been so subdued.

This year some analytic experts have predicted a record haul for our athletes—and, you know what, good for them—but goddamn is it ever hard to care about.

Follow Mack Lamoureux on Twitter