French police say they are investigating the killing of an 85-year-old Holocaust survivor as an anti-Semitic hate crime, after the victim was found with stab wounds in her burned-out apartment.
Two men have been arrested over the crime, and are suspected of having killed her because she was Jewish, a judicial source told Reuters Tuesday, without revealing details of the suspects' identity.
The victim, Mireille Knoll, was found dead after a fire broke out in her apartment in Paris's 11th arrondissement on Friday night. An autopsy showed that Knoll, who lived alone, had been stabbed 11 times.
In her childhood, Knoll had evaded an infamous roundup of Parisian Jews in July 1942. About 13,000 Jews were detained in the Velodrome d'Hiver stadium near the Eiffel Tower and most of them were deported to Auschwitz.
Read: Marine LePen wants French voters to forget about National Front's racist past
Knoll's killing has raised further concerns about anti-Semitic hate crime in France, whose 400,000-strong Jewish community is western Europe's largest.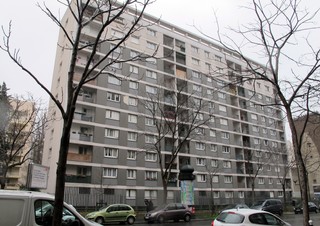 Her death occurred a year to the day after the murder of another elderly Jewish woman just a few streets away, whose death is being investigated by prosecutors as an anti-Semitic hate crime. The brutal killing of 66-year-old Sarah Halimi sparked national outrage; she was beaten in her apartment and then thrown out a window.
Read: Germany just convicted eight far-right terrorists for anti-immigrant bombing campaign
French authorities had originally failed to investigate the killing as an anti-Semitic attack, despite her family's saying that the suspect, a Muslim neighbour, had regularly thrown slurs her way.
Potential Jewish targets such as schools and synagogues have been under tight security as France has weathered a string of jihadi attacks in recent years. In 2015, four Jews were killed in an attack on a kosher grocery in Paris, and in 2012, four people, including three children, were killed outside a Jewish school in Toulouse.
Cover image: View of the apartment door of Mireille Knoll, 85, who was was slain last week, in Paris, France, Tuesday, March 27, 2018. (AP Photo/Christophe Ena)
This article originally appeared on VICE News US.