This article originally appeared on VICE Quebec.
To help immigrants and refugees integrate themselves into society, Quebec City has put together a guide entitled "Québec, Une ville pour moi"—or in the Queen's English, "Quebec City, A City for Me"—based on "the needs expressed by various organizations, people involved in cultural communities and immigrants themselves during consultations."

But there's a cloud of secrecy hanging over this document. Little information has been circulated in the media about it, and VICE's many requests to city hall for interviews have met with dead-ends, aside for a few emails explaining the guide has not yet been distributed to the 135 organizations it's meant for. "Meetings will take place in a few weeks," they say.
The document was sent to us by an individual who wishes to remain unidentified, however, and the city confirmed the authenticity of the images. Here's look at what you'll find inside:
Questionable advice for living in Quebec City, "A City For Me"
The objective of " Québec, Une ville pour moi" is to serve as a compass for both Quebec morals and the way of life in La Belle Province, particularly in its capital city. So it lays out how to get a driver's license and navigate the health and school systems, while also giving suggestions for eating affordably and highlighting the importance of the French language.
Things get a bit surreal however when it comes to the necessity of wearing reflective tape to walk safely at night or the complete how-to sections on ovens and unclogging toilets, along with some finger-wagging on why it's important to wash your clothes and not beat your kids or piss in the street.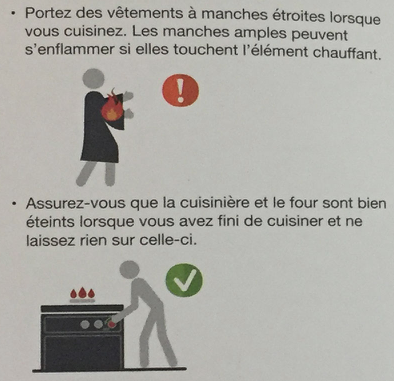 To get an idea of how the guide might be perceived by newcomers, we sent it to Samir Rahmouni, from Tizi Ouzou in Algeria's Kabylie mountain region, who is currently taking the steps to emigrate to Quebec. Rahmouni says he welcomes the passages on integrating into the workforce, housing, language-learning, and entertainment and recreation, which can help immigrants find their way more easily. Other portions he considered useless, like those dealing with "personal hygiene, and how to use the kitchen, electrical outlets, and furnace."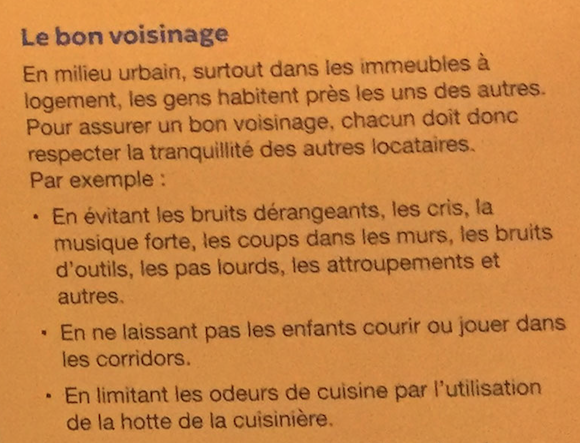 "I think the section on being a good neighbour —'Le bon voisinage'—in which immigrants might be amazed to learn that Quebec City is a city with buildings (no way!) and that these buildings in particular are inhabited by human beings (are you kidding me?) is quite condescending to immigrants. I took this part to mean 'Careful, dude, you're no longer living in your hut. '"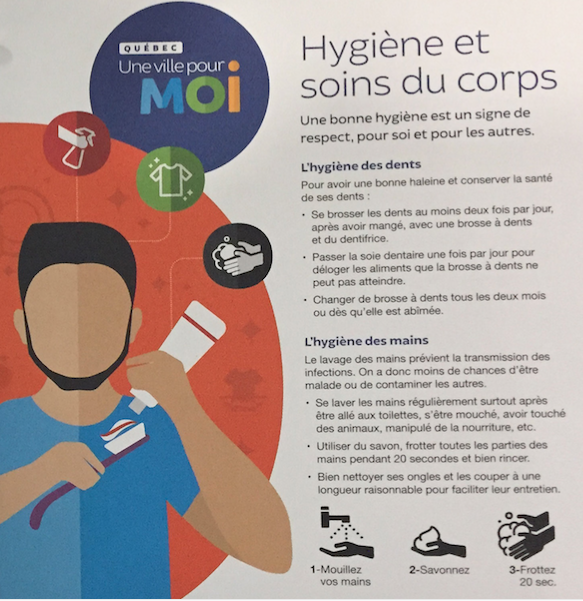 "I don't see what use this kind of information is for newcomers. On the contrary, I think it might have a negative impact, perhaps making them feel judged as uncultured, particularly given this section's language which talks down to immigrants as if they're children," said Rahmouni. "The people who wrote and approved this guide give the impression they're narrow-minded—full of preconceived ideas about immigrants."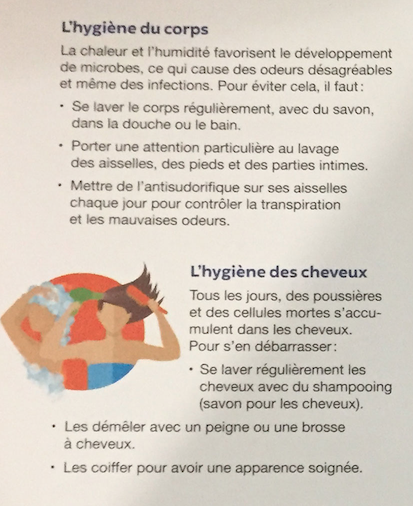 Some parts of the guide appear to assume that immigrants have no knowledge of civil society, let alone the Canadian Criminal Code. Check out these six curious lines on incest at the beginning of the guide, which essentially add up to: "Parent + child = illegal."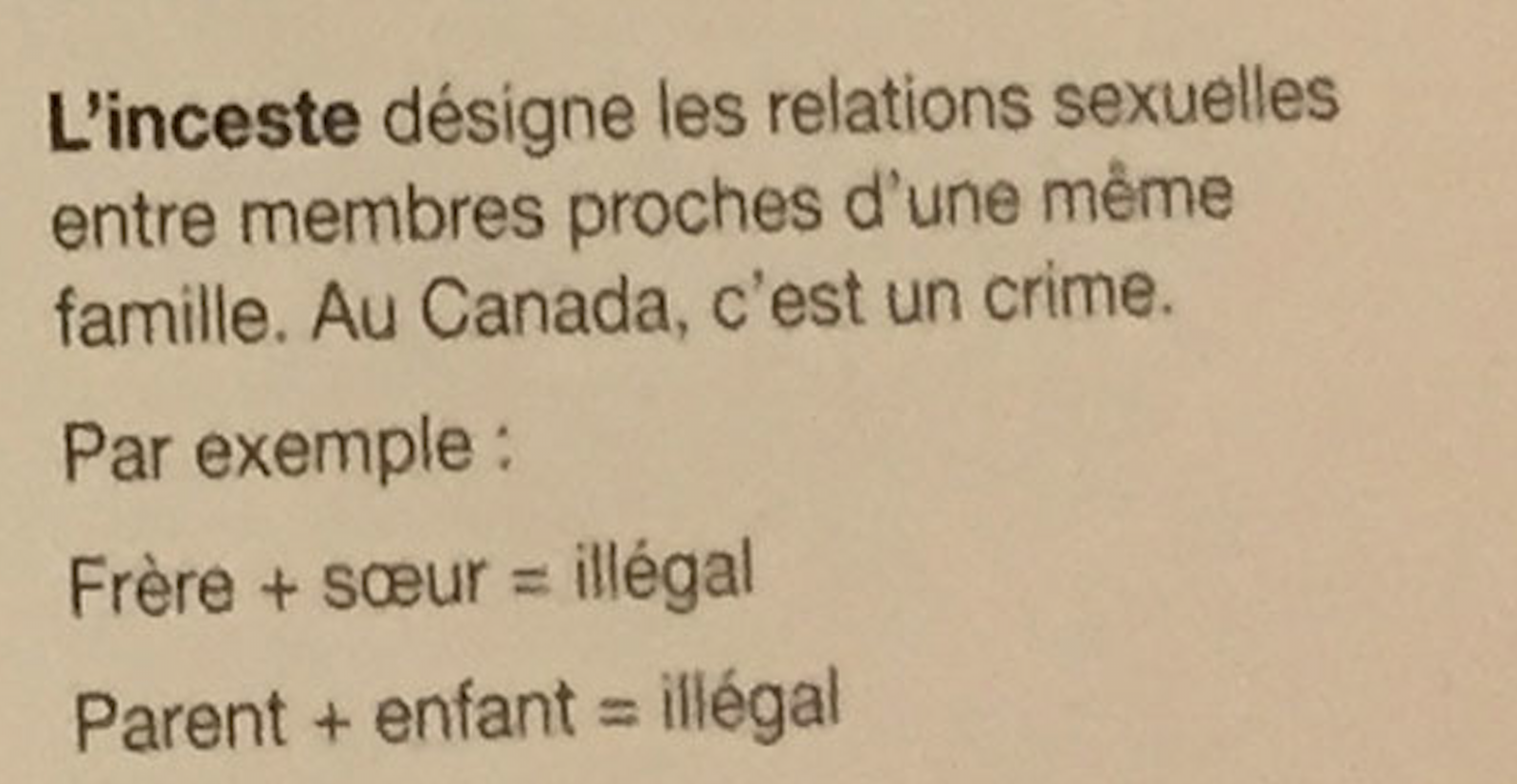 On the other hand, readers are given a thorough six pages on Quebec weather, explaining that mittens are warmer than gloves and, come spring, "the maple sap flows and allows for the production of maple syrup," not to mention a firm grounding on how to decode a weather report and an entire paragraph dedicated to UV rays.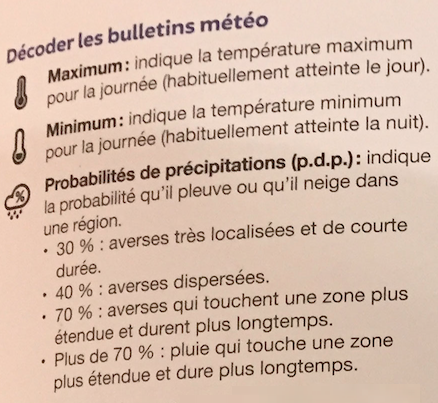 Precipitation gets explained in precise detail, but as far as incestuous relationships are concerned, best to lay it out as a simple math question. (Yet have they not asked themselves whether immigrants truly understand mathematical equations? Why not use an abacus or cuneiform writing engraved on a clay tablet? Mesopotamian refugees would be delighted!)

For Rahmouni, "[The guide] misses its primary objective, which is to inform immigrants about Quebec City and its way of life. Where it gets completely irrelevant is when it addresses the subjects I mentioned, which in my opinion are not the city's business and have nothing to do with helping people get integrated."
What's going down in Quebec City?
The city's opposition party has a number of questions about the guide. The leader of Démocratie Québec, Anne Guérette, has never held it in her hands. "It's a matter that was decided between four walls, in the mayor's office or by the executive committee. All I know is what I gleaned from the newspaper, like everyone else," she says, referring to an article in the Journal de Québec, which quotes from the guide. At the end of December, she had concluded that certain passages published in it were "insulting."
Guérette explained that she is unaware of what's going on with the file, and she's wondering if perhaps city hall has backed down since the attack in Quebec City. "Have they realized this guide was not a good idea? Are they trying to suppress it, make it disappear? They're not promoting it at least," she said.
The city has assured us, however, that despite this criticism from the leader of the municipal opposition, the guide has not been changed.
"The guide is a collection of removable pages. The appropriate pages will be given out according to the immigrating individual's needs (Children, Recreation, Finding Accommodation, and so on). When the sheets are given out, there will be somebody to ensure that the individual understands them well," said the city by e-mail.
*This article has been updated to add comments from Quebec City officials.