Breathe easy, Lakers fans.
The Boston Celtics were the big winners in last night's draft lottery, having come away with the No. 1 overall pick, but it's difficult to argue that any team saw its fortunes change for the better more than the Los Angeles Lakers. The Celtics are already good, and they were still going to add a top talent in this year's draft whether they won the lottery or dropped as far as No. 4. The lottery had real disaster potential for the Lakers, and they avoided it.
The Lakers entered the drawing with a 53.1 percent chance of losing not only this year's draft pick but also their 2019 first-rounder, thanks to the ill-fated trades they made for Steve Nash and Dwight Howard back in the day. But instead of losing two of their next three first-round picks, the Lakers will instead surrender only their 2018 first-rounder to the Philadelphia 76ers; the first-round pick they would have owed to the Magic instead becomes two seconds. Oh, and they get to pick at No. 2 this year, too.

(Side note: We have to mention the fact that the Lakers executed one of the more brazen late-season tank jobs the league has ever seen in order to get this result. It got to the point where they held Nick Young out of games because he was slightly too veteran-y. Nick Young! He shot 35 percent and threw eight combined passes in two years under Byron Scott, but Luke Walton had to bench him because he might help the team win too many end-of-year games. But whatever. The bit worked, which is all that matters.)
Look, it's a rather obvious takeaway, but by keeping their pick, the Lakers open up a whole lot of options that may not otherwise have been available.
The first of those options is keeping the No. 2 pick and getting one of the two best players in the draft. The consensus expectation is that the Celtics will take Markelle Fultz or Lonzo Ball at No. 1, but probably Fultz. The Lakers can just take whichever point guard the Celtics decide to pass on.
Both Fultz and Ball would bring about a shift in their backcourt. D'Angelo Russell, 2015's No. 2 overall pick, would move off the ball on a near full-time basis. That's not exactly what the team envisioned when they took him a couple years ago, but he excelled in that capacity down the stretch of this past season and could rather easily slide into more of a secondary ball-handling role.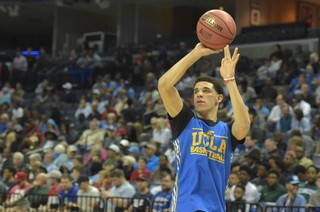 Whomever the Lakers might end up with in this scenario, the offensive fit would be electric. Fultz is an elite creator for himself and others, the kind of player you can build an entire offense around. The attention he'd attract would allow Russell to leverage his skill as a spot-up shooter (37.0 percent as a rookie and 37.2 percent as a sophomore, per the SportVU data on NBA.com) and create advantageous opportunities for him to attack closeouts off the bounce.
Ball? Well, Ball would basically come in and try to create Showtime 2.0. He's an infectious passer who would transform the Lakers offense into exactly what Walton wants it to be. He's a good spot-up shooter, as well, and would fit seamlessly into a dual-ball-handler backcourt alongside Russell. In the best-case scenario, they're a wacko version of the Lillard–McCollum backcourt up in Portland.
Defense would be an issue either way, but the team is unlikely to completely transform its defense (30th in the league this season) in one year anyway, let alone on the back of a rookie.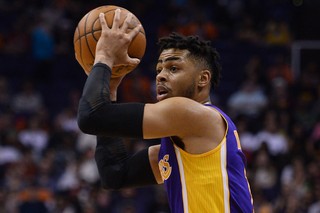 It's also possible that picking one of the point guards allows the Lakers to shift into sell mode on Russell or Jordan Clarkson—another option that wouldn't necessarily have been available, or attractive, to L.A. had they not kept their pick. Sports Illustrated's Jake Fischer reported shortly after the draft that several teams had already put in calls to the Lakers to check on Russell's potential availability. He could be used as part of a smaller deal to acquire a comparably talented wing, or as part of a bigger package to land a top-tier talent. (Paul George, anyone?)
Going off the board with the No. 2 pick is also possible. Already, there's speculation that Magic Johnson might prefer De'Aaron Fox to Ball, having been there live at the Sweet 16 to watch Fox torch Ball to the tune of 39 points on 20 shots, four assists, and two steals. Fox would make for a slightly more awkward fit next to Russell than either Fultz or Ball, but he's easily the best defender of the three and would at least help put a dent in the Lakers' deficiencies on that end of the floor.
Going for a forward instead of a point guard gives the Lakers similar options in the frontcourt. Josh Jackson and Jayson Tatum could both fit in alongside Brandon Ingram. Jackson brings better defense, more versatility, and a dash of elite athleticism, while Tatum could be the alpha-dog scorer the team seems to currently lack.

Either one would likely push Julius Randle and/or Larry Nance to the bench or out the door eventually, but that just means the odd man out becomes a trade chip. Randle might not fetch as big a fish as Russell, but there are plenty of teams that would be interested in a play-making four who was one of only five forwards to average at least 13 points, eight rebounds, and three assists last season.
The Lakers could also draft any of these guys and simply hang on to the players at their position currently on the roster, and make themselves even more attractive to potential free agents this summer or next.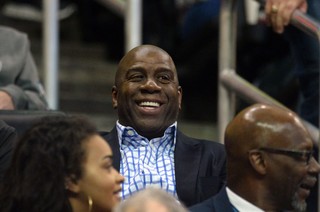 Magic came out after the draft and said the team is looking more at the summer of 2018 when it comes to making a free-agent splash, and that's smart. The Lakers aren't ready to win big just yet, and they surely want to keep the books clear for George in case he's willing to do what Carmelo Anthony wasn't and just join his preferred team in free agency rather than through a depth-depleting trade.
How good would a depth chart featuring Ball, Russell, George, Ingram, Randle, Nance, Clarkson, Ivica Zubac, and pick No. 28 in this year's draft look a couple years from now? (And how much better would it look if they found a way to clean out the contract detritus that is Luol Deng and Timofey Mozgov?)

There's a lot of assumptions there, but that's a young, deep, versatile roster with interested trade pieces that could help fill whatever holes pop up and, if the Lakers are lucky, some more cap space to burn and the most attractive free-agent destination in NBA history to sell on the open market. And it's realistically in play now.

With the new management team, several interesting young players, and time on their side, Lakers fans were going to be dreaming big whether they kept their pick or not. The lottery balls bouncing L.A.'s way gives those dreams an added kick, and raises the ceiling for everything Magic, Rob Pelinka, and Jeannie Buss are trying to build.
Want to read more stories like this from VICE Sports? Subscribe to our daily newsletter.