Everyone turned to their own vices for getting through 2016, and for many Canadians, that source of pleasure came from incest porn.
According to Pornhub, Canadians' top 2016 searches saw the terms "stepdad and daughter" climb 83 spots (to 12th place) while "mom" jumped 19 spots to 10th place—the two biggest gains on the chart. The top three searches were "lesbian," "stepsister," and "milf," with "step mom" coming in fourth and "cartoon" rounding out the top five, while the top overall categories were "lesbians", "teen", and "MILF." "Creampie" (I had to look it up and it's way more vanilla than it sounds) also jumped six spots to 10th.
The most sought after porn star is Riley Reid, according to Pornhub's year-in-review data, described on the site as " one young starlet who has already mastered every style of screwing in the dirty book." Reid also ranked fourth worldwide. (Americans searched for Kim Kardashian the most.)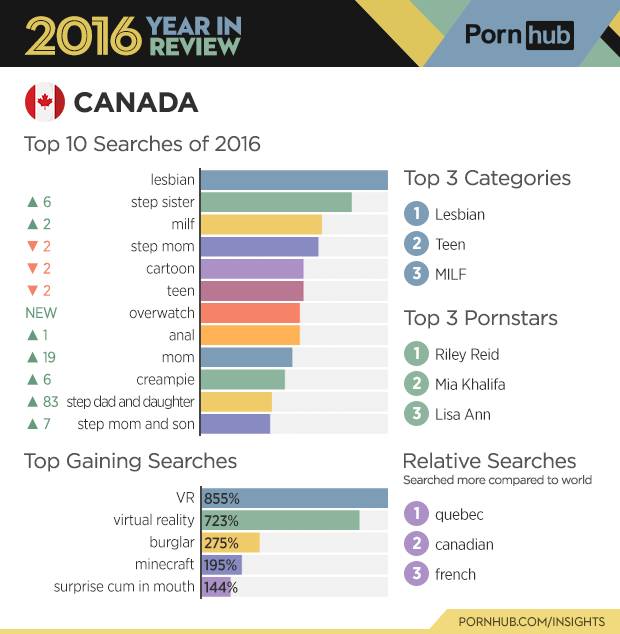 Nerdy porn saw a huge boon this year, as more Canadians were searching for topics like "VR" (up 855 percent), "virtual reality" (up 723 percent), and "minecraft" (up 195 percent, also WTF). For some reason, "burglar" was up 275 percent.
Apparently we also fetishize francophones, as the top relative searches were Quebec, Canadian, and French. When I say "we" though, I mostly mean men: 75 percent of Pornhub's Canadian users in 2016 were dudes.
Considering how small Canada is (population wise) we placed an impressive third in overall traffic behind the US and the UK respectively. We also are fourth in overall page views with 186 per capita.
With an average viewing time of 9 minutes and 49 seconds per visit (fourth place), it doesn't take too long for the average Canadian to rub one out. Philippines had the lengthiest average viewing time at 12 minutes and 45 seconds, while the US, in third place, was at 10 minutes and 15 seconds. Cubans spend less than five minutes watching porn on average, but you can't really blame them, it's hard to get a wifi connection down there. Really hard.
Though Canadians are known for having a subdued patriotism, apparently we go bat shit on Canada Day. Last year, the term "Canada Day" on Pornhub shot up 15,877 percent on July 1. More people were also looking for Canadian babes, teens, milfs, canucks as well as racialized fetishes like "Native Canadian," "Canadian Indian," and "French Canadian."
That is kind of icky, but hey, at least basically no one jerked off around their family on Christmas Eve—traffic from Canadians was down 46 percent that day.
Follow Manisha Krishnan on Twitter.

Head image: Riley Reid, the porn star Canadians searched the most in 2016. Photo via Flickr user Baldwin Saintilus