I'm sitting across from Kevin Drew and Ben Kowalewicz. Earlier this month Drew and his band Broken Social Scene sold out Toronto's Air Canada Centre alongside Arcade Fire. Kowalewicz, for his part, recently completed a slew of European festival dates playing to crowds of thousands as the frontman for veteran punk act Billy Talent. Unquestionably the two are at the upper echelon of the Canadian music scene and have been for years. But tonight they're ecstatic to talk to me about a limited run play that'll be performed in a two hundred seat house in an unfashionable part of Toronto. A & R Angels, the first script form Drew, premieres later this November at Crow's Theatre. The frontmen play the leads in the comedic drama, two angels who pull people back from the brink of eternity through writing hit songs. Drew and Kowalewicz are funny and self deprecating while discussing their acting debuts. When we get into the themes of the script—how the show is partially about the pitfalls of growing older and the consumptive nature of the entertainment industry—they're thoughtful and reflective. It's obvious how excited the musicians are to put on the play, but the entire time they're talking I'm trying to figure out why anyone would shift from the pinnacles of indie rock to the considerably less glamorous world of indie theatre.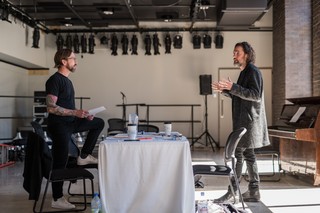 "Whenever you go to concerts now people experience the whole things through their phones," Kowalewicz said. "They're Instagramming. They're Snap fucking. Whatever. But when you're sitting in a theatre it's a chance to share in the moment with the people who are there. For an hour and a half it's not an updated status. You're present. I'm extremely grateful that the people at Crow's and the other actors have let me into their world. I'm so happy to cross pollinate and create something new. And I'm really excited to see what energy the audience brings to it."

"In these times of questionable idealism you don't have any business doing this unless you're ripping it all open," added Drew. "If you look at the Social Scene career we were our beautiful selves and our beautiful mistakes. We were this group of friends who believed in an idea and in music. There was value to that. The value of art in general is something that gets embraced in this play. It's a comedy. But the play at large is a conversation about how one fits in in today's day and age if you remember what it was like [before the internet]. I'm tired of my art being swiped. I wanted to make something that you actually had to make an effort to go see if you wanted to."


The idea of creating an actual community around the theatre has been pivotal to Crow's artistic director, and director of A & R Angels, Chris Abraham. Since opening the east end location of Crow's in January, Abraham has put his company at the forefront of the Toronto scene with a concerted effort to engage theatre and non-theatre audiences through opportunities for emerging creators, kid's events, and ambitious programming. It's been working. His leadership has made Crow's one of the only companies in the city with growing ticket sales, though it certainly doesn't hurt that recently he's had the creative backing of Canada's foremost music collective to help everything along.

A & R Angels is the second collaboration between Crow's Theatre and a member of Broken Social Scene. Earlier this year the company produced a play written and performed by Torquil Campbell, best known as the frontman for Montreal dream pop act Stars. In the show, True Crime, Campbell blended personal storytelling with the murderous history of notorious impersonator Clark Rockefeller, for a compelling performance equal parts Serial and The Moth. True Crime was Campbell's return to the stage after a long absence. The singer had spent his youth as an actor, most notably appearing alongside the late Philip Seymour Hoffman in the off-Broadway production Shopping and Fucking. But for Campbell the theatre has always had a specific draw that other art doesn't.

"When I'm playing music each night it's like I'm preaching to the converted. People know the words and they sing along. But when you're doing a play every night is like trying to create a new religion...which isn't to say we all have to take it so seriously," Campbell told me in a phone interview. "Theatre, like veganism, is an easy target for people to make fun of and dismiss. But it's play. We're playing and it's a lot of fun. The audience just needs to take a leap of faith."

While you might think the concept of creating a community and understanding through a bunch of actors saying lines on a stage seems naive or lame, sitting at the table with Drew and Kowalewicz it's easy to get behind their grandiose ideas. The singers' desire to have their script/performance connect is infectious, and as we order our second round of drinks I remind myself that from a creative and financial standpoint neither Drew or Kowalewicz need to do this. Making this artistic choice at this stage of their careers—especially something with such a high potential for failure as theatre—is both ballsy and inspiring.

As our conversation starts to wrap I casually drop that I split my days between freelance writing, producing at a mid-sized indie theatre in the west end, and writing plays. When say this both singers come alive with encouragement and advice.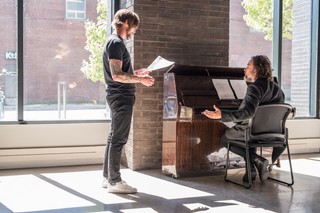 "There is going to be this fucking moment where people turn their phones off in this town. The people want it. They want to be fed,' said Drew. "The arts are about to rise above the addictive idea of moments and starting to make memories. That's the business you and I are in. And if you're honest enough you can do it. "

Solid advice that I'm sure you are reading on your phone, while half watching Netflix.

A & R Angels begins previews November 20.

Graham Isador occasionally uses his twitter account to troll prestige Canadian playwrights about the television show Ballers. @presgang