House Party Review: University of Toronto Frat Territory
We spent a night at frosh weekend.
"Oh, I just got kicked out of there," a guy with zig-zags shaved into his facial hair tells us, accompanied by two friends. We're at a lush but small green park on Madison Avenue on University of Toronto campus nearby the infamous mega-pub pretty much everyone in the city knows as "the Maddy."

Every fall, you can expect to find an outpouring of students who flock the University of Toronto area for a new semester and a chance to party outside the realm of parental control: frosh. But throughout the rest of the year, the area does not vary much in resemblance. If you're a U of T student living in the Annex of Toronto looking to go out any night of the week, your first stop is and always will be the Madison. It's composed of three interconnected Victorian mansions and feels like an endless labyrinth with countless rooms and staircases—especially if you're drunk.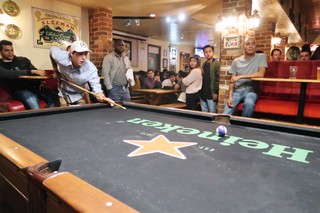 After declining an invitation from zig-zag facial hair guy to a party way the fuck in the west end and a parking lot orgy, we go through security and enter into the Maddy through a corridor. Inside, U of T students and—for some unknown reason—adults who seem to be way past university age are mingling with one another, playing pool, drinking pints of Molson Canadian, and listening to Drake.
"It's a Victorian-style house, so it's awesome to party here," a random tells us when we're outside smoking. "Yeah, it was two frat houses put together," his friend in a suede jacket sporting a man-bun says. Another in the group, who say they work as tradesmen, proudly shows us photos on his digital camera he took of an oil painting.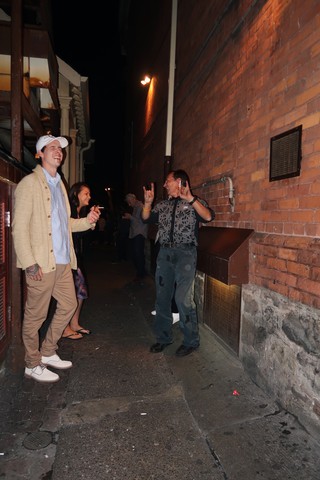 After attempting to tour through the entirety of the Maddy—and noting the signs on the fire alarms warning "Smile, you're on camera" should anyone be tempted to pull them for fun (an employee tells us it has happened a number of times and costs the venue a lot of money)—we venture out to U of T frat territory.
U of T's frat territory is on the eastern edge of the city's Annex neighbourhood, which is part student ghetto, part posh mansions, with notables such as famed Canadian author Margaret Atwood inhabiting the area. If you're curious what it looks like, you can just watch Scott Pilgrim vs. The World, which was set and shot there.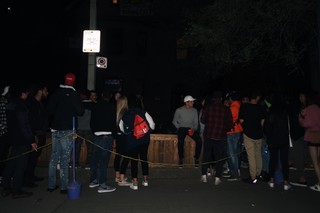 As we walk south to Bloor Street, a major street running east-west and home to one of Toronto's two main subway lines, we run into two freshmen dudes looking for a party. They say they just came from a frat party on St. George Street, adamantly insisting we don't go because "it sucks." They give us a flyer with a skull on it that, though it is advertising frat parties, feels more like the aesthetic of a metal show. Like they're attached to some homing device, they walk toward the Maddy. But not us. Onward.
We stop at G's Fine Foods on the south side of Bloor Street, a staple independent corner store in the area, where we ask the elderly woman running the counter if she's heard of any good parties. "Well, I don't know what kind of party this is, but some guys just came in here and knocked a bunch of stuff off our shelves I had to clean up." When we ask if they were students, she nods. It isn't even midnight.
To say that the area we're in resembles a university campus would be overreaching. The Annex is maybe the closest thing, but it's still a mish-mash of student hangouts and housing, tourist destinations, cheap sushi restaurants, and, increasingly, big-box storefronts. University of Toronto campus is right in the middle of downtown, bordering Chinatown and Kensington Market, and as such, is embedded completely into the urban sprawl of the city.
The particular part we're in is nestled between the Church of the Redeemer and the glowing fluorescent G's Fine Foods, an area that rarely attracts a crowd past business hours varying from the student population character to the neighbourhood. The Royal Ontario Museum with its excessively strange hybrid architecture, including a giant crystal jutting out from its front, and the Bata Shoe Museum are within view and walking distance. The campus and surrounding area has little to offer at night but a place for students to party and a gateway for through traffic.
Avoiding the frat party we were warned about, but noting that a number of people are spilling out from it with Hawaiian leis and tropical-print shirts, we find ourselves at another party in a line corralled with a thin rope and forced to mingle with first-years. There, we meet three young women who seem to be really into Instagram. The five of us are pouting about how long the line is as we can clearly see people dancing in blue light from the front window, and we let them convince us to walk south—or, you know, straight into the heart of U of T campus where nothing is going on outside of the ridiculously stunning, dewed greenery and array of romanesque and gothic revival architecture. Toronto's namesake university was founded in 1827 by royal charter and was the first learning institution of its kind in Ontario. Truly, it makes the university I went to in Toronto, Ryerson, look like a high school.

Just as we were about to miss out on our chance for a frosh party allowing drunk freshmen sirens to lead us to our demise, a frat guy comes out of nowhere to save us. "You're going the wrong way," he says, urging us to come to the frat party we were previously in line for. After stepping over a fence, we enter into a scene I never really needed to be part of.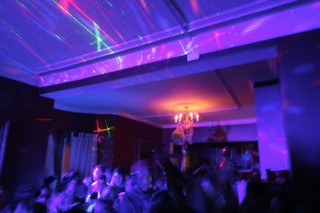 The stickiness of the floors. It's everywhere. And no, it still isn't midnight. The stairwell leading to the second floor is blocked off with a mound of furniture, framed photos of fraternity members hang askew on the walls. Like the other frat residences in the St. George area, it's a stunning Victorian home with carved wood and a spaciousness that would feel jarring to any 20-something narrowly affording a micro condo in the city, which is experiencing a housing crisis. We elbow our way through the sweaty crowd of kids who are clearly way too excited to be partying outside of their small hometowns in Ontario for the first time and make our way to the beer table. There, a woman pours slightly-colder-than-room-temperature beer for us into plastic Solo cups (it's free, the brand indiscernible and inoffensive).
The triplet of girls who followed us around disappear after we get them cups of cheap beer.
Next to the dancefloor, a game of beer pong is on, though I'm not exactly sure how as it is way too packed for anyone to have uninterrupted arm movement. For a time, I stand awkwardly by a table about ten people are dancing on and have beer spilled on me twice as people continually get on and off. The party decor is half-assed at best besides rave-y lights, some fake floral arrangement and streamers hanging from chandeliers—not that it seems like that's what people are here for.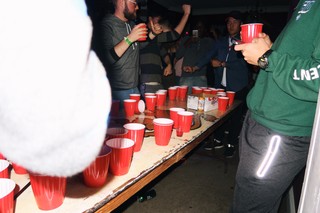 The final straw is when a young woman uses me to steady herself without my consent as she gets off the table during "Despacito," which is making the crowd fucking explode, increasing spillage and sloppy make-out sessions. I have to piss, and of course the bathroom line is so long it's spilling into the foyer of the frat house. I can't even see where the bathroom is, and some guy shoves me out of the way, proclaiming, "I live here!"
Even after several drinks, I seem to have hit a wall because of the environment I'm in and am dangerously close to sober. As I stand by the fireplace in the foyer that has not been used for its original intended purpose for many years, all I can think about is how, at 26, I am way too fucking old to be here. Besides, the party, mainly contained on a single floor, is relatively small. The frat parties I've been to in the US have been multiple floors in behemoth houses, and during the first week of the semester, parties are utterly mobbed, sometimes having guestlist policies and police presence. But, being an American who has been living in Toronto for a few years, I know the frat culture here isn't exactly as robust as in the US.
Toronto is currently considering a crackdown on what little frat culture sustains itself in the city. That could include new rules passed down from the city on how frat houses operate, a consideration apparently brought on in part by loud noise and garbage.
Being here on the ground, I don't really get what the big deal is. The parties are relatively tame, they have bouncers who ID, and I didn't see anything illegal go down my entire night in frat territory. Squeaky clean if you ask me, besides the floors.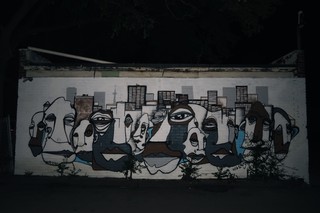 I give up on going to the bathroom, and we hit the alleyways behind the house.
There, we meet Connor. Dear Connor, who we stumble upon while he is taking a piss, who doesn't bother to zip up his pants before greeting us and shaking our hands (hopefully not with that hand).
"Hey ladies," he says, putting his arms around us, laughing. "We should… uh… have a threesome."
Declining group sex for the second time that night, we walk along the alleyways, marveling at what look like old coach houses. It barely feels as if we are in the condo forest known as Toronto.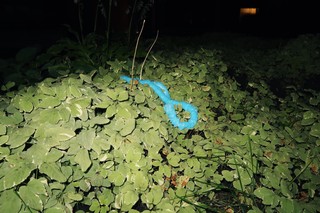 We venture to another frat party and find more of the same barely cold beer and sticky floors, passing by one known for a Majid Jordan music video that was shot there. The second party is decidedly up a level, attendees jumping and screaming along to "Live Up To My Name" by Toronto's Baka Not Nice, with a lounge area with drunk students in hoodies vibing as a girl drunkenly plays a piano. There, we meet a guy named Matt who goes to the same uni I went to, Ryerson, and we talk about how some Rye students join U of T frats because their school is completely devoid of a greek system.
We make the climb downstairs to the sparsely populated basement with him, at one point "accidentally" entering a VIP room populated by frat members who tell us to shut the damn door. After, we hang out at an abandoned basement bar. It's a sign that, at some point, frat culture may have thrived more here. But not tonight. We finally have found a bathroom at least, a pink-painted one with styrofoam blocking a window.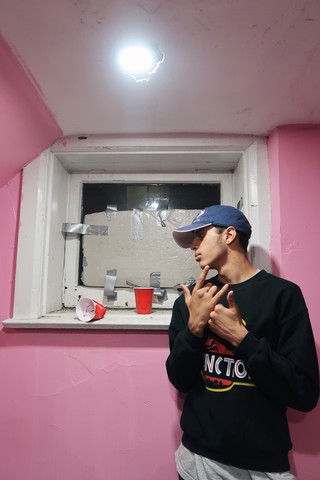 Once we finally call it a night, making our way out of the red Solo cup-littered neighbourhood lawns, we give a random group of guys our leftover beer. They graciously chug it. We witness some toxic masculinity as a guy almost gets into a fight with a dude he insists is "a little bitch" who accidentally bumped into him on the sidewalk. And just like that, we're back on Spadina Avenue, in the condo forest, and out of mystic world apart that is U of T frat territory. I even somehow made it out with an anime recommendation from a frat boy. Turns out they're not all that bad.
With files from Ashley Bruzas.