A Rogue Skunk is Running Wild Through Raiders Facilities
A skunk got loose in the Oakland Coliseum at the end of 'Monday Night Football' earlier this week and, like the Raiders' performance, it was stanky.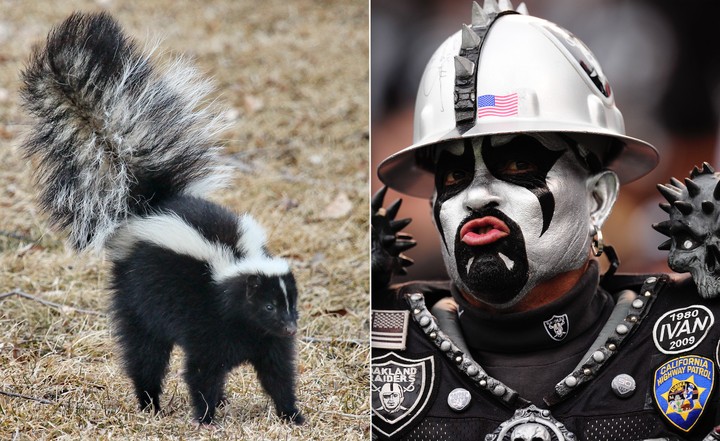 Photo by Wikimedia Commons/Pixabay user Skeeze, John G. Mabanglo/EPA-EFE
Things aren't going great for the Oakland Raiders. Aside from a brutal 33-13 loss to the Los Angeles Rams in the season opener on Monday, apparently a skunk found its way through the back alleys and tunnels of the Oakland Coliseum. Things just plain-old... stink for the Raiders right now. (Sorry, sorry—too easy.)
Apparently, the Coliseum was already perfumed by Pepé Le Pew by the end of the night on Monday, as a team of Mercury News reporters were struggling to get through some post-game analysis. And now, worse, as Gruden struggles to right his ship after the Oakland crowd booed him off the field this week, the skunk appears to remain at large:
Gruden also apparently told reporters that the skunk had made its way into the locker room specifically.
Or maybe some intern just got their medical license and is, uh, dispensing, some of the good shit? In any event, it seems like there is a skunk out to curse the Raiders. And for those keeping score at home, in the locker room the Raiders currently have:
1 Skunk
0 Khalil Macks.
This article originally appeared on VICE Sports US.