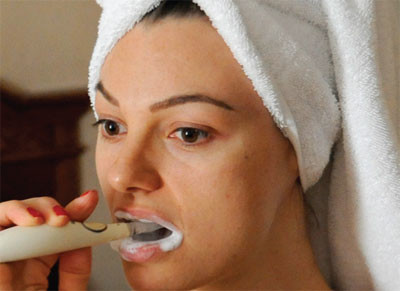 If you thought 'No Warning' 1 through 5 were good, then I can't help but believe that you're going to love 'No Warning 6!'
Dir: Belladonna
Rating: 9
Enterbelladonna.com/Evilangel.com

If you thought No Warning 1 through 5 were good, then I can't help but believe that you're going to love No Warning 6! And if you've never seen a Belladonna No Warning video then I implore you, if you're going to watch only one hardcore, anal-raping, lesbian-wrestling porno this year, make it No Warning 6. The hardcore is harder! The anal is more anally! And the lesbians are all—let's be honest, I'm not going to review this video. Reviews are boring. You don't care what my opinion is, nor should you. If we have the same interests in sex the world is more fucked than we already suspected. Because I don't think there's enough piss to drink for the both of us!

What's more important than Belladonna's Wrestling Federation, as seen in this video (which is awesome and hilarious. SPOILER: Girls wrestle each other naked and then make their digits disappear into one another's assholes), is that Belladonna and her husband, Aiden, who she makes all of her naughty films with, are the subjects (after Kimberly Kane and Joanna Angel) of my nonexistent, pretend VICE TV show, Skinema, which VICE refuses to ever air. I first got interested in Belladonna (not her birth name) a few years ago at a porn dinner when she and I were discussing parenting. This mild-mannered, double-anal-loving sex kitten with a penchant for chocolate has a dark and seedy alter ego: She's a PTA mom at her daughter's school. THE HORROR!

That secret life of trying to live among the nut jobs is what intrigued me most about her. Here we have an attractive young lady with an occupation in race relations and a master's degree in interracial studies, who is so dedicated to the cause that for years she has offered up not just a helping hand but a helping mouth, vagina, and butthole as reparations for the slavery and inequality done upon African Americans in this country for centuries, and who doubles as… dare I say it? A mom who makes cupcakes and goes on class trips?? I find that really bizarre for a number of reasons. For starters, class moms are usually not hot. The MILFs tend to stay home by the pool. All the class moms I remember were heifers who would try to steal my cookies. "You going to eat that, Christopher?" Also, if you have the time to be a class mom, that means you're probably a stay-at-home mom: the craziest of all moms! Their only human interaction is with children, rendering them nearly inept in the conversational department. It also makes them bored and lonely, and once those two feelings spread they manifest into NOSY.

I remember the stay-at-home mom who lived next to me always ratting me out to my mom for sneaking out at night and coming home at two in the morning (I put a brick through her garage window, told her to mind her fucking business). So if and when VICE ever gets its hip little head out of its wannabe political ass and starts airing what people really want to see in times of economic downturn (tits and ass) then we can all hold hands with Belladonna as we investigate the ugly and twisted world of class moms. Just the words send chills up my spine…

More stupid can be found at Chrisnieratko.com and twitter.com/Nieratko.