The Rockies-Reds game at Coors Field on July 25th was not the zenith of professional competition. Those two teams, currently a combined 44.5 games out of first place in their respective divisions, were not playing to make the postseason, and the best players on both teams were publicly on the trade block. Cincinnati's pitcher that night, Johnny Cueto, who threw a gem of a game for a 5-2 win over the Rockies, would be shipped to Kansas City the very next day. Troy Tulowitzki, Colorado's most beloved slugger, would be a Toronto Blue Jay within the week.
The game, while played before a decent crowd and in the shadow of a brilliant Rocky Mountain sunset, was not a remarkable game, and neither team will play another meaningful game this year. In the eighth inning, the fans did the wave anyway.
Read More: The True Story Behind the Craziest Pro Wrestling Stunt Ever
It was the most engaged act of fandom to be found in a park full of people otherwise chilling out and talking to their friends, which is generally how it works with the wave. It is more force of habit than phenomenon; at this point in its existence, the wave is just a thing that happens. All of which is to say that Krazy George's invention—if indeed he invented it, as he claims—has made it.
Krazy George's given name is George Henderson, and he is a professional cheerleader. In his time, Henderson whipped up NFL and MLB stadiums to unrivaled noise levels, and teams paid him for it. The wave was one of his many tricks. He has, like many artisans, effectively been automated out of business, replaced by really big screens and really loud speakers today's stadiums use to get the same effect. "I took teams from ten percent of energy level to 90 or 95 percent," Henderson said over the phone. "Now everybody has that."
Well before he led the first documented wave, at a Yankees-A's playoff game in Oakland in 1981, Krazy George was the nervous system of stadium crowds all on his own. There were no announcements about his appearances, and he was not given a microphone. All he needed to drive fans into a crazed roar was his extremely gravelly voice, his body, some cutoff jeans, and a drum.
Henderson, who is now in his seventies, still works games from time to time, albeit on a much smaller scale. His routine remains pretty much the same. "I always get to games three hours early," he said, explaining that he clears his head by sitting alone in the empty stands, like a conductor looking out on an empty concert hall before a performance. "I do that for a while, and then, about 45 minutes before the game, I grab my drum and start softening the crowd up." To imagine Henderson as a conductor, then, you must imagine an orchestra containing tens of thousands of instruments.
There have been sour notes. The Houston Oilers, who hired Henderson away from the Kansas City Chiefs, paid Krazy George to do his thing at a Week 14 game against the Pittsburgh Steelers in 1980. He did a good enough job that the Steelers suffered their first shutout in 113 games. After the game, Steelers running back Franco Harris called the volume in the Astrodome "really unfair," and legendary Steelers coach Chuck Noll complained to NFL officials. "Every time we got the ball on offense, the drummer started in on us," Noll told reporters. "Then the fans started in on us. That's about as illegal as anything I've seen."
That sounds like Krazy George doing his job—"I made so much noise in that game that Terry Bradshaw couldn't call audibles," he told me, with evident pride—but he did it perhaps too well. "At the end of the game, Noll tried to have me banned from football, because he said it was totally unfair and he'd never seen anything like it. He tried to go to the league about me. After that, I always got letters from the NFL, trying to stop me, following the games I cheered at."
Eventually, Krazy George was effectively banned from the NFL. In 1989, the league adopted new rules to prohibit certain sorts of home-team hubbub; it all but cites Henderson by name: "It is the responsibility of each club to exert proper control over cheerleaders and mascots (including noise-making specialists hired exclusively for that purpose)."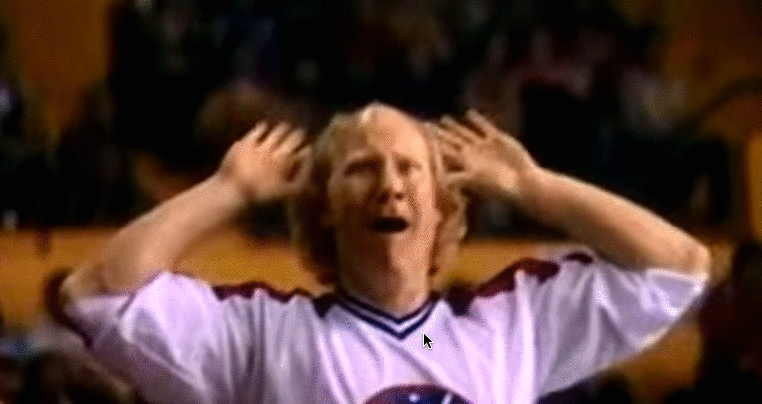 Henderson has also experienced more direct confrontation with teams who didn't appreciate his tactics. When he was leading cheers for the NHL's Oakland Seals in a game against the Boston Bruins, he shouted things like "You're a pimple-faced weirdo turkey" at Terry O'Reilly, an aggressive Boston winger. The trash talk so upset O'Reilly—as well as some drunk Bruins fans in the stands—that Henderson said he had to hand off his drum to a spectator and defend himself, as O'Reilly and several other Bruins "came up over the walls" for him. (O'Reilly could not be reached for comment, which means we're taking Krazy George on faith here, but such behavior was not out of character for the player known as Bloody O'Reilly.) This is the exception to the rule, though. In his experience working for eighteen pro teams (and many, many more college and minor league squads), Henderson's impact has been as much about entertaining fans as stoking rivalries.
In Krazy George's role as human Jumbotron prompt, there was much room for creativity. With the San Jose Earthquakes (now of the MLS, then of the North American Soccer League), he made his each entrance into a game in increasingly ridiculous fashions: a limo, a hot-air balloon, a dump truck, a Ferrari, a cherry picker, an armored vehicle, a chariot pulled by an ostrich, a Maserati, a snowmobile, a hang glider, a camel, and two leashed bears.
If Henderson were doing now what he did then, he would be an unstoppable meme machine. At the same time, it's hard to imagine him being allowed to do more or less any of the things he did in today's more litigious, risk-averse environment. His every tale—and Henderson talked for hours without seeming anywhere near the bottom of his strategic anecdote reserve—reads like a broadcast from the parallel universe that was the 1970s. For instance, there's one story Henderson told me about an entrance gone spectacularly wrong. "I came in with a full-grown lion," he began.
"The Dallas Tornado [another NASL team] calls me up and says they've got a lion trainer who's volunteering to start the game with you. I said: 'perfect.' Then, they tell me the trainer's coming a day early, because he wants to walk around with you to bars and restaurants with the lion. 'He's an indoor lion,' they said. 'He loves people.' So the day before, we went to a T.G.I Friday's, packed with people, and we walked the lion in. People just scattered. But the lion was calm, and the trainer just slapped his hand on the bar, and the lion jumped up on it and sat down quietly. We had the greatest time. People started coming up and petting him, looking at him.
"But the next day, I realize that the key phrase here is: 'indoor lion.' Because we're at the game, a soccer stadium, and we're outdoors. They are 15,000 fans, screaming and yelling. Once we get the lion out of the van and walk him in, he's going nuts. I have a big rope on the lion's collar, and so does the trainer. We've got him under control, but then we get about five yards from midfield, and the lion jumps up into the air. The tug of the rope, it trips the lion tamer, and the lion sees him on the ground, and instantly he attacks him. He's ripping him apart.
"I remember him telling me to never hit my drum near the lion. But he's screaming 'get him off me, get him off me!' and he was getting mauled, and I figured that was all that I could do. So I hit my drum as hard as I could. The lion looked at me, right in the eyes, and I was terrified. I had about two seconds of that, though, and then the other trainer came, and him and the bleeding trainer grabbed the lion and they took him off the field."
Today, Henderson has a legacy that's outlasted his in-stadium career: the wave. "I started doing a section cheer at San Jose State [where he's an alumni]," George said. "I'd point to different sections and they'd say 'San,' or 'Jose,' or 'State.' That started in 1969 or 1970. Then I got to a Rockies game, later in the 70s—they were a hockey team then—and once I did a 'Go Rockies Go' section chant back and forth but also had them stand up when they shouted. It was like rolling thunder, and it was like the wave but it was more sectionalized." Henderson refined the technique, mostly at high school rallies, before its ostensible major-league debut at the Yankees-A's game.
"They were these perfect, unbroken waves in small spaces, with barely any space between the seats and aisles. I wasn't calling it the wave yet, but I knew it was dramatic and fun."
Henderson takes credit for that first wave in 1981 because it was televised, and because he had tens of thousands of witnesses. A group of amateur cheerleaders from the University of Washington, led by eventual Entertainment Tonight host Rob Weller, tried to claim the inventor title for a time, but their first documented wave happened weeks after George's. In recent years, ESPN and the New York Times have both gone on record saying that Henderson was the inventor of the wave. VICE, too, hereby votes for George as its creator.
At the very least, Henderson wants the title more than anyone else. Henderson appeared as a contestant on the tenth season of America's Got Talent, to demonstrate his talent by leading the studio audience in the wave. He didn't last a minute on the show, although his work has endured much longer elsewhere. Henderson's gleeful, goofy antics have had a tremendous influence on how we experience and understand sports. Krazy George helped to make games sillier and louder, which is no small thing. Regardless of the score, his invention is still rolling on.