Colten Boushie's Family Is Headed to Ottawa
At a Saskatoon rally protesting the not-guilty verdict, the 22-year-old's relatives say they're going to seek justice for his death.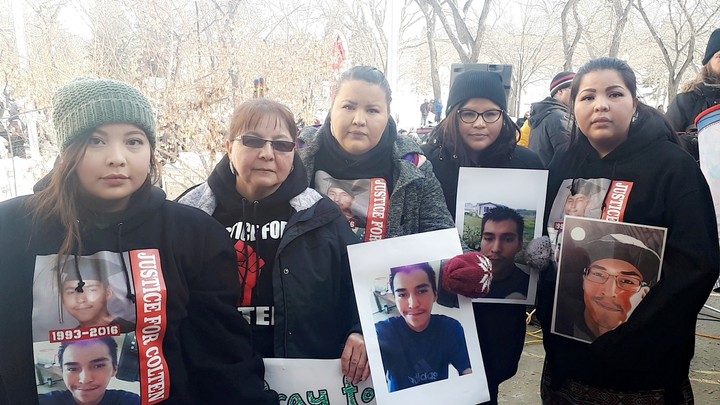 Photo by Ntawnis Piapot
An all-white jury has found Gerald Stanley not guilty of murdering a 22-year-old Indigenous man, but if you ask Colten Boushie's family and local Indigenous community, the fight for justice is far from over.
Police estimate there were about 700 people gathered in front of Saskatoon's courthouse in support of the Boushie family Saturday afternoon. The not-guilty verdict has left many saying the justice system is deeply flawed and has failed Indigenous people.
Speakers at the rally questioned Canada's commitment to reconciliation and stressed the need for resistance, and solidarity from allies in light of Boushie's death, which has been referred to as the Rodney King trial of the Prairies.
Perry Bellegarde, national chief for the Assembly of First Nations was one of several Indigenous leaders to come out in support of a public inquiry into the Stanley investigation and trial, as well as an appeal of the verdict. He joined Chief Clint Wuttunee of the Red Pheasant First Nation, where Boushie was a band member, and Battlefords Agency Tribal Chiefs in calling for immediate action from government.
"If Canada and Saskatchewan are serious about reconciliation, we want more than words and tears. We want action and we want a say in the control and action in the destiny of our rights for our children and for our future generations," the Federation of Sovereign Indigenous Nations' second vice-chief David Pratt said.
Saskatoon wasn't the only place people gathered together to stand up for justice in Boushie's death. Thousands of people across Canada in cities like Toronto, Vancouver, Winnipeg, and Calgary walked, rallied and chanted "justice for Colten." Many said this court case was an example of the insidious racism that Indigenous people face on a daily basis.
Jade Tootoosis, Boushie's cousin,* told the Saskatoon crowd Canadians have many difficult conversations about hate and injustice ahead. "Someone should not have to die for us to realize there are issues within our systems," she said. "Indigenous people continue to have to defend and advocate for ourselves and our loved ones. And not only that—but have to check up on one another and caution one another and say, 'Be safe when you go out.'"
Tootoosis greeted protesters warmly and encouraged Indigenous communities and allies across the country to speak out. "Colten is not here to stand up for himself… He's not here to defend himself and we are doing everything we can as a family for him. We don't want another Colten Boushie. For another individual to be lost like Colten."
In the face of fears that the non-guilty verdict will further divide Saskatchewan along racial lines, FSIN second vice-chief Pratt asked for cooperation. "I encourage our people to show kindness, to show generosity, to show the people of this region what we are made of," he said. "Let's honour the spirit of our ancestors that signed treaty that agreed to work together—that agreed to share this land."
Boushie's family said they are planning on going to Ottawa to meet with Justice Minister Jody Wilson-Raybould. Boushie's uncle told media: "I want to take this all the way to Ottawa... Indigenous people have never received justice throughout Canada. This is white-privileged justice that has happened to my family. A whitewash."
By Saturday afternoon, an online petition calling for a public inquiry into the Boushie case began to circulate on social media, following the emotional call to action from Boushie's cousin. "Don't be afraid. Don't be silent. Continue to mobilize organize, speak out wherever you are."
Follow Ntawnis on Twitter.
Correction: an earlier version of this story referred to Jade Tootoosis as Colten Boushie's sister. She is his cousin.